In Brazil, a "zany" collector in love with Marcel Proust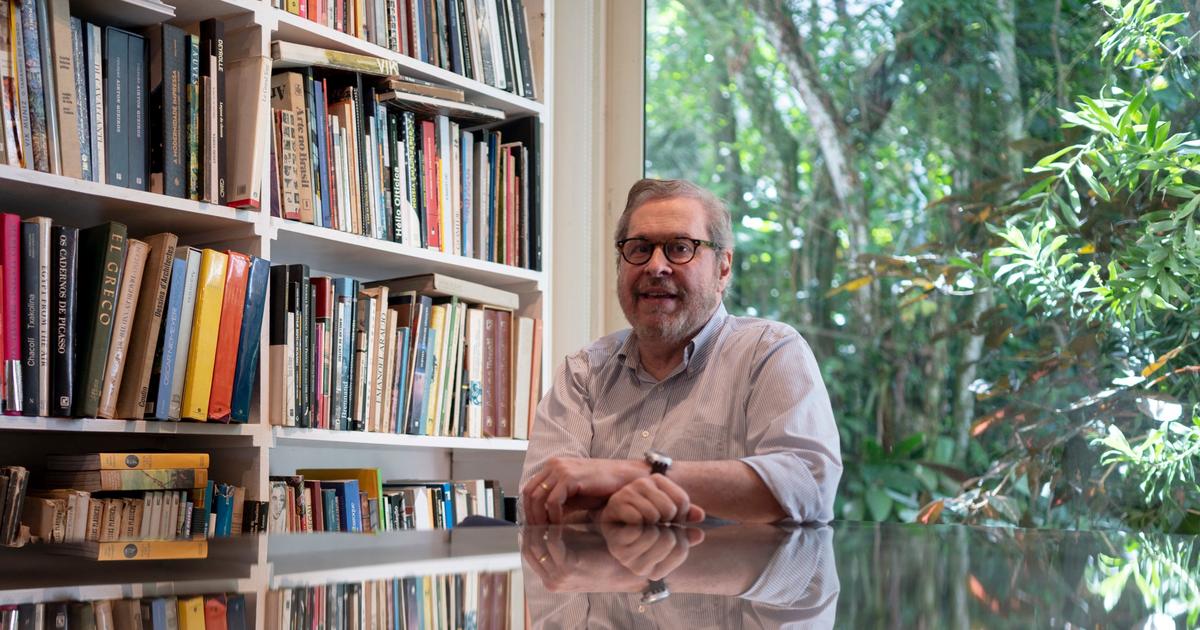 Pedro Corrêa do Lago devoted his life to assembling the world's largest private collection of autograph letters and manuscripts, including an invaluable sum on Marcel Proust.
"I should be in a straitjacket!"the Brazilian Pedro Corrêa do Lago has dedicated his life to assembling the world's largest private collection of autograph letters and manuscripts, including an invaluable sum on Marcel Proustwhom he worships. "You are in front of a zany gentleman, in a somewhat strange house, with a mind-blowing brothel. It is the result of a passion of more than 50 years»explains the art historian while receiving AFP in the house where he has just moved in the wealthy district of Gavea, in Rio de Janeiro.
Fireproof archive cabinets, dehumidifiers, piles of books on the floor, the bright house from the early 1950s houses, on three floors, an imposing library 11 meters high traversed by an internal staircase. "I'm going to be 65 and I've built up the biggest autograph collection in the world since I was 12, 13."says the Brazilian: signatures but above all letters, manuscripts, photos, drawings.
Read alsoFive things to know about Marcel Proust to shine at dinner parties
"Excessive ambition" of this collection of more than 100,000 pieces today was "to reflect the Western culture of the last five centuries". "My wife calls autograph dealers my dealers"jokes the one who describes the obsession with a life as "a virus, a disease"but who "brought him a lot of joy"despite some financial anxieties.
Son of a diplomat and having received "a privileged education"Pedro represented the auction house for 26 years Sotheby's in São Paulo, directed the National Library in Rio and curated exhibitions on Brazil. He founded with his wife Bia – daughter of the famous writer Rubem Fonseca – the publishing house of Capivara art books and wrote about twenty books.
THE "fetishism" by Proust
The beginning of the consecration arrived in 2018 with an exhibition at the Morgan Library in New York of 140 documents, "a small sample" from his vast fund. "It was the first time they exhibited a private collection of manuscripts", boasts Pedro. More than 80,000 visitors were able to contemplate a drawing by Michelangelo, a letter from Flaubert to Hugo, another from Mozart to his father, manuscripts by Einstein, Newton or Darwin, the cover of cantatas by Bach, a parchment by 1153. And a provisional incipit ofIn Search of Lost Timebefore the famous For a long time, I went to bed early . Because if he gathered a lot of originals around Flaubert, Baudelaire, Hugo or Toulouse-Lautrec, while being interested in Napoleon, Van Gogh or Picasso, Pedro formed an exceptional private fund around Proust. "Proust is the object of an absolute fetishism, I cannot escape it"concedes this tall, bearded man, who speaks perfect French and rereads excerpts from The research "all the time".
Read alsoProust, Quentin Blake, Steinbeck… The literary Figaro selection of books to offer for Christmas
It was at the age of 20 that he bought his first letter from Proust in New York in a stall: 200 dollars. He has 500 to live for a month. "A letter of extraordinary importance written to Grasset" by the writer in search of a publisher. 10 years ago, the Carioca bought photos from a great-niece of Proust, including the only original shots of her Parisian apartment, in a small batch of a few hundred euros. He was able to acquire 90 letters from the writer to the gigantic correspondence, 80% of which were lost. "It moves me a lot to have in my hands (…) the very paper he touched"explains the collector.
"The price of a big car"
Last year, for the centenary of the death of Prousthe lent coins to the National Library of France (BNF) and, before, at the Carnavalet Museum. But above all, Pedro "made many friends among the Proustians" by publishing, in October, Marcel Proust, a life of letters and imageswith 450 documents from its collection, mostly unpublished. "A little Brazilian unknown to the battalion, (…) who is writing a book on Proust, I was a little nervous all the same!", he laughs. In constant search of the original and the "interesting content"the collector traveled. "I went to auctions, three to four times a year in Europe and the United States (…), I always had something to do wherever I was in the world".
Read alsoCentenary of Marcel Proust: Stéphane Heuet celebrates La Recherche in comics
His greatest financial folly? The manuscript of The Library of Babel by Borges, "paid in four years, the price of a big car". "I had no personal fortune. Everything I've won in my life I put in my collection"says the Brazilian intellectual. "Maybe I could have spent (more) on my family, but they never complained about it"he concludes with a burst of laughter.