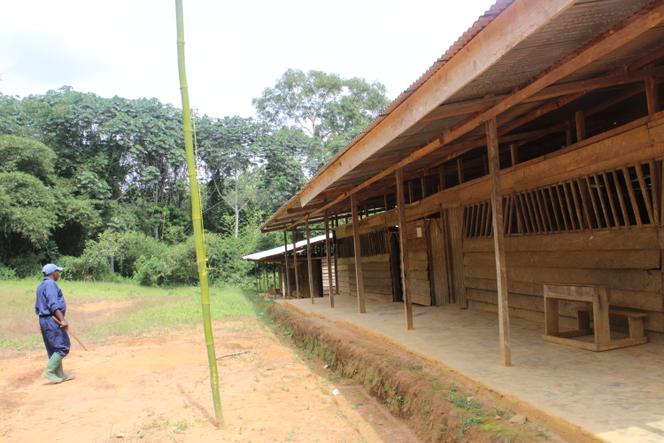 The truck is parked at the edge of a winding track in Nkollo, a village located in the South region, in Cameroon. Coming and going along the stretch, Bagyeli (the inhabitants of the forests, commonly called Pygmies, a term they consider derogatory) go about their business. The vehicle, filled with sawn wood, has been parked there for several days. "He carries bibolo [un bois tropical]. He's got a breakdown." explains Mathias Kouma, a 34-year-old Bagyeli leader.
Without a license plate, the truck does not belong to any legal company recognized by the Ministry of Forests. Its owner is a "war", one of those illegally exploited timber transporters that abound in the forest areas of Cameroon. The logs, once bleached, will be sold on the local market or delivered to Asian companies before export. According to Global Forest Watch, from 2001 to 2021, the southern region lost nearly 7% of its vegetation cover, or 326,000 hectares.
To collect this wood, the owner of the truck paid money to the villagers, says Mathias Kouma, without specifying the amount. Depending on the species and the quantity of logs cut, the bribes can range from 25,000 to more than 250,000 CFA francs (i.e. 381 euros). Sums intended to buy the silence or the complicity of the inhabitants and which are generally given to the town via the development committee or local organizations representing the villagers.
"Only illegal logging brings something to the village. As far as legal exploitation is concerned, we see nothing," recognizes, on condition of anonymity, the head of one of the towns of the municipality of Lokoundjé, which brings together around thirty villages populated by Bagyeli and Bantu, including Nkollo. You have to drive four hours on muddy tracks to reach them from the town of Kribi. Since 2018, this seaside town has had an operational deep-water port, which has become the second evacuation point for Cameroonian wood, behind Douala.
Forestry royalty
The Lokoundjé area is known for hosting Forest Management Unit (UFA) 00-003, the first concession officially devoted to industrial timber production in Cameroon. Covering an area of ​​more than 100,000 hectares, it was created in the wake of the 1994 forest law. A single company legally holds the logging titles, but it "she never gives anything to the village, she will tell you: "I pay the forestry fee" ", deplores André Sayom, vice-president of the development committee of Nkollo.
You have 71.32% of this article left to read. The following is for subscribers only.