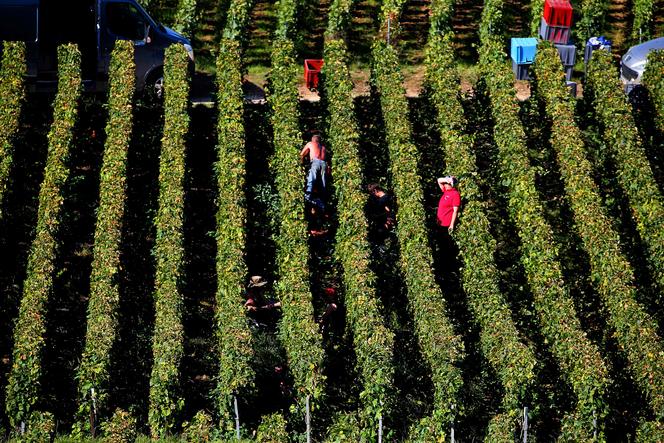 Four people working in the Champagne g harvest have died in recent days, some apparently from cardiac arrest, Agence France-Presse (AFP) learned Thursday September 14 from the public prosecutor's offices of Reims and Châlons-en-Champagne. The public prosecutor has launched investigations into the circumstances of these deaths, which occurred in a context of extreme heat.
"Two men have died in recent days while they were at the g harvest in our area"reported the Châlons-en-Champagne public prosecutor's office in a press release. "No offense has been noted at the moment, nor any autopsy ordered in view of the medical findings carried out by the emergency services"he added.
A woman died at her home, "discomfort having been reported the previous days during the harvest", according to the press release. Finally, "another man felt unwell and is hospitalized". "Investigations into the circumstances of the deaths occurring during working hours are underway by the MSA [Mutualité sociale agricole] »specified the prosecution, which does not comment on a possible link between these deaths and the extreme heat.
A fourth death has been reported by the Reims public prosecutor's office: a 19-year-old g picker, who "fell from a straddle" on September 8 in Rilly-la-Montagne (Marne) and died in hospital. "We are in the process of carrying out additional analyzes to establish the causes of death"announced the prosecution.
Temperatures above 30°C
Champagne, where the harvest began at the beginning of September, recorded temperatures above 30°C last week, unusual at this time.
"It will perhaps be proven that the sun has something to do with it", reacted to AFP Maxime Toubart, president of the general union of Champagne winegrowers. But "with 120,000 people arriving in two weeks", "of course things are happening"he said, referring to "one to two deaths from cardiac arrest or ruptured aneurysm each year". "More and more people are arriving and are not in the physical condition to do outside work: young people who do not eat breakfast in the morning, who do not drink, who are on medication, who work shirtless"he adds.
For the National Federation of Work Injured and Handicapped Persons (Fnath), it is now "urgent to set clear working conditions" in case of extreme heat. " It's necessary (…) ask yourself whether all safety measures have been taken to protect the integrity of workers"she adds in a press release.
"Taking temperatures into account by adjusting working conditions must be implemented"insists for its part the Marne prefecture, questioned by AFP, emphasizing that a "g picker's guide" was distributed to employers, including measures to take in the event of extreme heat. Among them, the adaptation of work rhythms, the limitation of physical loads or the provision of drinking water.