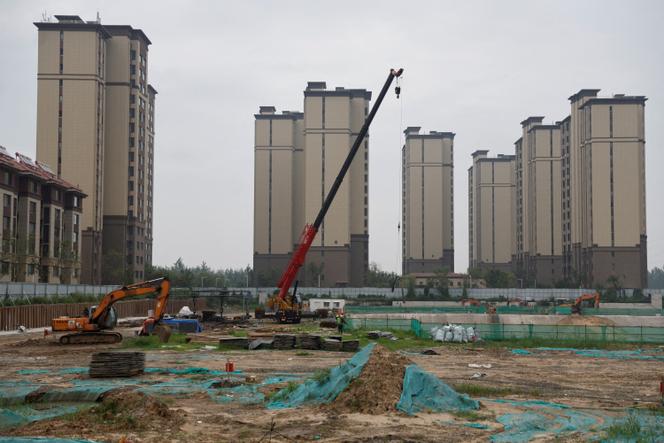 Bbattle base in Beijing. Faced with increasingly gloomy economic prospects and the real estate crisis that is setting in, the government is pulling out the heavy artillery. On Thursday, August 31, he announced a series of spectacular measures, from the relaxation of banking rules intended to support the yuan to aid for developers and apartment buyers. First-time buyers will thus be able, from this month of September, to renegotiate their mortgages downwards, while new funds will be released to complete the programs in progress. Investment funds, moreover, will be authorized to raise money to develop in real estate.
It must be said that there is fire at home. It has been brooding since the beginning of the troubles of the sector giant Evergrande, in 2021, but has not been extinguished. It has since spread, especially among its competitor Country Garden, which is on the verge of bankruptcy. Developer sales plummeted in August by 34% from a year earlier. However, real estate and construction represent between 20% and 30% of the Chinese economy.
The reasons for this bérézina are well known: economic slowdown due to the health crisis, declining demographics and, above all, unbridled speculation both on the part of investors and local authorities, of which this sector is the primary resource. After twenty years of cavalcade, real estate, which has long explained the resilience of the Chinese economy, is out of breath. A gigantic bubble bursts.
Global phenomenon
But China is not alone in this mess. The phenomenon is global. Prices fell by 10% to 20% in major American cities, sales collapsed in Great Britain. In France, according to The echoes, the average price per square meter in Paris fell back below the 10,000 euro mark. The correction of a phenomenal bull run, which saw prices jump almost 40% between 2015 and 2020.
Whether in China, the United States or Europe, the trees do not rise to the sky, and this correction is beneficial. It is the authorities and the 2008 crisis that are ultimately responsible for this situation. In China, because the country has saved its growth by pouring billions into this sector, and in the West, because central banks have crushed rates to negative levels to support the economy. There is no better way to fuel stock market and real estate bubbles. The Covid-19 has signaled the end of this euphoria which we believed, as always, to be eternal.