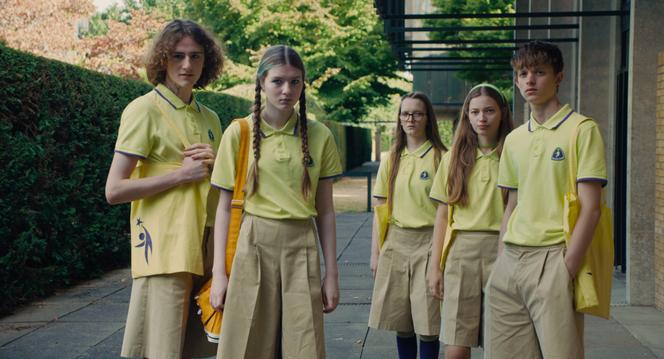 THE "WORLD'S" OPINION – MUST SEE
Gargantuan meals, flatulence and liver attacks… Rabelaisian satire of consumerism and the decadence of the bourgeoisie, Feastby Marco Ferreri, in which four friends decided to eat to death, caused a scandal at the Cannes Film Festival in 1973. Fifty years later, we are seeing a paradigm shift on the Croisette. In Club Zeropresented in the Official Selection, the Austrian filmmaker Jessica Hausner is pionate about another, more contemporary bourgeoisie, that of appetizers, small plates and small pleasures. The new marker of social prestige and good conscience, compatible with the socio-environmental emergency, can now be read in consumerist minimalism.
Let's explain. The action takes place on the campus of a private high school that only the extremely wealthy can offer their children. The interiors are spacious and uncluttered. Lines, parallel or perpendicular. The light is yellow, as are the students' uniforms. This implacable geometry and these flat areas as far as the eye can see, from which a disciplinary logic emerges, offer the filmmaker the possibility of designing straight-drawn frames whose corrosion is all the more visible. All this is reminiscent of the methodical rigor and taste for the abrasive of her compatriots, such as Michael Haneke, for whom she was the scriptwriter, and Ulrich Seidl.
It is in this context that a new teacher arrives: Mrs. Novak (Mia Wasikowska), known for marketing her own brand of detox tea – which does not prevent the predatory smile on the packaging –, will teach a course on conscious eating which aims to reduce waste. It's about making sure every bite helps your well-being, which means eating less to save yourself and the world. But the professor is twisted and will push the exercise to its climax: living without eating.
A generational break
With cinema often showing at the table, we thought we had seen it all when it came to gastronomic oddities. Toilet bowls around a dining table (The Phantom of LibertyLuis Buñuel, 1974), a bucket for vomiting in a gourmet restaurant (Monty Python. The meaning of life, Terry Jones, 1983), arguments over the roast, murders over the plate, but Jessica Hausner's proposal contrasts with these excesses. She designs astonishing canteen scenes that could be described as"air meal". We see five students, captivated by their new teacher, transformed into fasting maniacs, pretending to cut a fry into small portions and continuing the mime until they swallow. Lunch has become a resistance dinner.
You have 36.98% of this article left to read. The rest is reserved for subscribers.