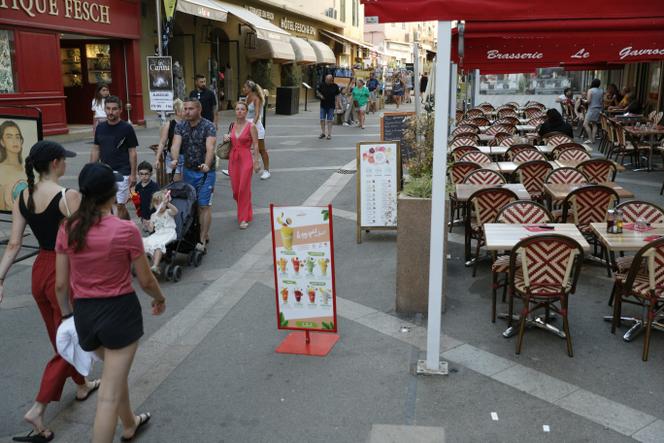 The 2023 tourist season is " a vintage " nationally except in Corsica. The Minister Delegate for SMEs, Trade, Crafts and Tourism, Olivia Grégoire, pointed to the island with a drop in crossings of – 5% and attendance in hotels of – 15%. "It has not been perfect in all regions (…)some, (…) record holders did not reach forecasts; I think of our Corsican friends"said M.me Grégoire, during a press conference on August 29, supposing a "repellent effect" due to the excessively high price of offers in cafes, hotels and restaurants with "prices that have reached the heights".
This finding of a lackluster season is corroborated by the Union of Trades and Industries of the Hotel Industry (UMIH), supporting figures. In a questionnaire on the occupancy rate sent this summer to 1,800 island businesses to which "between 300 and 500" responded and to which The world has had access, the union notes the data "alarming". In July, only 6.7% of hoteliers filled more than 90% of their rooms, while 40% of them saw this rate vary between 50% and 75%.
The month of August is less timid, since the majority of establishments were occupied from 75% to 100%, but 23.3% only rented 50% to 75% of their rooms and 10% from 25% to 50% . These figures are disappointing for a period which is experiencing a peak in attendance with 380,000 additional people (out of approximately 3 million tourists usually counted, from March to November). "Bad season", "very irregular, frustrating", "even worse than during the Covid"such is the feeling of some professionals, collected by the UMIH.
Sector in decline
The regression of the hotel sector is therefore confirmed: the area (17%) was already marking time in 2022, according to the Corsican Tourism Agency (ATC), overtaken by furnished tourist accommodation (19%) and finally by second homes and family accommodation (35%).
Another sector in crisis according to the same study, that of car rentals, with a decline of 15 points in 2022, in favor of loan platforms (+ 12 points). "Last year, I charged a rental day of around 42 euros, today 30 euros, we have to lower the prices"explains Jean-André Miniconi, dealer and rental company in Ajaccio, expecting a loss of 20% of his turnover. "With paracommercialism [les locations non déclarées]a whole section of the economy escapes us"concedes Mr. Miniconi.
You have 55.98% of this article left to read. The following is for subscribers only.