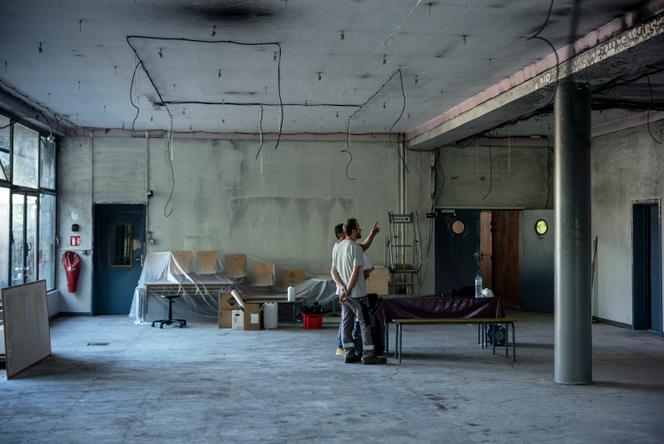 On this Monday of the start of the school year, in front of the gate of the Paul-Langevin elementary school in Strasbourg, the teaching staff plays the traffic police. "For the children of Langevin it's here, for Perey it's this way", they address some slightly lost parents. At the end of June, during the riots which affected this district of Cronenbourg, regularly affected by urban violence on New Year's Eve, the Marguerite-Perey elementary school was burned down, forcing it to remain closed on this day of resumption of cles. . Some 250 children were therefore divided between two schools in the district: CP, CE1 and CE2 at Paul-Langevin, CM1 and CM2 at Charles-Wurtz school.
The residents of the neighborhood were deeply affected by this fire. "We attacked a symbol of the Republic and of public service. It was extremely trying for everyone.", comments Jeanne Barseghian, EELV mayor of Strasbourg, who came on site to begin her school day tour. A psychological unit has been set up for the pupils or parents concerned. "We find a little lightness today, people have moved on but at the time, we were horrified by what happened. It really was a bunch of idiots who did this," breathes Najwa Belahcen, a 33-year-old stay-at-home mother. And many wonder who are the parents who let their child go out like that at night.
In the organization, everything has been done so that the young people of Marguerite-Perey stay together and do not mix with other school groups. They therefore returned to cl about fifteen minutes after those of Paul-Langevin. Ditto for recreation and cl outings, which will never take place at the same time. "We want to keep a cohesion effect so as not to upset them too much when they can return to their school during the year"explains Hülliya Turan, deputy mayor of Strasbourg, in charge of education.
Different working conditions
If there was enough space at the Charles-Wurtz school to accommodate CM1 and CM2, the rooms had to be rearranged a little at Paul-Langevin. The CP and CE1 cles, split at the Marguerite-Perey school, had to be grouped together: the students will be in the same room but with two teachers. "The working conditions for these split cles will not be the same, but everyone is aware of the exceptional nature of the situation", recognizes Chantal Magar-Vies, director of the host school.
You have 55.74% of this article left to read. The following is for subscribers only.