In Doha, the French team begins its commando mission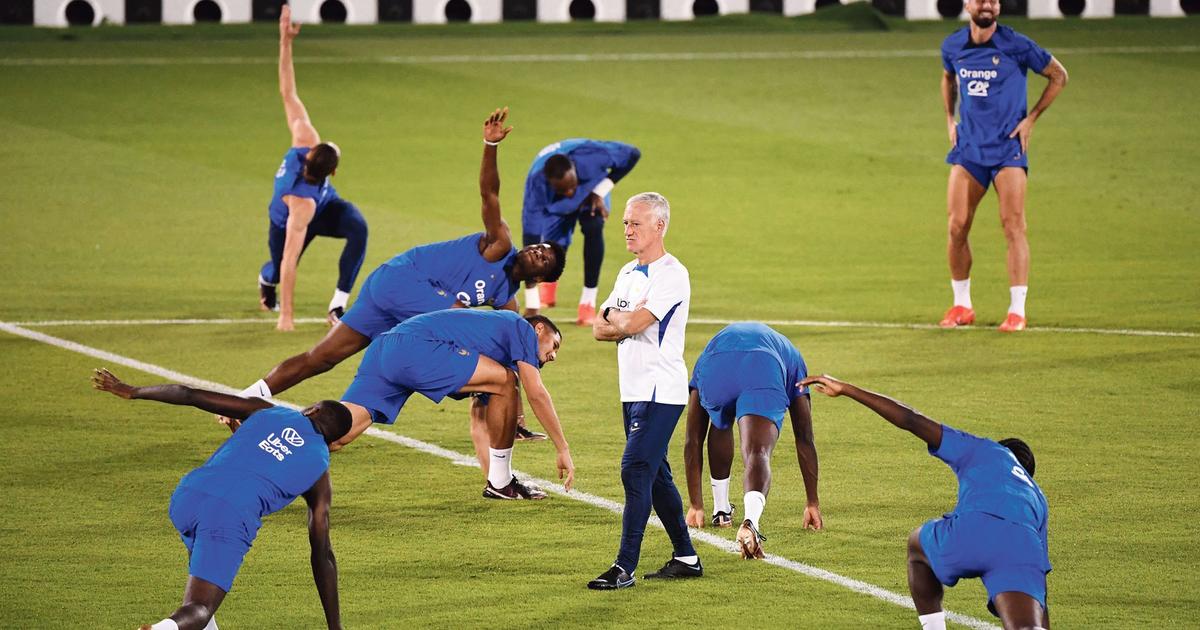 The Blues put their title in play, this Tuesday evening against Australia, when they entered the World Cup. Diminished by injuries, they question their real level.
Special Envoy to Doha
The France team has an appointment with its history on Tuesday in Doha. A huge challenge that no selection has succeeded in over sixty years (Brazil in 1958-1962). In recent years, like the Blues in 2002, four of the last five defending champions have left before the round of 16. Sent home without discussion. The hopes of a planetary double swept away with a wave of the hand. Didier Deschamps and his troupe, who arrived last Wednesday in sunny Doha and benefit from remarkable facilities between palm trees, sweetness of life and modern training stadium, are perfectly aware of this. The task looks daunting. Almost impossible. Before thinking about final victory, it will already be necessary to negotiate the appetizer proposed by Australia (8 p.m., TF1), before the dangerous Denmark on Saturday and Tunisia on November 30th.
In the history of French sport, comfort and gentrification have never been good companions when it came to putting on the overalls. No need to rack your brains and go back very far in our memory with the last Euro and the elimination against Switzerland from the 8are final to remember that the very high level does not forgive anything. The Mbappé, Griezmann, Varane and Lloris paid a high price for this booster shot. This time they have been warned.
Read also"A challenge that does not scare me": how Hugo Lloris maintains his status in the blue house
But the Blues do not approach this planetary meeting with a bulging chest. Far from there. Their enthusiasm and their peace of mind were once again showered on Saturday evening by Karim Benzema's package, who came to join a saturated infirmary (Nkunku, Pogba, Kanté, Kimpembe, Maignan). A carnage that further reinforces the idea of ​​commando operation. If the final on December 18 at the Lusail stadium still seems far away, the plan is already clear in everyone's mind. To stay at the top of world football, the band of Kylian Mbappé, number one attack leader after the departure of the Ballon d'Or, has no choice but to find the values ​​that made them strong during the Russian epic in 2018.
A first response expected against Australia
A strong, close-knit collective, where each element is capable of sacrificing itself for its partner, necessarily hoping for a flash of genius from the 23-year-old Parisian striker, who could become a little more legendary in the event of ultimate happiness. in a month. But the road is still long. Very long. Fraught with peril. With a course that must begin with a success against Australia, painful to play four years earlier for the entry into the running of the future heroes of 2018 (victory 2-1).
"Without this state of mind, we will not be able to claim anything", plants Hugo Lloris, who knows a lot about it on the roller coaster side for having experienced the fiasco of Knysna in 2010 and the madness of Moscow in 2018. With ten title holders from the Russian campaign present in Qatar and ambitious young people with long teeth (Tchouaméni , Camavinga, Konaté, Upamecano, Saliba, Fofana…) but rookies in such a competition, the French team knows its mission. Under the relative heat of Doha – 24 degrees are expected for a meeting scheduled for 10 p.m. (local time) – these Blues, whose level no one really knows, must provide a first response. And prove that they are equipped to defend a title desired by the whole world. Holy challenge.