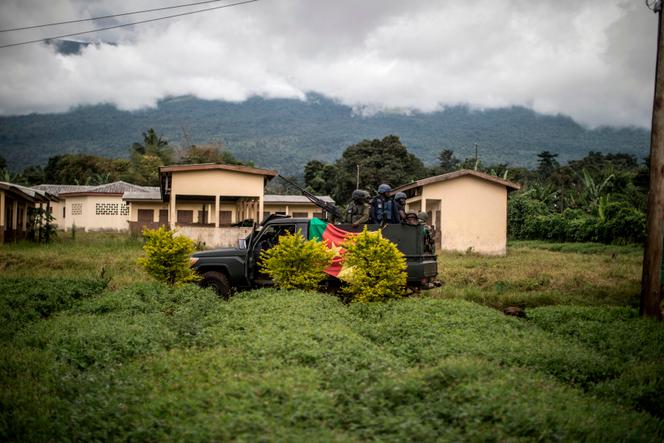 Jenny* interrupts her story and writhes in pain, her right hand placed on her stomach, the other buried in a pillow. Diving into memories is torture. Like dozens of women from one of the two English-speaking regions of Cameroon, this farmer was . By soldiers, she specifies, deployed in the surroundings of her hometown since the civil war between the separatists and the army broke out in 2017.
It was September 2021, in a village on the outskirts of Bamenda, the capital of the North West region. Then aged 46 and mother of six children, Jenny worked on her bean, yam and corn plantation with one of her daughters. Concentrated on their task, the two women did not pay attention to the approaching soldiers. "Usually, when we hear them or see their vehicles from a distance, we run and take refuge in the bush. We were surprised"says Jenny in tears.
"It's been common in Bamenda since the war started", she laments. Since then, she has taken refuge in Douala, the economic capital of the country, where she shares a room with her boys. Her daughter, also , is in Yaoundé, the administrative capital, with an uncle. His mother, in Ebolowa, in the South. Separated from her daughter "for lack of money, but also to stop talking about it and try to forget, Jenny explains. Inside, I am destroyed. I live like a living dead. »
Between 2019 and 2023, The world met thirty victims who confide, like her, to having been abused. By the military for some, by separatists for others. Since the outbreak of the conflict which has already caused more than 6,000 deaths and forced more than 700,000 people to leave their homes, according to the NGO International Crisis Group, cases of gender-based violence "exploded"notes Akem Kelvin Nkwain, human rights manager at the Center for Human Rights and Democracy in Africa (CHRDA), an organization that documents the conflict in the west of the country.
Denial from the army and separatists
" is constantly used as a weapon of war, leaving many women and girls psychologically tortured. Some ended up in the grave, others attempted suicide because of this situationadds Rosaline Obah, national coordinator of the Cameroon Community Media Network (CCMN).
The military officials that The world those interviewed reject all the accusations outright. "The Cameroonian army has only one duty: to protect the territory and the people to the point of their blood. And that's what the military does and some lose their lives for the entire nation, supports a colonel, an officer stationed in the English-speaking part. No soldier will the person they are supposed to protect. Our men are trained."
You have 61.77% of this article left to read. The rest is reserved for subscribers.