In Guyana, the Paris Opera leaves its walls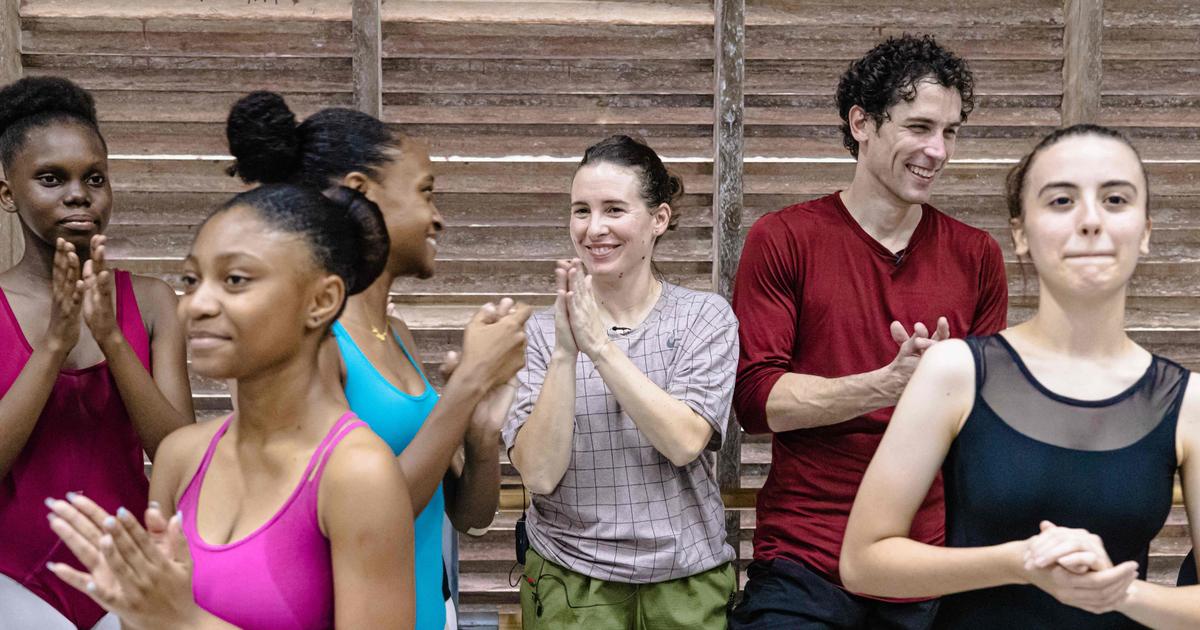 Since November 23, opera dancers and singers have taken part in this workshop project launched a month earlier. An operation that aims to promote talent in this territory and, in the long term, diversity within the venerable institution.
At the Conservatory of Cayenneseven boys perform "dégagés" by stretching their legs and pointing their feet, under the leadership of prima ballerina Stéphane Bullion, one of the ambassadors of an unprecedented initiative by the Paris Opera in Guyana.
Less numerous than the girl students in the room next door, they are delighted and surprised by the pace of the lesson compared to their usual dance class. "It's more physical and faster"assures Claude Tibere, 16, who comes out of class breathless.
Since November 23, dancers from the Opera and lyrical singers from his Academy take part in "L'Opéra en Guyane", a workshop project launched a month earlier. It is supposed to foster talent in this territory and, in the long term, diversity within the venerable institution.
For now, it's time for the joy of dancing. "We are already trying to give them the pleasure of trying things, to show them things that are a little exhilarating and that they can achieve"assures Stéphane Bullion who has just said goodbye to the stage of the Opera.
Read alsoThe Paris Opera caught up in the battle for "diversity"
On Saturday, masterclasses were given to students from different Guyanese dance schools. In a room open to the outside, the former first dancer Muriel Zusperreguy encourages about fifteen young girls to perform barre exercises which follow one another to the sound of a recorded piano.
His advice is sometimes drowned out by the chirping of the kikiwis, those rather noisy Amazonian birds. At the entrance, in a relaxed atmosphere, some parents immortalize the lesson on their phones. For the dancer, there is no question of placing herself in a perspective of talent detection for the moment. "Looking at students in this way would lock us into a not very healthy, not very positive position"she says.
An Opera so far away
More than 7,000 kilometers from Paris, even young people who study music and dance see the Opera as a vague structure. Emi Sana, a 12-year-old Cayennaise, comes out of the course all smiles. Impressed at the start, she recognizes that the Opera remains a relatively unknown institution, even if its evocation arouses curiosity. "I had watched videos (of Opera dancers), but I had never seen them dance in real life," she said. Three days before, she had attended a show given by the dancers of the Opera in front of a full house.
"We are not always lucky enough to have shows or references in classical dance here", observes Frédérique Edwige, who teaches ballet at the Guyana Conservatory, where she is also an advisor for choreographic studies. She explains that "The Opera is something very far away for the students; we do a lot of work so that they understand what it is".
The project, financed by the company Meridiam to the tune of 300,000 euros per year for at least three years, is the first of its kind to be launched in Overseas by the 300-year-old institution. It is intended to develop in other overseas territories.
In February 2021, a report commissioned by the Opera indicated that diversity was "a great absence at the Paris National Opera on all floors". "We feel that it is important to get out of our walls, to open up our recruitment channels, otherwise we always have the same profiles and we become poorer", explains to Cayenne Myriam Mazouzi, director of the Academy of the Opera. Before concluding : "We have to represent French society; we welcome choreographers from all over the world, they are looking for varied, different and complementary profiles.".