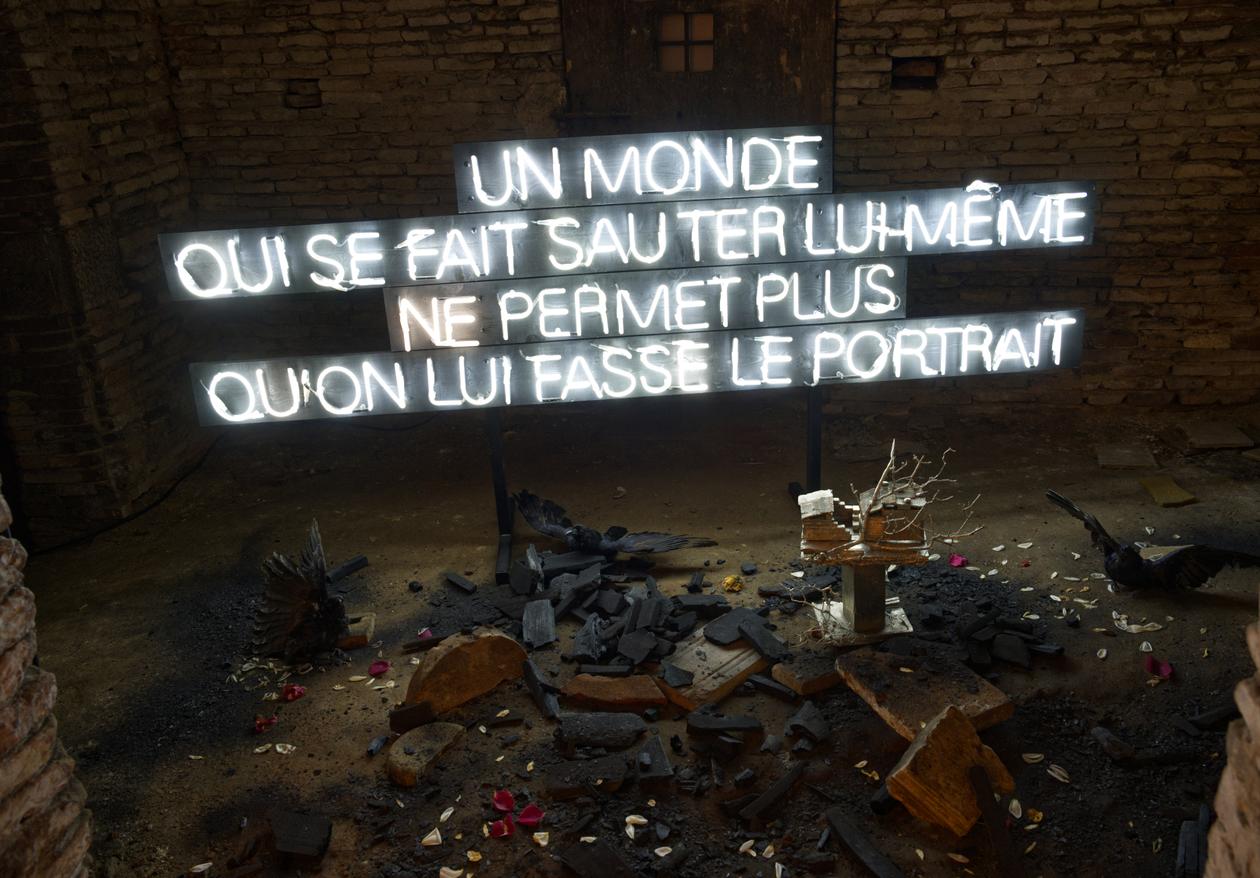 At the end of the 1960s, Anne and Patrick Poirier made the remains of the port of Ostia Antica and other Roman ruins their subjects. Their works seemed detached from the actuality of creation and the contemporary world, where technical exhilaration was at its height. Apollo 11 had just landed on the Moon, proof of the omnipotence of progress. To recall the fragility of the most grandiose companies was to take the era backwards. Half a century later, when the thought of the collapse of civilization is becoming a general obsession, it is tempting to lend their early work a prophetic quality.
The most recent are more disturbing and explicitly accusatory, close to a tragedy that the two artists had not yet pushed to such raw violence. For this, as part of the "A mirror of the world" exhibition, they have taken possession of the lower floors of the Ingres-Bourdelle Museum, in Montauban, medieval vaults that can be reached by a monumental staircase. One might have expected that the Poiriers, who, like Jean-Auguste-Dominique Ingres, ped through the Villa Medici and, like him, had a pion for clical antiquity, would take advantage of this complicity. This is hardly the case, except for an ironic allusion to The source (1856), by Ingres.
Their first installation, housed in a vast niche closed by a grid, consists of debris thrown on the tiles, which can barely be seen in the shadows, and a sentence written in capital letters with white neon lights, the only source light of the work. She says : "A world that blows itself up no longer allows its portrait to be painted. » The quote is from the Austrian writer Hermann Broch (1886-1951) and dates from 1945, the year of the bombings of Hiroshima and Nagasaki. That is, expressed otherwise than did at the same time the philosopher and composer Theodor Adorno (1903-1969)the observation that humanity has demonstrated what inhumanity it was capable of if the means were given to it by technology, and that the irreparable has been committed.
stuffed crows
A second piece is called The Ravens of the Black Prince, which Black Prince – Edward of Woodstock (1330-1376) – was the son of King Edward III of England and remains in history as one of the worst macres of the Hundred Years War, particularly in Aquitaine and Guyenne. He built a castle in Montauban, of which there remain these Gothic rooms, which bear his name. The Poiriers dedicate a funeral work to this follower of terror: the walls are masked with black panels, on top of which stuffed crows are placed. They hold pieces of paper in their beaks, carrying bad news for today, for example the rising waters.
You have 44.72% of this article left to read. The following is for subscribers only.