In Montreal, flowering of young shoots at Quartiers Danses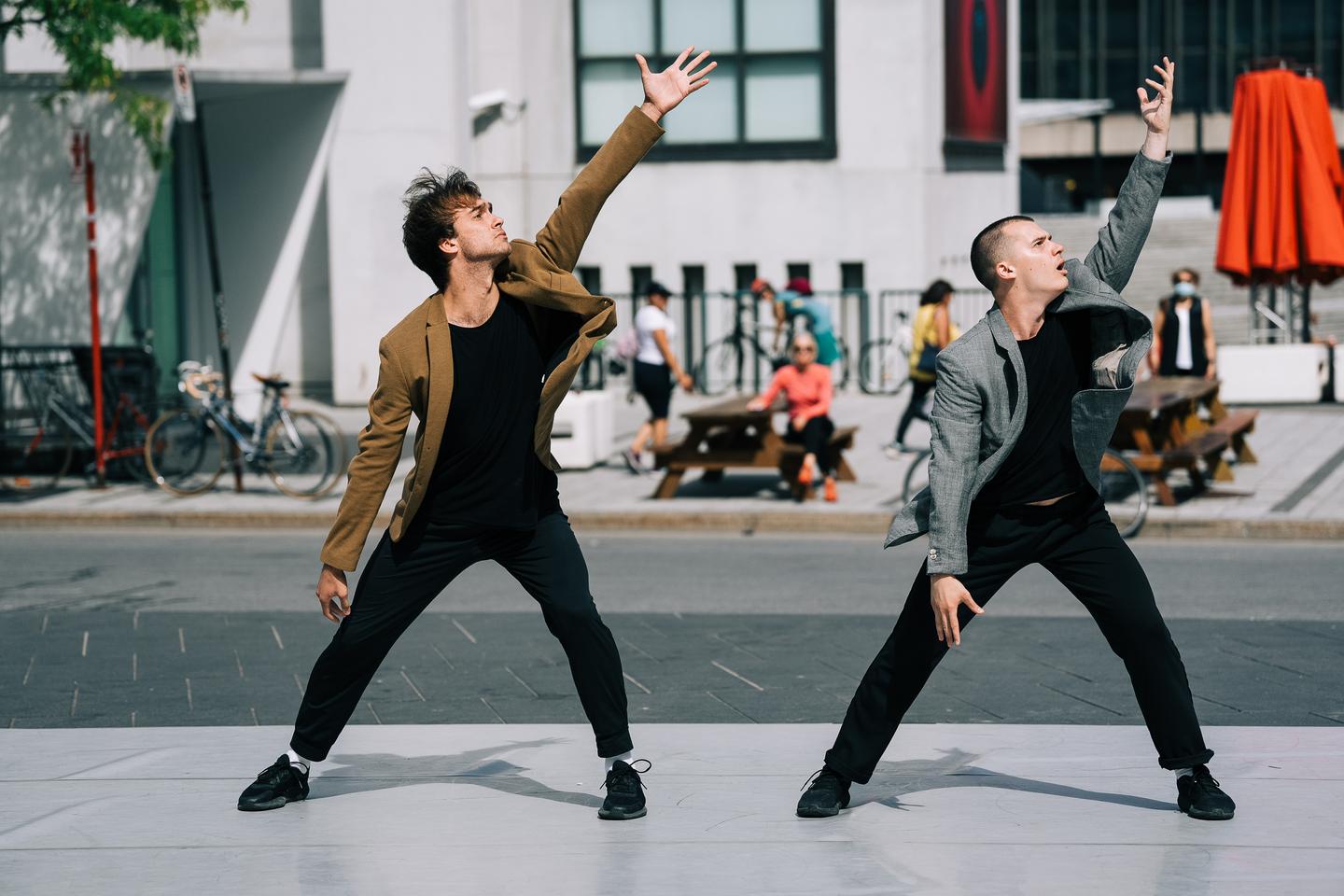 The sound swings away. It is amplified by the crown of gleaming buildings in the Griffintown district. It's party time in this historic industrial corner converted ten years ago into a trendy residential area in the southwest of Montreal. The Quartiers Danses festival raises the pots (potentiometers), Sunday, September 11, to attract onlookers around its outdoor stage. A square of lawn, two pink and blue banners, behind the scenes to put on make-up while laughing, and the show takes off at full speed on the lawn.
Yellow, green, orange, a Bollywood pop bubble bursts, telescoping the muscular solo of a dancer in a little black dress and pearl necklace. No time to breathe, a delicate embrace intertwines a man and a woman paralyzed from birth. For one hour, seven performances at aesthetic antipodes add up with a common point: the majority of the performers are under 25 years old and for the most part sign their first show.
This "discovery showcase", highly applauded by an attentive public, reflects the spirit of the event created twenty years ago by Rafik Hubert Sabbagh. Every day, from September 7 to 18, Quartiers Danses swarms meetings in ten places including Place des Arts, in the center, and the Jardins Gamelin which concentrate dozens of homeless people – the local word for homeless. shelter. "Contemporary, hip-hop, African, when I started in the poor areas of the city, people found my programming too hybrid, laughs the general and artistic director. Today, people tell me that I was a visionary and it has become… inclusive! » And to add: "It is above all, outdoors and indoors, accessible and resembles the inhabitants of Montreal with all cultures and colors. »
Outside and inside, from the outskirts to the centre, Quartiers Danses, which also takes place in the beautiful studio-theatre of the Grands Ballets Canadiens, has won its stripes. With regard to institutions such as Usine C, which heralds Jan Martens and Dimitris Papaioannou or Danse Danse, which brings Pina Bausch together with Hofesh Shechter, it stands out for its urban roots and an eminently Montreal identity.. "Francophone and Anglophone", says Rafik Hubert Sabbagh, who features 30 local and 9 international companies, including the Malandain Ballet Biarritz.
Quebec key figures
The attraction of the festival lies in its massive support for young shoots. Adrian Batt, 24, and Pauline Gervais, 25, both fresh graduates of the Ecole Supérieure de Ballet du Québec, took their first steps there five years ago. On Sunday September 11, the first created a very physical male duo all in lively reversals, entitled Stichomythia. "Expressing yourself in the street, among people, makes dance more human and everyday and really gives meaning to my work", enthuses the one who already has 7 short plays to his credit. Also ultraproductive, Pauline Gervais, spotted in 2019 by Platform Dance, in Corsica, has signed 9 creations. "It's going fast for me and I'm very lucky, she declares. It is by choreographing that I learn what my job is and that I find my way. » His quintet MMXXa rapidly fragmenting ball of nerves, reveals paradoxically fluid robotic gestures.
You have 51.17% of this article left to read. The following is for subscribers only.