In MotoGP, the outcome of the duel between Francesco Bagnaia and Fabio Quartararo is more uncertain than ever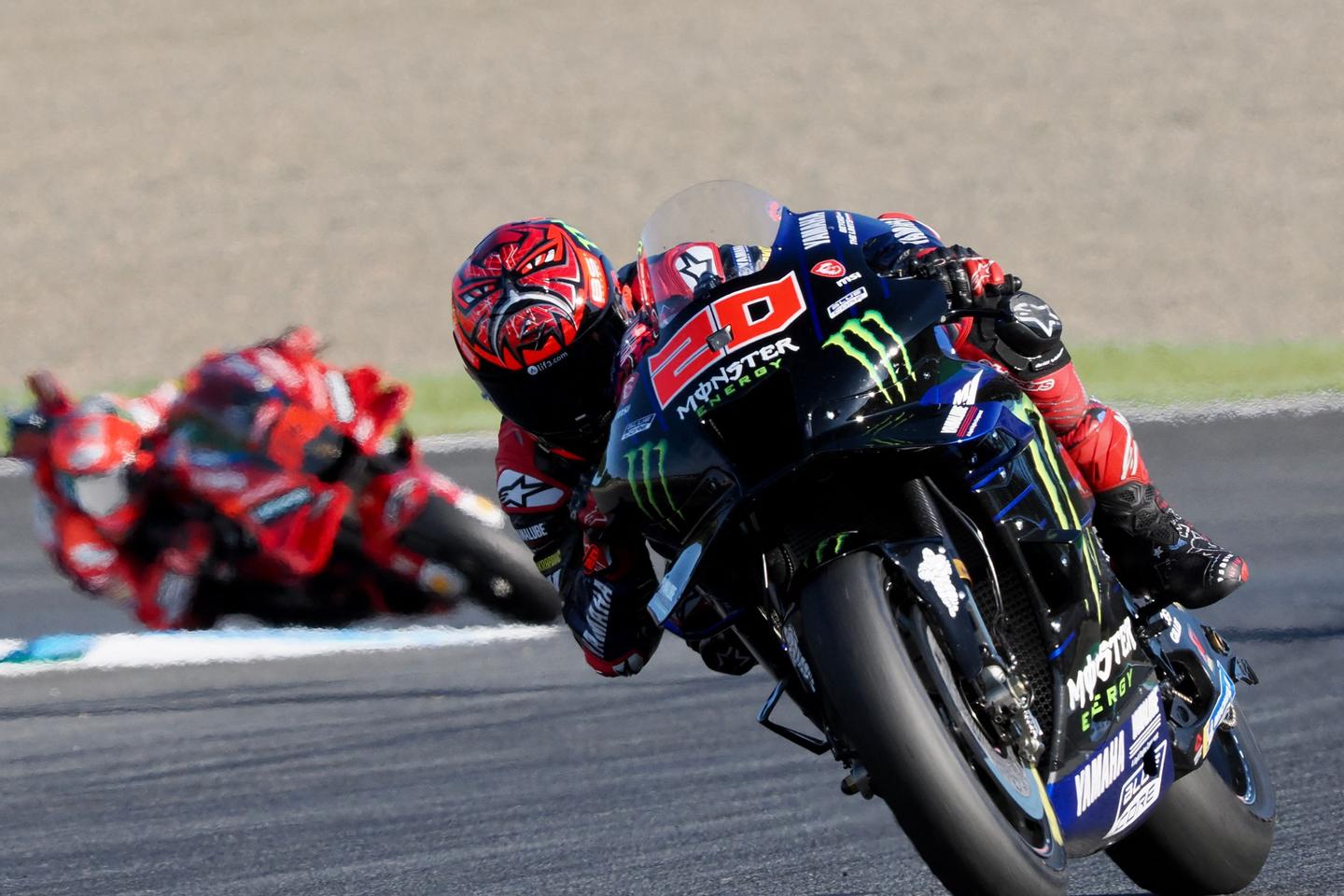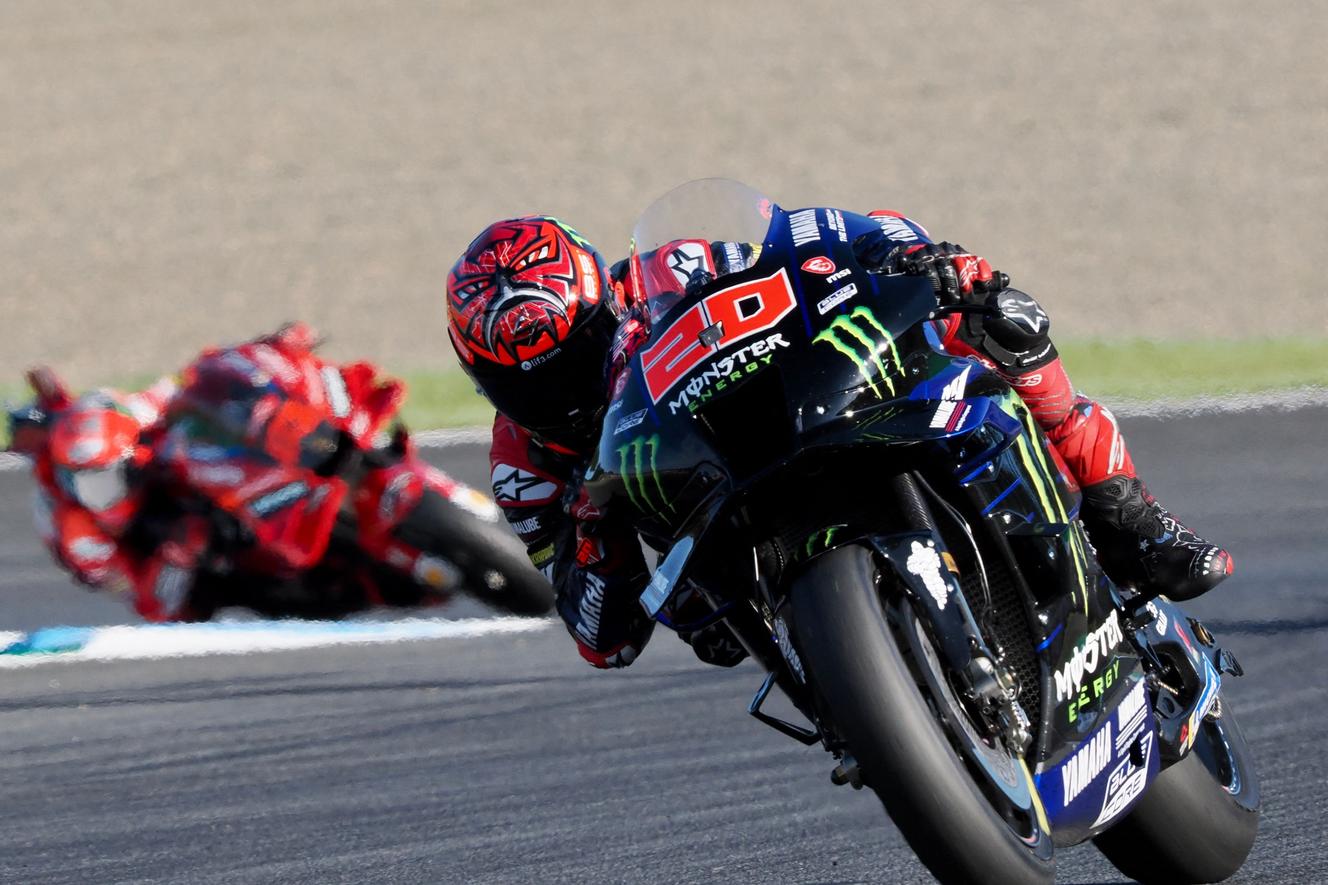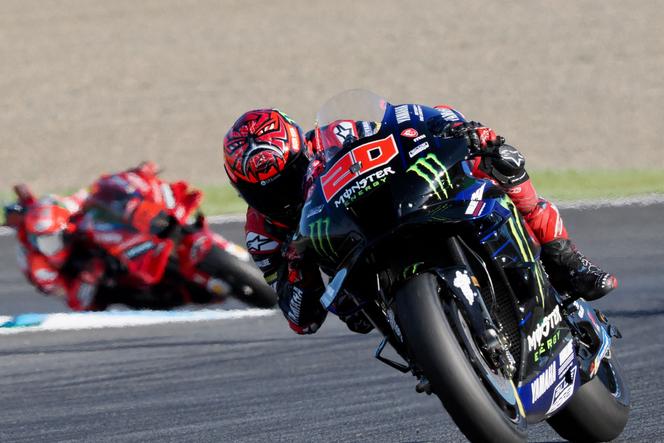 Rarely has the outcome of the MotoGP championship, the premier category of speed motorcycling, been so difficult to predict. Four races from the end of the season (which includes twenty), the Frenchman Fabio Quartararo, "El Diablo", reigning world champion, has an eighteen point lead over the Italian Francesco "Pecco" Bagnaia.
The comeback of the latter, who has won four of the last six Grands Prix, was abruptly interrupted on September 25 on the last lap of the Japanese Grand Prix, when he made a mistake while he was in the wheel of his rival. This big mistake could be fatal to him in the title race. Indeed, there are only one hundred points left to be awarded at the most per driver, with a victory earning twenty-five points, a second twenty, a third sixteen… up to the fifteenth, which makes it possible to score one point.
The MotoGP championship is not, however, limited to a "mano a mano" between Fabio Quartararo and Francesco Bagnaia: indeed, no less than eight riders benefit from the powerful Ducati engine. For the moment, no instructions have been given by the manufacturer from Bologna, but it is not impossible that the Ducati riders unite to try to prevent the Frenchman from obtaining a second world crown.
In addition, a disaster scenario, where Fabio Quartararo and Francesco Bagnaia would fall together and neutralize each other, cannot be ruled out. Fourth in the standings forty-nine points behind "El Diablo", winner of four races this year, the Italian Enea Bastianini, from the Gresini Ducati team, can still believe in his chances, as can the Spaniard Aleix Espargaro, on Aprilia (third with twenty-five points behind). The return to form of the Spaniard Marc Marquez, six-time world champion, long absent from the circuits after an arm injury, constitutes an additional factor of uncertainty.
October 2
Buriram (Thai Grand Prix): 50/50
Canceled in 2020 and 2021 due to the Covid-19 pandemic, the Thailand Grand Prix is ​​the most recent of the four. "The pilots still have few benchmarks there", confides Régis Laconi, winner of the Grand Prix de Valence in 1999, and consultant for Canal+. The long straight (1 kilometer) favors the Ducati, but it is a circuit that Fabio Quartararo appreciates. In 2019, he had a Homeric fight against the defending champion, the Spaniard Marc Marquez, then in top form, finishing second after taking pole. Francesco Bagnaia could only finish eleventh. Young rookie Having recently landed in the premier category, "El Diablo" had proven that day that he was one of the best riders in the world.
You have 54.15% of this article left to read. The following is for subscribers only.