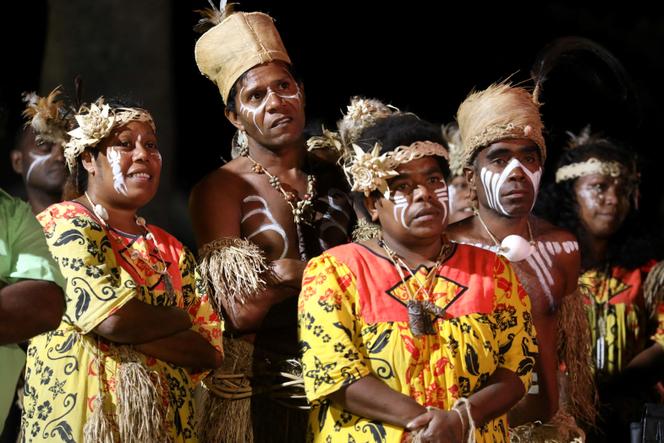 In New Caledonia, which of the great chiefs or the customary Senate is legitimate to bring the traditional Kanak voice to the State? The question sparks a lively debate. During the planned visit of the President of the Republic, Tuesday, July 25, to the Customary Senate of New Caledonia, he will be welcomed by great leaders from all over the territory alongside representatives of the institution. A facade of unity negotiated at the last minute between two camps that have been clashing for several months now, even if it means throwing a little more discredit on the customary representatives, whose role, often misunderstood in particular by the non-Kanak populations, is the subject of recurring criticism. What is at stake in this battle for legitimacy: to obtain a place at the negotiating table on the future status of the territory and therefore influence the place that will be given to the customary world.
On the one hand, the Customary Senate and its 16 members, which can adopt deliberations published in Official newspaper and must be consulted by the government for any legal text affecting Kanak identity (customary civil law, succession, etc.). On the other, an ociation with a meteoric rise, Inaat ne Kanaky, or Council of Grand Chiefs, born in September 2022 and chaired by the customary chief of the district of La Roche, on the island of Maré, Hippolyte Sinewami-Htamumu. It brings together some of the high Kanak dignitaries or their representatives, with the stated aim of "represent Kanak custom and identity during discussions", according to its president. In April, the ociation made a noteworthy trip to Paris, culminating in a meeting with the Minister of the Interior and Overseas Territories, Gérald Darmanin, who is overseeing the negotiations on the future statute. Under the nose of the Customary Senate and the areas, which at the same time organized a tour throughout the territory to present their own institutional future project, in preparation for many months.
Poor record of the Senate
Because if Inaat is a simple ociation, it believes it has de facto legitimacy, even if it means interfering in the internal affairs of the customary Senate. In February, the ociation had thus intervened to demand the maintenance in his post of the president of the customary Senate at the time, Hugues Vhemavhe, dismissed after a conviction for driving while intoxicated. A controversy spread out in the public square which had dealt a serious blow to the credibility of the Customary Senate. "The Senate has hit bottom, an abyssal bottom", then launched, visibly exasperated, Yvon Kona, the spokesperson for the institution.
You have 33.11% of this article left to read. The following is for subscribers only.