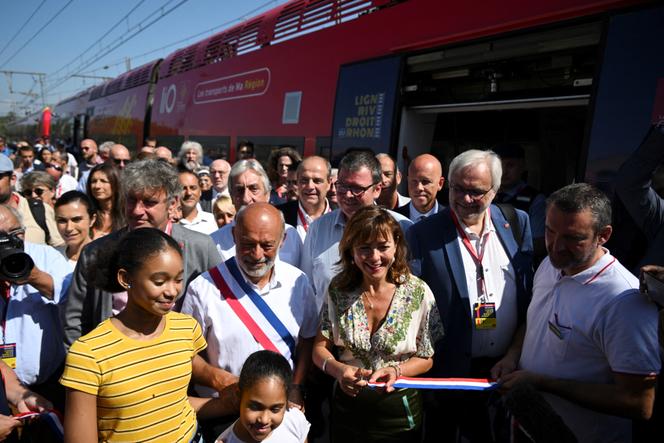 This is a landmark event in Figeac, a town of less than 10,000 inhabitants located in the north-east of the Lot department. Thursday August 31, in the residential district of Font-Redonde, the rehabilitated station, which had been ravaged by flames in November 2018, must be inaugurated in the presence of an audience of local elected officials. Among them, Carole Delga, the socialist president of the Occitanie region. Because the community is fully involved in this renovation. In 2019, it bought the damaged building from the SNCF to rebuild it almost entirely.
"To shorten the time for its reopening, planned for 2030 by the SNCF, the region has become the owner. And this is a first in France"emphasizes M.me Delga, who committed 4 million euros in this operation. This choice is guided by the geographical position of Figeac since this medium-sized town, which draws its economy from aeronautics and tourism, serves the disaster-stricken valley of Decazeville, straddling Aveyron, Cantal and Corrèze.
This decision is also part of a more global railway strategy, led by the president since her election in 2016 at the head of the community. " The train is my priority, my political fight and I lead it across Occitania"says M.me Delga. "I want to lead by example. France must embark on a major rail revolution to meet climate challenges, while meeting the mobility needs of residents."she urges.
A budget of 4 billion euros over ten years
In Occitania, crossed by 2,636 kilometers of railways, 80,000 travelers board one of the 500 LIO regional express trains that crisscross this territory every day, the second largest in France by its area. Insufficient for the president, who hopes to reach 100,000 users per day " as soon as possible ".
To encourage residents to opt for the train, the community, meeting in plenary embly in March, voted by majority an ambitious plan devoted to the development of regional trains, with a budget of 4 billion euros for the period 2023 -2032. "We have the operating budget reduced to the highest number of inhabitants in the country"welcomes the elected socialist.
This program plans to increase the number of daily trains on the busiest links, such as Toulouse-Auch by 2029, but also to reopen links that have been deleted… The first of these, the right bank line du Rhône, between Pont-Saint-Esprit and Nîmes, closed since 1973 by the State and the SNCF, has transported 75,000 pengers since its reopening in August 2022. And this is only the beginning. In the Cévennes, the Cathar country, the Comminges, in Haute-Garonne, other lines will reopen in the coming years.
You have 21.3% of this article left to read. The following is for subscribers only.