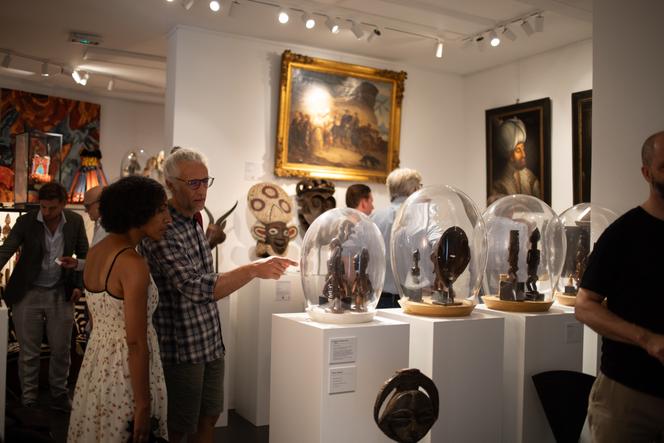 Like every year since 2002, Parcours des mondes welcomes, in Saint-Germain-des-Prés, galleries specializing in non-Western arts, coming from all over the world. They settle for a few days near the Parisian galleries familiar with the district, between rue Guénégaud, to the east, and rue Bonaparte, to the west. That's a little less than sixty in total for this 22e editing.
This concentration frees collectors from having to travel to Australia, Finland and Senegal. Often in pairs, sometimes in groups, they move slowly – it's so hot this year – from one store to another. They enter, look, walk around the bases, consult each other in whispers, ask for details and prices. Some people no longer travel without their tablet to check prices, a sad practice that has become commonplace at contemporary art fairs.
Over time, the arts of Africa and Oceania have been joined by those of the Americas (from Brazil to Alaska), Asia (Japan and China) above all, and by archeology, from prehistory to the 'Clical antiquity. This evolution, intended to attract new customers, is evidenced by the shift of too many presentations towards the cabinet of curiosities, if not the luxury bazaar. The most disparate works coexist there. They often seem to be chosen because their style is recognizable at first glance, which can only be reuring, in principle.
Sudden arrival of Siberian cultures
But the opposite effect could also be obtained. One can thus be surprised by the quantity of wooden kota reliquaries covered with copper and br from Gabon and, from Gabon again, by the abundance of Fang masks. We are also affected by the sudden arrival of Siberian cultures, striking both by the number and the dimensions of certain pieces with an exquisite green patina.
Rare, and all the more precious, are the galleries that focus on a geographical area and its cultures. This is the case of Olivier Castellano, who for two decades collected statues and masks of the peoples of what is now called Burkina Faso and Mali. That of Jean-Edouard Carlier, for Australia and the Torres Strait, from which comes a pair of polychrome spinning tops unlike any we had ever seen. And by Pablo Touchaleaume, who shows several monumental sculptures of M'bembé ancestors from Cameroon, wonderfully eroded. A final suggestion: go to Abla and Alain Lecomte, who only show a few African masks, but all of them are remarkable for their inventiveness and their expressive power.
You have 5.74% of this article left to read. The rest is reserved for subscribers.