In Poland, discovery of a treasure dating back to the Republic of the Two Nations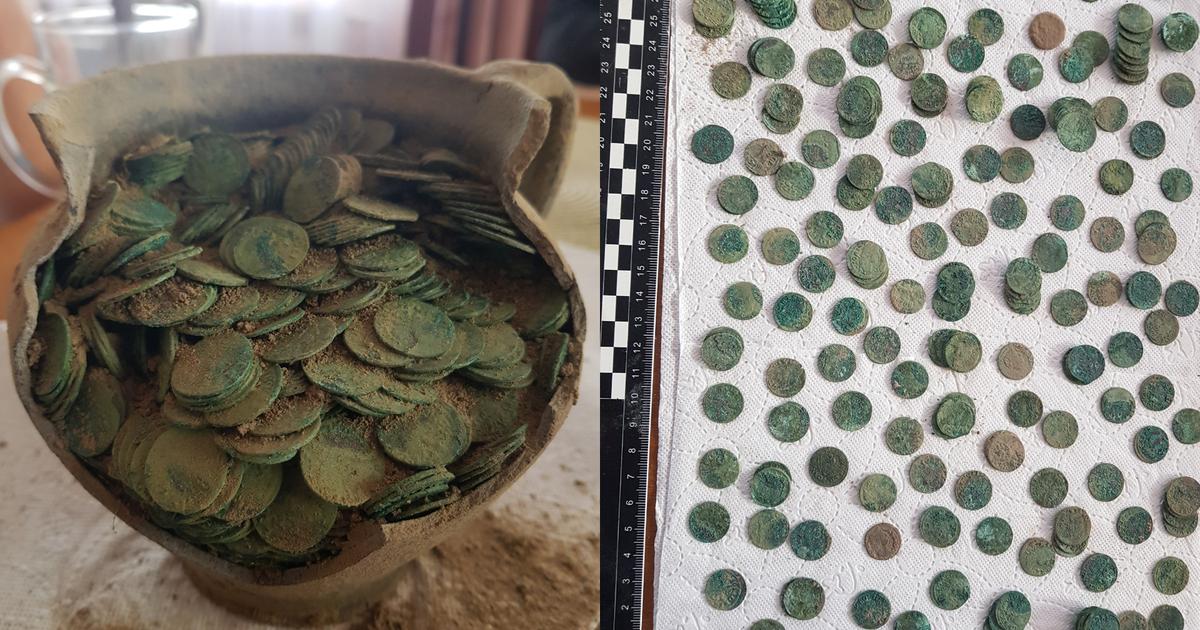 ARCHEOLOGY – A set of nearly 1000 coins dated from the 17th centurye century was found fortuitously near Lublin. The coins were minted by the Kingdom of Poland and the Grand Duchy of Lithuania.
A man discovered on February 26 Poland, in a family field, a jug filled with old coins. Equipped with a metal detector, the young individual was prospecting the land of a relative, around Zaniówka, near Lublin, in the east of the country, in search of agricultural equipment, when he found the pot and its extraordinary contents. The discovery was immediately reported to the heritage authorities of the region, who secured the site and its treasure the next day, the office of the Heritage Curator of the Lublin Voivodeship said on March 2.
Zaniówka's jug, partly split, contained nearly a thousand coins, said the Polish specialists, who also discovered traces of a textile. According to numismatic analysis, this treasure consisted of szelągia copper variant of the Germanic silver schilling, minted by the kingdom of poland and by the Grand Duchy of Lithuania. These coins would date from the XVIIe century, i.e. from the apogee of the union of Poland and Lithuania, under the banner of the Republic of the Two Nations, whose borders then extended from Baltic to Ukraine.
The whole thing weighed about three kilograms. The study of the burial site of the treasure, little damaged by its young inventor, revealed to archaeologists that it was a voluntary deposit. The place in question is on the outskirts of the village of Zaniówka, which already existed in the XVIIe century. The treasure will be entrusted to the archaeological collections of the city museum of Biała Podlaska, some 40 kilometers north of the village.
Read alsoPyramid of Cheops: extraordinary discovery of a corridor, hidden for 4500 years
As in France, Polish law prohibits unauthorized search for archaeological remains, with or without the aid of a metal detector. Similarly, the fortuitous discovery of such vestiges or monuments must be declared immediately to the authorities. This is what happened in the case of the Zaniówka monetary hoard. This did not prevent several Internet users from expressing some doubts, in a more or less amused tone, about the "search for agricultural equipment" which would have motivated, initially, the research of the young discoverer.