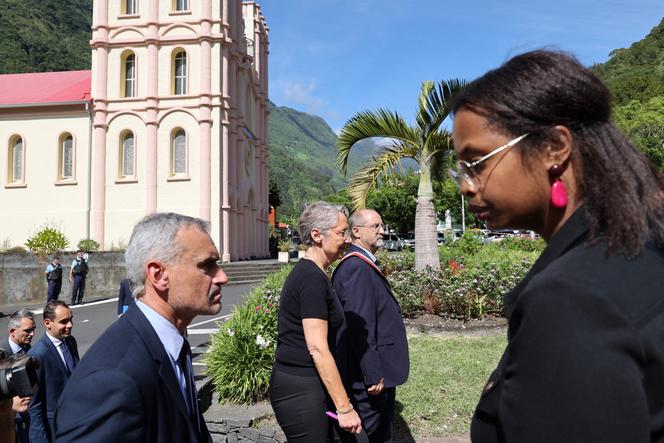 Surrounded by vertiginous ramparts with lush vegetation, Elisabeth Borne marvels at this "extraordinary landscape". In the heart of the island, in the circus of Salazie, the Prime Minister began, Thursday, May 11, a three-day marathon visit to Reunion, where she is making her first trip overseas since her appointment to Matignon, he almost a year ago. "A magnificent territory", she will repeat later in the evening during a reception with local players in the economic world. Eleven hours by plane from Parisian tensions, the head of government seems to be enjoying what looks like a breath of fresh air. As a precarious respite from the torments of the top executive.
When he arrived early at Roland-Garros airport, only about fifty opponents were waiting for him with pans, kept at a good distance on the road by four times as many gendarmes. The motorcade easily managed to avoid them through the cargo terminal. "Ping through the back door", criticizes a demonstrator. For the rest of the visit, the small groups of opponents of the pension reform are kept away by an imposing force of law enforcement.
To avoid any demonstration in Saint-Denis, the streets surrounding the war memorial have been cordoned off over a large perimeter for the traditional and Republican wreath laying. Only the invited personalities, the agents of the administrations or the employees of the businesses working in this frozen sector were able to attend the ceremony, almost behind closed doors. "Mme Borne will not meet the Dionysiansobserves the socialist deputy of the territory Philippe Naillet. It disappoints me. But it is true that it is very complicated. »
"We are waiting for help, not measuring spoons"
The days of traditional walkabouts for Heads of State and Government, and the fervor expressed by waving small tricolor flags, are over. Another style, another era, Prime Minister Jean Castex, who came a year ago as Emmanuel Macron's special envoy for "to mobilize" between the two rounds of the presidential election, had been able, despite the mistrust of the executive expressed at the ballot box, with the high local scores of Jean-Luc Mélenchon and Marine Le Pen, to afford a smooth stroll in the streets of Saint-Denis and sketch maloya dance steps with the inhabitants of Saint-Pierre to the sound of a roulèr and a kayamb.
However, Elisabeth Borne ures us: she came to "moments of exchange with Reunionese people". The head of government repeats her mantra to this period of "recovery"as she had entrusted to the WorldAt the beginning of April, and once again discusses the roadmap of its "hundred days" : "offer concrete, quick solutions to everyday problems".
You have 57.27% of this article left to read. The following is for subscribers only.