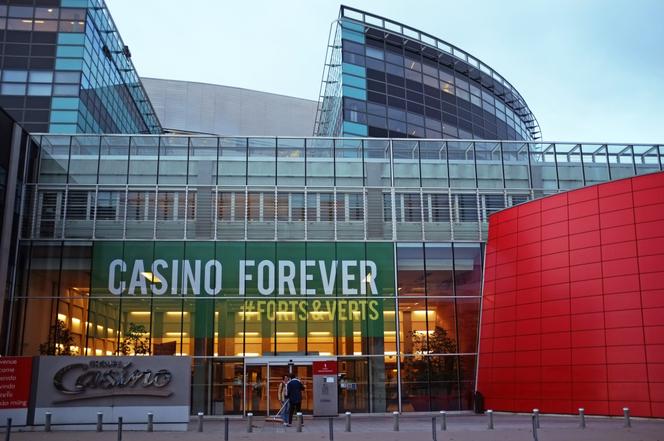 Located opposite Châteaucreux station in Saint-Etienne, the global headquarters of the Casino distribution group proclaims its slogan on the facade of its design building: "Forever". With its phone French translation: "#forts et vert". The reference, intimately linked to the history of the mining town, alludes to the color of the legendary football club and is a mantra, in the midst of uncertainty over the takeover of the Casino Group.
The green color comes from the address of its first establishment, rue des Jardins. At the beginning of the XXe century, the group founded the Casino Company Employees' ociation, at the same time as it multiplied the branches. The social model, inspired by the utopias of the industrial revolution, provided for a pension system and internal career progression.
The friendly has become the famous Saint-Etienne Sports ociation (E), with unrivaled panache and a mythical stadium, bearing the name of Geoffroy Guichard, founder of the first Casino grocery store. While the football team was relegated to the second division in 2022, Casino, crippled with debt, can it sink?
"Nobody wants to believe that Casino can disappear, so much the brand is linked to the history of the region. But workers are worried. We have no urance that the group's headquarters will not be in the balance of the negotiations that are taking place", confides Guillaume Touminet. The union representative (CFDT) to Casino France management sounded the alarm four years ago.
For him, the sale of the branch walls gave the impression "that the company was stripped of its substance to increase shareholder dividends and repay the debts of other group entities". Allusion to the other structures of the distribution empire set up by Jean-Charles Naouri from 1992, with the absorption of Casino by the holding company that owns Rallye, followed by the takeovers of the Monoprix, Franprix, Leader Price and Cdiscount brands.
The Manufrance Syndrome
"The head office has melted, the group's purchasing department is in Vitry-sur-Seine [Val-de-Marne], the holding company of Mr. Naouri and the headquarters of Monoprix are also in the Paris region. What will the buyer do? », asks Guillaume Touminet. In response to his concerns, expressed in the local press, the trade unionist was summoned in 2019 for an interview prior to his dismissal, with a warning.
"The industrial tribunal sanctioned this decision. Today I have the feeling that we must again ask for the truth about the real situation of the group and about the intentions of our leaders. In the past, no one dared to imagine that Manufrance could sink overnight, despite promises of takeovers," explains Mr. Tourminet. The syndrome linked to the industrial group, which disappeared in 1980 with 1,800 employees, still touches hearts in Saint-Etienne.
You have 66.95% of this article left to read. The following is for subscribers only.