in the National Assembly, the late government, an unleashed Chamber and calls for resignation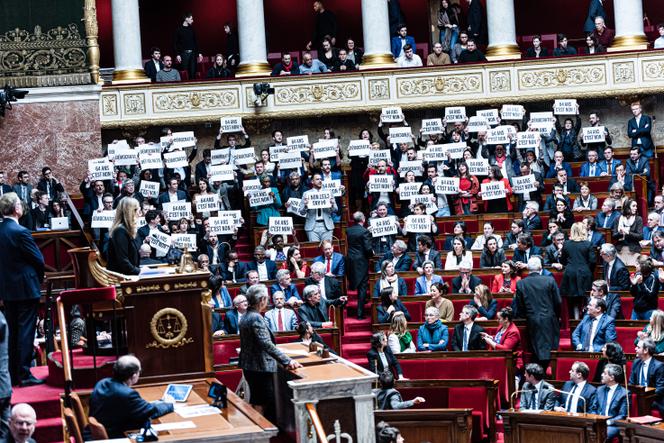 From the top of her perch, in the Hemicycle of the Palais-Bourbon, Yaël Braun-Pivet discovers in front of her the desperately empty ministers' benches. When the President of the National Assembly opens the session at 3 p.m., Thursday, March 16, its outcome is already known: the Prime Minister, Elisabeth Borne, must announce before the national representation the recourse to article 49 paragraph 3 of the Constitution. For have the pension reform adopted without a vote.
Because the session cannot begin without the presence of at least one member of the government in the Hemicycle, Yaël Braun-Pivet is forced to interrupt it only a few seconds after having invited the deputies to return to their seats. Faced with this delay of the executive perceived by elected officials as a new mark of contempt for them, tempers are heated, the tumult is growing. At the same time, the tenant of Matignon and her ministers are on their way from the Elysée where the President of the Republic, Emmanuel Macron, has authorized in extremis the government to engage its responsibility on the founding bill of its second mandate, at the course of an extraordinary council of ministers.
After multiple negotiations in the morning Thursday between Mr. Macron, his Prime Minister and the leaders of the majority, the presidential camp had to face the facts: it was not guaranteed to have a sufficient majority on this reform which raises the legal retirement age from 62 to 64 years. Even the adoption of the text by the Senate dominated by the right and the center with 193 votes against 114 and 38 abstentions did not change the situation in the Assembly.
"La Marseillaise" loudly
It is finally 3:07 p.m. when the Minister of the Economy, Bruno Le Maire, head down, enters a raging Hemicycle. " Shame ", " It is a scandal ", resounds in greeting. Accompanied by Olivier Dussopt (work), Gérald Darmanin (interior), Agnès Pannier-Runacher (energy transition) or even Eric Dupond-Moretti (justice), the head of government, followed the movement under boos oppositions. On the arrival of Elisabeth Borne, the "rebellious" deputies waved posters bearing the inscription "64 years is no! » Or " Democracy " and intone at the top of their voices the Marseillaise, while cries of calls for the "resignation! ». All smiles, the vice-president Rassemblement national (RN) of the Assembly Sébastien Chenu displays on a sheet "Ma'am, you have to go."
You have 71.14% of this article left to read. The following is for subscribers only.