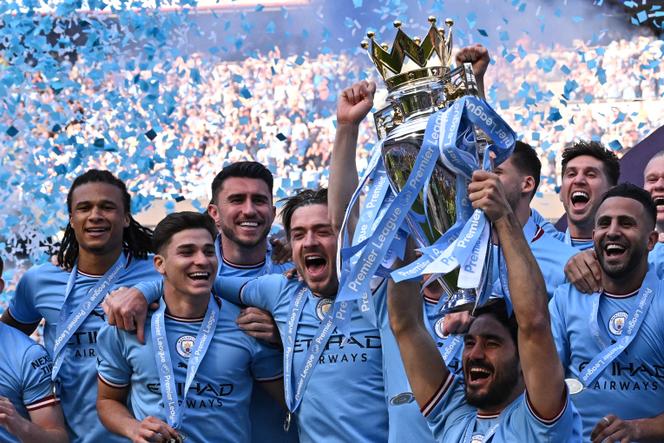 En outcling, to worldwide acclaim, Real Madrid (4-0) in the semi-final second leg of the Champions League, Manchester City have qualified for their second final of the prestigious European competition – a match that the club will approach as big favorites on June 10, against an unexpected Inter Milan. Lovers of the beautiful game were able to appreciate the double of the Portuguese Bernardo Silva and the collective perfection of his team.
Coach Pep Guardiola, a master tactician, has been waiting for twelve years to lift the "Big Ears Cup" again. She has been fleeing him since his second title with FC Barcelona, ​​in 2011, despite a stint at Bayern Munich (2013-2016) and a departure for Manchester, where he would find even greater sporting resources.
"New Rich"
THE Sky Blues de Guardiola have already won domestic titles in the highly competitive Premier League (they clinched the fifth in seven editions on Saturday night), but they have come up against a gl ceiling in Europe. The goal is getting closer, however, after the lost final of 2021 and the failure in the half last season… against Real.
This shows the difficulty of winning the Champions League, which seems to be reserved for teams with "experience", as esoteric as this notion is, and above all in which a strong sporting hazard persists. At least in its final rounds, monopolized by members of the continental hyper-elite, whose door Manchester City had to force before dominating it – also taking advantage of the economic hegemony of the English championship.
His modest European record, embellished with a single Cup Winners' Cup in 1970, recalls his status as the "new rich". Bought in 2008 by an investment fund from Abu Dhabi, the club, which lived in the shadow of Manchester United, has indeed benefited from considerable economic means. Today, it is the flagship of the City Football Group and its dozen subsidiary clubs around the world, testifying to the alarming development of "timeshare" clubs.
On the sporting level, Paris Saint-Germain, another "club-state", can draw inspiration from this rival to measure what it lacks. Starting with a great coach, clearly vested with sporting power, exercising full authority over the players.
What the Citizens were probably lacking, and what PSG have had for several years, is a very good scorer. The arrival of the Norwegian prodigy Erling Haaland (36 goals in 37 days) completed the building. What they already had, unlike the Parisian club, was a real team, built on a game project in the service of which its stars put themselves.
You have 42.17% of this article left to read. The following is for subscribers only.