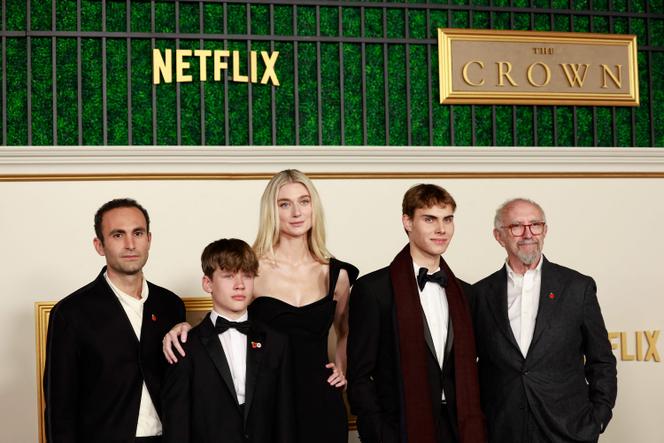 Each broadcast of a new season of The Crown provokes its controversies or its media stir. The first part of the sixth and final season, available since Thursday November 16, is no exception. This time, it is the appearance of Diana's ghost which divides the chroniclers.
However, seven years after the launch of the first season of the Netflix series dedicated to the British royal family, from Elizabeth's marriage in 1947 to the accidental death of the Princess of Wales under the Bridge tunnel. 'Alma, in Paris, August 31, 1997, the event no longer makes headlines in the United Kingdom.
It must be said that the reality of the last two years has far exceeded fiction, perhaps limiting the effect of surprise for spectators. With the Platinum Jubilee celebrations in June 2022, the death of Elizabeth II the following September, her state funeral ten days later and the coronation of her son Charles III in May, they were widely served, with a succession of sumptuous and solemn royal events.
The shattering departure of Prince Harry and his wife Meghan Markle for California and their recurring recriminations against the rest of the royal family by interview or biography (Spare, by Prince Harry) also offered a breathtaking "soap opera" script. And that's without mentioning the very questionable friendships of Andrew, youngest son of Elizabeth II, with Jeffrey Epstein, and the accusations brought against him by one of the victims of this sex criminal (which ended in a settlement at the amicably in early 2022).
"It's the nature of series to take liberties with history"
Compared to this extensive and often scandalous news, to the acidity of documentary Harry & Meghan, broadcast at the end of 2022 on Netflix, The Crown offers a reality weathered by time and a big-budget production, with slick settings and dialogues, features members of the royal family in a much more flattering way than the tabloids, which attacked Meghan Markle, as they had unleashed themselves against Catherine Middleton or Camilla Parker Bowles before her.
"Netflix rather helped the royal family; the series made its members more endearing, it humanized them while they remained rather distant figuresestimates Pauline Maclaran, specialist in consumer culture at Royal Holloway University in London. Netflix shows the point of view of Queen Elizabeth II at the time of Diana's accidental death, although she was widely criticized at the time for having been indifferent. Prince Philip is portrayed as macho, but also as someone who put his duty before his personal ambition. »
You have 45% of this article left to read. The rest is reserved for subscribers.