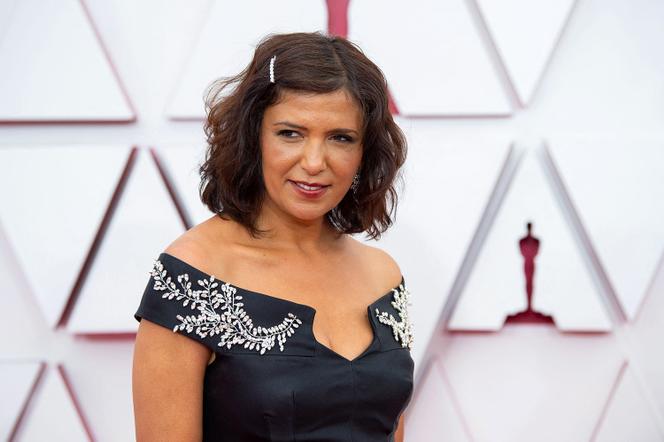 For the first time in more than half a century, a Tunisian film is in official competition at the Cannes Film Festival. Its director, Kaouther Ben Hania, 45, is from Sidi Bouzid, the cradle of the 2010-2011 revolution. Daughters of Olfa, his fifth feature film, presented in preview at Cannes, is a documentary of creation on the edge of fiction retracing ten years of the life of Olfa Hamrouni, a mother from a modest background, whose two daughters joined the Islamic State, in Libya, in 2014, before being imprisoned there.
Olfa has publicly denounced the indifference and inaction of the Tunisian authorities in the face of the radicalization of her daughters. To represent them on screen, the director called on professional actresses and set up an original device. "What is interesting about Kaouther Ben Hania is that she manages to navigate between genres", comments Erige Sehiri, 41, Franco-Tunisian director who presented her first fiction feature film, under the figs, in the Directors' Fortnight during the previous edition of the Festival.
The two directors compose with Ala Eddine SlimWalid Mattar, Abdelhamid BouchnakMehdi M. Barsaoui, Youssef Chebbi or even Mohamed Ben Attia a new generation of Tunisian filmmakers, mostly in their forties, liberated by the "jasmine revolution". To support them, the National Center for Cinema and Image (CNCI) was created in 2011 in Tunis.
A team of young enthusiasts keen to support this revival has also opened an art house in Carthage. It is backed by Hakka Distribution, whose ambition is to provide "real output for Tunisian films and for auteur cinema", explains Khelil Triki, communication and development manager of the distribution company. Despite the difficulties, the dynamic is launched and the creations are diversifying, both in production and financing models and in artistic proposals.
Go beyond clichés imbued with orientalism
"We cannot say that there is a Tunisian cinema as we would talk about Iranian cinema, tempers director Erige Sehiri. But there is a great freedom and a variety of genres, universes and styles, a freedom of speech and even of the cinematographic gesture", which allow this generation of filmmakers to go beyond certain clichés imbued with Orientalism.
"All this is closely linked to the freedom of expression acquired since the revolution. Without freedom of expression, producers can't invest in a movie, neither can distributors, and directors aren't going to torture themselves for years to make a movie that can't be seen." insists Khelil Triki.
You have 37.99% of this article left to read. The following is for subscribers only.