Ln August 23, the Vikram landing module of the Indian probe Chandrayaan-3 landed on the Moon. A success broadcast live that thrilled every Indian. August 23 is now declared National Space Day. The technological feat sparked a moment of popular fervor never before seen in the country's recent history. The first lunar mission in 2008 placed an orbiter around the Moon. It is one of its instruments which made it possible to confirm the presence of ice in the deep craters of the lunar South Pole. And this is precisely where the Vikram lander landed. India therefore did not choose its landing site at random. She has the idea of ​​preparing a permanent presence on the Moon. First robotic, then human.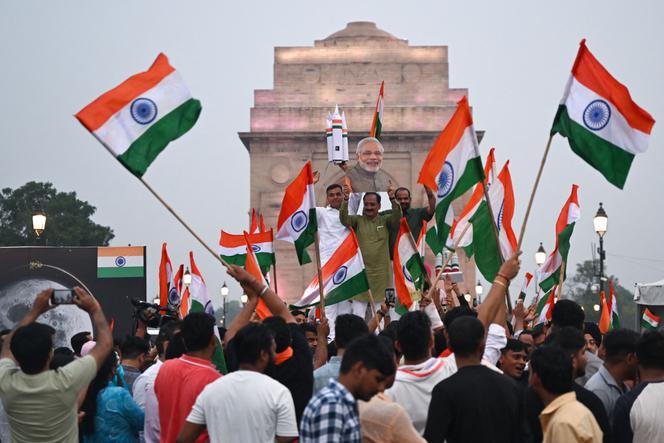 India began its space program by orienting it towards the development of its population at a time when the United States, the Soviet Union, but also France and the United Kingdom were pursuing power logics. When the young physicist Vikram Sarabhai, from Ahmedabad, created the Indian Space Agency (ISRO, for Indian Space Research Organization), it was 1969, only eleven years after the creation of the American agency (NASA), eight years after that of the National Center for Space Studies (CNES). And the country had already launched dozens of French Centaur and a few Dragon sounding rockets, with help from France. The first space cooperation agreement with CNES dates back to 1964.
Today, India has become a major space power, in orbit of Mars, on the Moon, preparing a mission to Venus, and above all determined to send its own astronauts. The first flight carrying "vyomanauts" will take place at the end of 2025. Europe still does not have this capacity. Secondly, ISRO is considering a small autonomous space station, made up of inflatable modules, for long-term missions.
But beyond space exploration, India has distinguished itself by its Earth observation and telecommunications missions, which have made life easier for its citizens. In this context, joint Franco-Indian satellites have been providing valuable operational services to the population for decades, whether for agriculture, monsoon forecasting or water resources management. They also occupy an essential niche for French and Indian researchers in climate monitoring.
Towards foreign participation
You have 51.61% of this article left to read. The rest is reserved for subscribers.