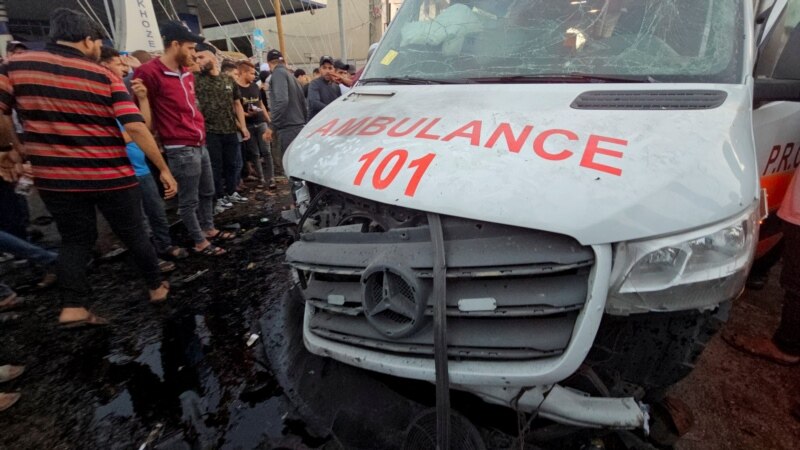 The Israeli army struck an ambulance in the north of the Gaza Strip. Israel claims that it contained Hamas militants. The UN and WHO said they were "horrified" by what had happened.
According to the statement of the Palestinian Red Crescent Society, 15 people were killed in the attack, and another 60 were injured.
"Hamas uses ambulances to transport terrorists and weapons to the battlefield. And it's not the first time," said Jonathan Conricus, a representative of the Israeli army.
As a result of the impact, application of the Israeli military, several Hamas militants were killed. The message emphasizes that the north of the Gaza Strip is a zone of hostilities, whose residents have been repeatedly called to evacuate "in the southern direction."
The head of the World Health Organization (WHO), Tedros Adhanom Ghebreyesus, condemned the attack. "We are deeply shocked by the reports of attacks on ambulances carrying patients in hospitals in Gaza, which have resulted in deaths, injuries and destruction," Ghebreyesus wrote.
He reminded that patients, medical workers, medical facilities and ambulances must be protected at all times, and called for a ceasefire.
"I am horrified by reports of an attack in Gaza on a convoy of ambulances at the Al-Shifa hospital. The images of bodies scattered on the street near the hospital are horrifying," said the statement of UN Secretary General António Guterres, which was quoted by European and Israeli and Arabic m media.
Israel conducts a military operation in the north of the Gaza Strip, which is controlled by the Palestinian radical group Hamas, in response to its attack on Israel on October 7.
According to the Israeli side, 1,400 people were killed in Israel at that time, about 250 were captured by militants and are still in captivity. Five hostages are freed.
According to the Palestinian side, controlled by Hamas, more than nine thousand people, two-thirds of whom are women and children, died in the Gaza Strip due to Israel's retaliatory strikes. There is no independent confirmation of these data.