"It is not impossible that this will be my last return"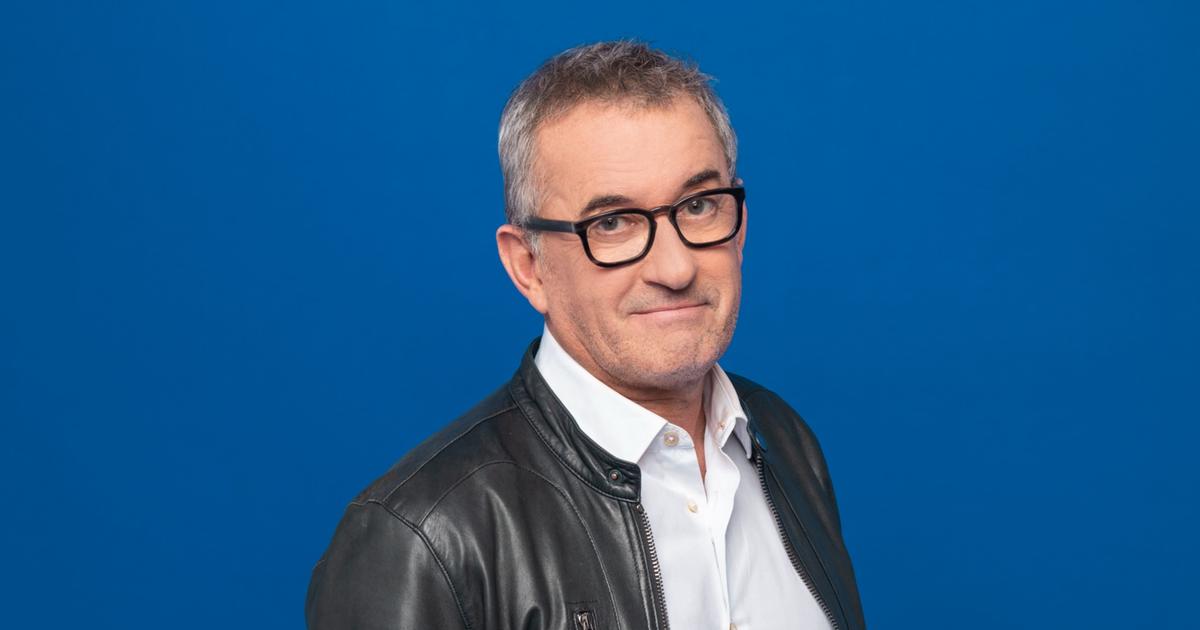 MAINTENANCE - After three years spent away from television sets, the 64-year-old host finds France 2. He joins Léa Salamé in "Quelle époque! on Saturday in the second part of the evening.
The last show that Christophe Dechavanne presented dates back to June 2021. For a fortnight, he took over from Cyril Hanouna at the controls of "Take it or leave it" on C8. Before that, the host had presented, on TF1, "I'm a celebrity, get me out of there!", During the summer of 2019, followed in September by "Animal Academy".
After an appearance, last April, in Captain Marleau he made his big comeback on television in "What an era!" on France 2. Alongside Lea Salame and Philippe Caverivière, he will intervene every Saturday in the second part of the evening as a permanent guest. Maintenance.
TV MAGAZINE. - How did you end up in "What a time! »?
Christophe DECHAVANNE. - My phone rang with an unknown number which I did not answer. Followed by a message I listened to. It was a boy I didn't know who said to me: "Hello, my name is Régis Lammana-Rodat, I am a producer of, I do this, I do that, I prepare this, I would like to talk to you". I called him back almost instantly. We spent an hour and a half on the phone together. As I hung up, I said to myself: "What is this story? It's quite funny". We saw each other once, we saw each other twice. I met Lea. And it was gone.
In December 2020, you said: "If in three years I haven't returned to the air, I'll say it's okay, fuck". This phone call was providential...
That word scares me a little. I would say unexpected, to say the least. God knows that I reflected during these few years of professional scarcity where I was still a little angry or even jealous but never embittered. I didn't quite understand seeing people doing things that I could say I would do otherwise. I was totally resigned but calmly. I thought it was stupid, too bad, it was a bit of a waste.
Read also"What an era!" : discover the first guests of the new France 2 talk show
Who had the idea for your permanent guest role?
I came up with this idea! Régis and Léa asked me to participate in the show that Léa presents - of which she is the boss - and to be me from start to finish. I said yes but I'm not a columnist, I don't know how to do it. As I am rather better when I am invited in a emission, I had this idea which I find brilliant. If I manage to be in the same state as when I am invited, my faith, we should laugh. It takes all the pressure off me. I didn't even ask to be a co-producer, which is a normal reflex from a guy like me who has had a company for over 30 years. I wanted to be the coolest guy possible, the least ballsy, the least demanding, that we say the opposite of what we've been saying for 20 years, that is to say that I'm a guy boring, complicated, who doesn't like people. I am the reverse of all that. I'm a little demanding, of course, but when you're demanding, people find you annoying. For me, the requirement is not at all negative.
What are you going to do exactly?
I will intervene at any time, on any subject, with any guest. I am asked to give my opinion, to mess around if I want to, to be what I am in real life. With the experience I have, I think I'm better able to do it now.
"Being in a non-leadership role has never happened to me but it's very interesting"

Christophe Dechavanne
An unprecedented role in France…
That's what interests me. I'm all the happier that it was I who found it. I found a qualification that is exactly what my job is going to be on this show. Neither sniper nor columnist. Psychologically, when I'm invited, I'm excited like a chip but not tense like a producer. Which also means I'm not doing this for the money.
Don't you feel a certain frustration at not playing the main role?
None. It's a new adventure. Everything that is new in my life interests me madly. I did lots of things. I find myself at the age when everyone is leaving. I may be the first guy with 64 brushes who will return to television as a permanent guest, to be the second of a main host. Being in a non-leadership role has never happened to me but it's very interesting. I might not have considered it a few years ago and now I have no problem with it. On the contrary, it is a new exercise. I'm going to have to insure to death.
Read alsoLéa Salamé: "With Christophe Dechavanne, we gauged each other in ten seconds"
The planned guestsdo they put any pressure on you?
Absolutely ! Because they are people, for some, extremely cultured. When I had politicians, it was at the time of "Ciel mon mardi", they were next to me and not in front of me. It's a real new exercise. I still go to a cultural show even if it's an entertainment magazine. There are educated people, Léa is. But it doesn't matter if I don't have the same culture, the same historical, geopolitical or literary references, I have my own culture, my universe, that's more than enough for me. It's been 40 years that I open my ears and that I am interested in everything that is said, that is done. As Coluche said: "He has an opinion on everything but above all he has an opinion". I'm the opposite. I like to get involved in stuff, I'm talkative. There are politicians to whom I have questions to ask. I am actually a citizen.
You will also have your own guest...
I will have one guest per show who will be mine. Everyone will have the right to speak to him but it will be my choice, my guest. It will last as long as we can understand something. The goal is going to be to bring people in either to explain something to the viewers or for me to understand what's on that person's head. It could be a personality like an anonymous person making the news.
Isn't this role better than that of facilitator?
I'll probably be a little more comfortable than Léa. When you invite a guy to your house, you don't tell him he's a big jerk. Me, possibly, I can take the head with a guest as with table at people. I will remain professional but I will be the man that I am. I'm interested in people seeing what a man I am.
At 64, do you think this is your last return to television?
I moved in May and found a box that was loaded with magazines that had been talking about me for 30 years. When we make magazine covers, we are always happy to keep them, we are not going to lie to each other. It was absolutely amazing because over 20 years it was: "Dechavanne, the return". It's called a career ups and downs. For once, it is not impossible that this will be my last return. If so, that would piss me off.
How are you feeling as your return to television approaches?
Intellectually, morally, psychologically, I am not the same as a few months ago. My loved ones see me happy, vibrating, happy, funny, fresh. This freshness that I claim I will share with the greatest world and first with Léa. Because who would have associated Léa Salamé and Christophe Dechavanne? Thanks to Léa and Régis and thanks to France 2. Truly, I was born on France 2. "It's even better in the afternoon" has made me "a TV star". It's fun to come back to my quasi-cradle. Nor will I ever forget my chronicles with Michel Denisot on Canal+. Moreover, he is one of the only ones to have sent me a pithy line as he knows how to do but extremely friendly, which touched me a lot.
"Josée is Josée. She's the way she is and I don't think we're going to change her at her age."

Christophe Dechavanne on Josée Dayan
You are quite active on Twitter...
My account looks a lot like me. It's my complete reflection - it's also what Régis and Léa liked - but I forbid myself things. I have to because society is made that way. I don't want to unleash hatred against me or against anyone if, for example, I expressed what I think. Those who follow me are extremely loyal and benevolent. Sometimes someone says shit to me and he gets screwed by my followers (laughs). I also had several messages from people who said to me: "We are happy for you". It's quite nice, it's very comrade that.
Read alsoChristophe Dechavanne: "Shooting in Captain Marleau was like three years of therapy"
Why do you use Twitter to express yourself?
There are things that drive me crazy: the injustice, the crass ignorance of the reality that is happening. I have a real fight, which is ecology. I am in aberration to see people who do not sort. I'm also afraid of society, which could say in a few months: "We don't care about Ukraine but we want to warm up". I am a sensitive citizen. A priori, I was rather on the left in my life but I got screwed a little bit like everyone else. I don't know if I'm engaged. In any case, when I grab something, I'm a bit like a dog on a bone, I don't want to let go. I haven't let go of AIDS for thirty years.
Do you feel like an influencer?
For the environment, I want to be an influencer, shooting it like that is interesting. I want to make people aware of whatever their age that we are in the drama. It's almost too late for some things but it's never too late to do well. If I can be an influencer without living in Dubai, I accept this role without any problem.
Last April, you appeared in an episode of Captain Marleau. Do you plan to continue on this path?
Everyone gave me compliments. But I'm not hiding from you that I haven't been overwhelmed by requests. It turns out that I met someone who knows me little and to whom I showed family robbery which I had not seen since 2008. I almost found myself better than in Captain Marleau. I was very surprised.
You were talking about taking acting lessons...
I abandoned this idea because I was advised not to take it. We told me : "You have your personality, you don't need to go to school. It's your personality that's interesting.". That's good because I have ADHD [trouble du déficit de l'attention avec/sans hyperactivité, NDR]. I have a major problem concentrating beyond 30 minutes. That's why it's complicated when I go to the theater, to the cinema and when I'm at the table. I started the piano, I took twelve lessons, I stopped, the rest I learned on my own. Motor racing, I learned it on my own.
On the occasion of the promotion, it had been a bit tense with Josée Dayanon the set of "C à vous" on France 5...
(laughs) I take it with a lot of fun. Josée is Josée. I was like a little boy because there was no point in getting into a fight. I have respect for her, she's tall, she has her character, she has the talent she has, she does what she wants, she's the way she is and I don't think we're going to change her. at his age. So I let it go because I was a bit overwhelmed. My comments were returned negative when they were positive. It's anecdotal and it's rather funny. Filming was a bit like that too. We had to do it quickly and well.