"It's not a bad word to be a breeder"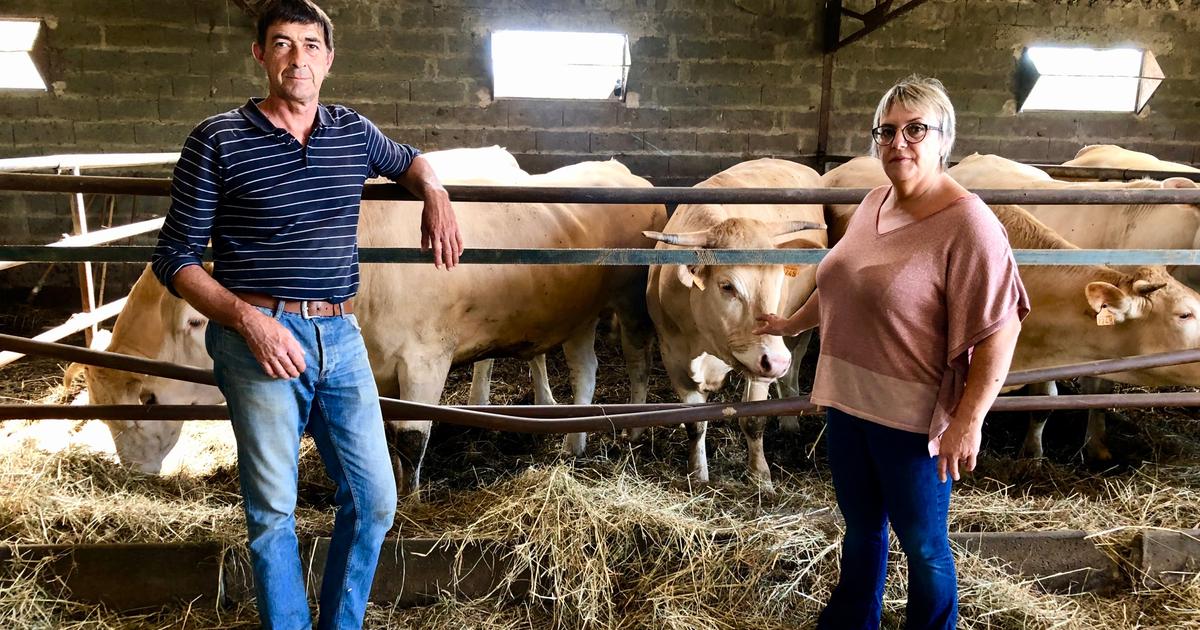 INTERVIEW – The journalist and director ofIn the name of the earth signs a new documentary on a family on the edge of the abyss after the slaughter of their animals.
Since the success of his film In the name of the earth , Edouard Bergeon receives dozens of messages from farmers in distress every week. In the spring of 2020, Sylvie Dahetze, wife of a breeder from Béarn, confides in him her despair. One of their cows has just tested positive for tuberculosis. According to the health rules in force, their entire herd (i.e. 130 cows and calves) must be slaughtered. Sylvie is afraid that Bernard, her husband, previously a victim of depression, will not hold up.
Touched, Édouard Bergeon undertakes to help them. For nearly three years, he followed this family of breeders who resembled so many others in France, which he transcribed in the documentary cow love airing Sunday, March 5 at 8:55 p.m. on France 5. He recounts the pain of these breeders faced with the departure of their animals, the lack of psychological and economic support after their tragedy or even the daily task to which they work: 70 hours of work per week for 800 euros per month. Édouard Bergeon, who is currently shooting the film The green promise with Alexandra Lamyconfides in this documentary of remarkable accuracy and sensitivity.
TV MAGAZINE. – How was this film born?
Edouard BERGEON. – I received a message on Facebook as I have every week. Sylvie's email was convincing, we talked. This family is alone. I have a thousand things to do but I can't leave her. I went there on weekends for almost three years with a cameraman. If we take the time to follow them and understand them, they tell who we are, where we come from and where we are going.
Read alsoÉdouard Bergeon, in the name of the peasants
How did the shooting with breeder Bernard Dahetze go?
Clearly, if I'm not the son of a farmer and if I don't know rural people, I'm not shooting this documentary. Bernard never wants me to film but I know that, in his no, he says yes in his eyes… So, I left him no choice, I put the camera on and he starts talking. When I first arrive at their home on the farm, we've already talked on the phone, so I allow myself to say hello by filming them on the iPhone, I actually shot a quarter of the film with my phone.
We discover in the documentary all the love that these breeders have for their cows…
It's been a social contract since mankind exists: we take good care of the animals, they feed us. I have nothing against those who do not eat meat, on the contrary, I am hyper tolerant. I just have animosity against those who hit the breeders and give lessons without knowing. Watch the documentary, you will know more and you will have another image of classic French breeding. It's not a bad word to be a breeder.



"I understand that there are rules and that you have to shoot down, I don't question that. On the other hand, it is necessary to accompany, to help psychologically and financially the farmers. »

Edouard Bergeon
The documentary sheds light on the French health rules which require the slaughter of entire herds in the event of illness. What do you think ?
I understand that there are rules and that you have to shoot down, I don't question that. On the other hand, it is necessary to accompany, to help psychologically and financially the farmers. Things haven't changed since filming. I help to show reality, I do my part.
Was it important for you to show today's reality?
Yes, because it is evolving. With all the speeches of green sores that we see in the media today, we are in the process of losing our agriculture. We hear that breeding is bad because we make the animals suffer: it's true that we see in the film that these cows are very badly treated (ironic)… Today, 25% of meat is imported, 60% of poultry, 40% of vegetables. We are witnessing a crisis of vocations.
Read alsoAgricultural Show: "Unrest on the farm"
It is said that there is on the contrary a return to the countryside of city dwellers since the Covid…
A few Parisians went to do some organic market gardening, we should also see them again today… In fact, many of those who are currently speaking are disconnected from rurality. Rather, I'm here to say: "Look how it goes", and show where we come from. But beware, there are fewer and fewer farms.
And how can we eat without the breeders?
We import. But, in exporting countries, animal welfare, nutritional or environmental qualities are not considered as in France.
You have helped this family a lot…
I have already done it for two years with the breeders of the documentary Sons of the Earth and with others. In particular a couple during confinement who owned a farm-inn and who were not entitled to state aid for the Covid. I managed to help them. I do it from time to time. At the end of the film cow love, one of the neighbors talks about the administrative pressure. Sometimes there are dramas with a guy pulling out the rifle. The rules exist and we need them. Food safety in France is one of the best in the world, it must be remembered. But we have the impression that our farmers are always polluters or killers. Yes, there are changes to be made and farmers are on the move, they have no choice with global warming. This film documents the rural and agricultural world. And at the same time it's a love story of a couple, a family, a breeder for his cows. And me, it's the love story I have for rurality and French breeding.



"I have the impression that making this film on these breeders becomes almost rare or transgressive in the current atmosphere in fact. »

Edouard Bergeon
You say that farmers are seen as killers and polluters, is it television that conveys that?
I am a child of France televisions, I started France 3 Poitiers. Today it's complicated when you come with the France Télévisions label to go to farmers because there is one who makes the policy of scorched earth and who talks a lot of bullshit. Even Elise Lucet that I like a lot, with "Cash Investigations", it is complicated. I'm not saying it's not good but there is resentment in the countryside. There are very good documentaries or magazines on France Télévisions but you have to be careful to always continue to make them. I have the impression that making this film on these breeders becomes almost rare or transgressive in the current atmosphere in fact.
Read alsoGuillaume Canet and Édouard Bergeon launch a channel dedicated to agriculture on the Internet
Has the Covid changed people's view of agriculture, short circuits, nature?
We all thought about it, we asked ourselves questions then, we finally came back a lot to the world before. But there is always something left. There are those who have left the city or changed their consumption habits. Many people today have chickens in their backyard. Afterwards, not everyone started to buy products from the farm. In any case, large retailers are playing the game more and more like Auchan or Intermarché. Lidl signed 5,000 contracts with farmers to guarantee the right price seven or eight years ago. It is important because 80% of French people go to the supermarket and there are 10 million poor people. The goal is that everyone has the right to have access to French products at reasonable prices. My fight is to eat French and my ultimate desire is for food education to be done.
When we see that the Dahetze family you followed earns 800 euros per month for 70 hours of work per week, we wonder what we have to do so that the farmers earn a decent living?
I don't know, I'm not Minister of Agriculture… The only thing I can say is: "Buy French, local, at the guaranteed price". The offer exists with brands like C'est qui le patron?
You launched the channel Au nom de la terre / TV, what is it about?
It's an SVOD channel on which we talk about agriculture, food, eating well, rurality, land and sea products. You can subscribe by month (5.99 euros) or by year (59.99 euros). It's aggregation of content and some of it is original. We will soon have an app.