James Cameron shares behind the scenes of Avatar 2 in 'Daily'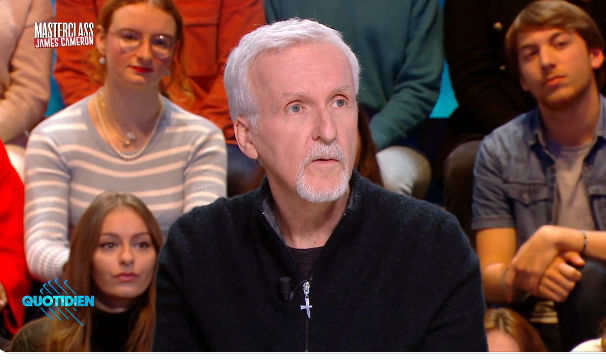 The director was a guest on Yann Barthès' show. It lifts the veil on the similarities between fiction and reality.
terminator, Aliens: The Return, Abyss, Terminator 2: Judgment Day, True Lies, titanic and Avatar… Here is a panel of productions from the director of James Cameron. 13 years after the first opus of the film Avatar, James Cameron is about to sign a new one. He went exclusively to the set of "Daily" to deliver some details. A few days before its release in cinemas, the immensely known director confides his feelings in Yann Barthès' show. "I'm a little nervous."
Read alsoJames Cameron in the Den of the Whales for Disney+
And the pressure is great. His 2009 film was the biggest box office success with $2.8 billion in revenue. For this new feature film, the story is very different from the first according to its director. "It's a personal film and much more intimate than the first. There is always beauty and wonder, but the new is much more personal, it's a father-son relationship, it deals with family tensions.explains James Cameron.
Following the broadcast of the trailer, the set is in turmoil. And in talking with the director, Yann Barthès points out that there are a lot of resonances between what happens in the film and what happens in life. "The earth was like Pandora. But we live with a series of references that keep changing. We must bring back this diversity that we had before in our current world. I wouldn't make this type of film if I had no more hope", he underlines. "In the film, we see the worst version of ourselves, the humans, and the best, the Na'vis".
"A dream I had at 19"
This movies Avatar represent an amalgamation of several of his dreams. "The first idea came from a dream I had when I was 19. I then interpret in drawing what I remember from my dreams." The drawings in question are all in a box but an exhibition will be held in Paris in 2024.
The director is extremely sharp, perhaps this is the key to his success. "I filmed this avatar with cameras that I created myself", he confides. Throughout his career, he had the chance to play many actors. And when the presenter asks him about his relationship with them, James Cameron jokingly replies: this is not a democracy before adding: in fact, I try to be as open as possible, I really want to hear what they have to suggest."This monument of international cinema has not, despite everything, taken the big head. "I never sit in the director's chair. The first day I had it folded up"he explains.