Johannes Boe masterful, the French men's team is torn apart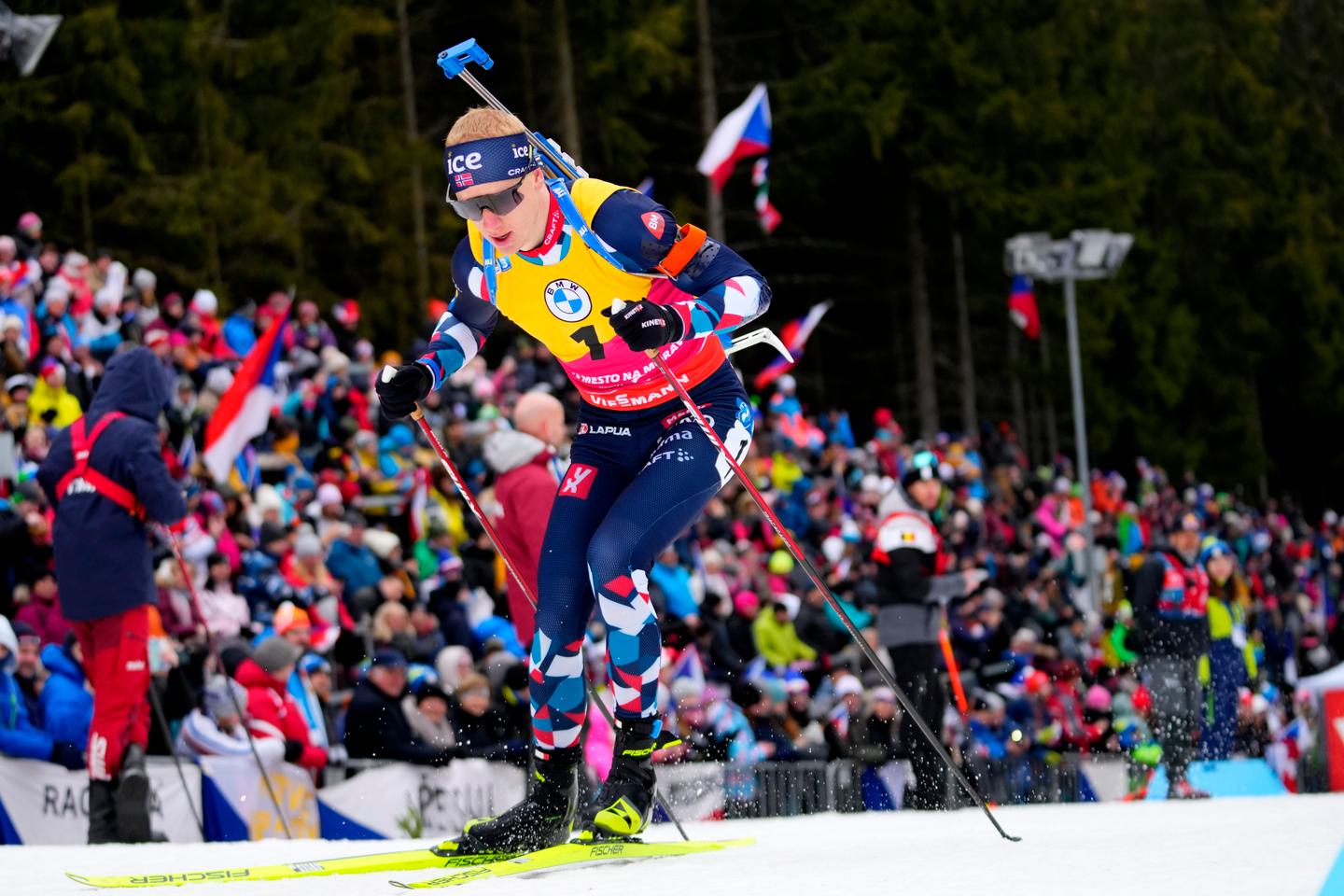 For him, it's a triumphant end to the season. For them, it is time for it to end. Johannes Boe won, Saturday, March 18, in Oslo-Holmenkollen, the last pursuit of the winter. The Norwegian, who was already guaranteed to win the Specialty World Cup and finish at the top of the general classification, all biathlon disciplines combined, won his 15e individual victory of the season. The youngest of the Boe brothers had also won three individual gold medals at the world championships in Oberhof. His list of achievements was also enhanced this winter with several victories in the relay events, in which the Norwegian teams were dominating. For the French men's team, on the other hand, the time is not to count the runners-up but to heartbreak, despite the 2e Quentin Fillon Maillet's place in the day's race.
At the end of a season without individual success, the French biathletes and their coaches made their breakup public. Friday March 17, Vincent Vittoz and Patrick Favre, coaches of the Blues for five years, announced their departure at the end of the season, not considering themselves "more in tune with [leur] athletes". "We feel that they are not able to hear some of our speeches. We were ready to continue, clearly. But today, there is a break"said Vincent Vittoz, world champion in cross-country skiing in 2005. The Italian Patrick Favre, shooting coach of the best French biathletes, drove the point home: "We had a lot of ideas [pour rebondir après une mauvaise saison] but they don't stick [avec celles des athlètes]. Training is very much about confidence. Today, we feel that this confidence is lacking. Forcing things is not a good thing. »
"Bankruptcy" of leaders
The explanations of the two coaches, with a frankness quite rare in high-level sport, where communication is generally very framed, then targeted two athletes more directly. Vittoz mentioned " bankruptcy " by Quentin Fillon Maillet and Emilien Jacquelin, presented as the two leaders of the French team at the start of winter. The Blues have only scored six individual World Cup podiums since the start of the season: two for Fillon Maillet, three for Jacquelin, and one for the young Eric Perrot.
« Quentin [Fillon Maillet]he never wanted to hear the warning messages [disant que] it wouldn't be a year like any other [après deux médailles d'or olympiques en 2022]says Vittoz. He wanted to show everyone who told him it was going to be a tougher year that it wouldn't hurt him, because he's a machine. He got the reading wrong. We tried to warn him. »
After his second place in the pursuit of Oslo-Holmenkollen, Fillon Maillet described the situation as "difficult change" who the"affects a lot". "I understand that it is moving and the reaction of the coacheshe said at the microphone of La Chaîne L'Equipe on Saturday. I wish things had gone more smoothly. We need a change of discourse. » Fillon Maillet, who obtained his best results, including five medals at the Beijing Games, under the direction of the Vittoz-Favre duo, said he was very grateful for the work accomplished.
On Friday, Vittoz also expressed his helplessness in the face of the difficulties of Emilien Jacquelin, who ended his season early. "Emilian [Jacquelin] has been a depressed athlete for a year and a half, whom we accompaniedsays the French coach. We did more than we could, we put all our energy, maybe too much at times, maybe we tried too hard to try to bring him back to the right path. Maybe we weren't the right answers either, but we kept it going as much as we could. »
On Saturday morning, Jacquelin, who is not in Norway with the France team these days, reacted to his coach's comments on Twitter. "To say that someone is depressed or ill is the responsibility of a doctorwrites the biathlete. Announcing it publicly without the consent of the person betrays medical secrecy. Depression is an important, difficult subject, using it to explain a lack of performance is clumsy. This subject affects men and women before talking about athletes or shooting level. And it is not doing a favor to those who suffer from it to point fingers and make amalgams on an athlete in failure. »
1/3 Asserting that someone is depressed or ill is a matter for a doctor. Announcing it publicly without the acc… https://t.co/nSCFuTWRYl
In conclusion of his message Jacquelin considers that Vittoz's explanations were "probably a clumsiness due to too many emotions"but asserts that depression is a "subject is too important not to talk about it".