Joke on Giroud, withdrawal of Benzema, role of Mbappé … The point of Deschamps at D-1 of France-Australia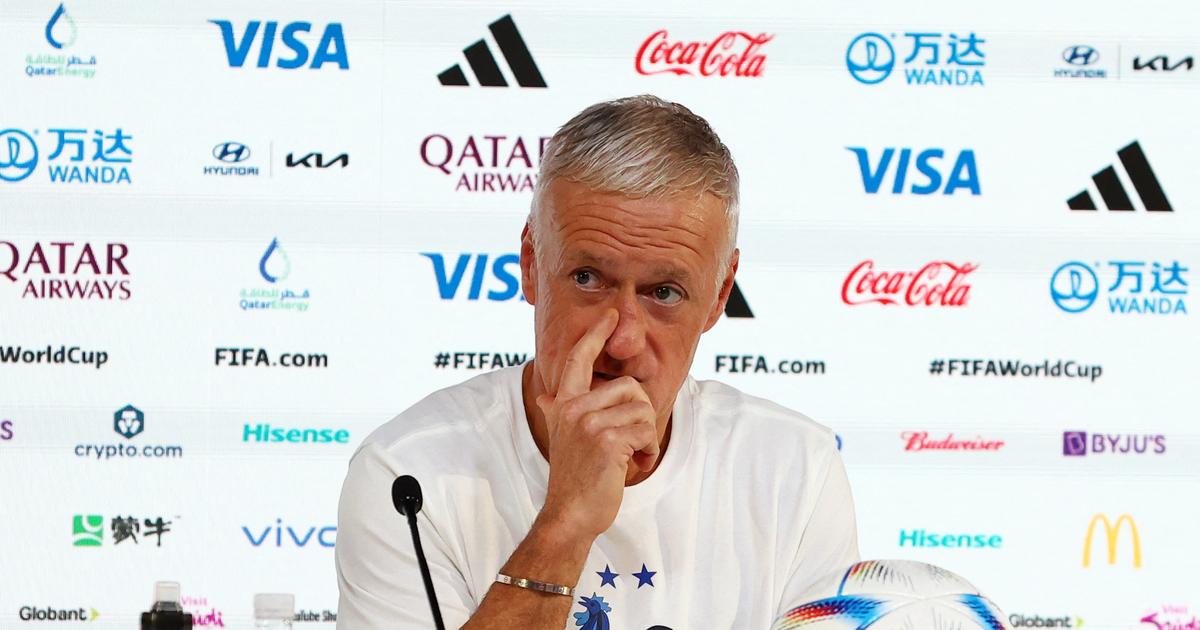 The coach of the Blues responded to the media on the eve of the entry into contention against Australia (8:00 p.m.) in the World Cup.
Special Envoys in Doha
If his group is free from pressure
"The group, you know it, with more experienced players than others. We can't wait, the event is getting closer (France-Australia, 8 p.m., TF1, this Tuesday). We have no apprehension or anything. We did everything to ensure that the whole group was at its best in this first match. It's an important meeting, not a decisive one. There should be no anxiety, but calm and serenity. You have to put in all the necessary ingredients."
The Curse of the World Champions
"All this context, the statistics or the factual, each team has its course, his own adventures. The important thing is to have a group frozen on the objective of the first match and not to think about what happened before. The truth is tomorrow (against Australia). Everything that happened before can lend itself to interpretations, analyses. But we will be there for this first match.
Read alsoWorld Cup: Controversies, injuries, failures… Karim Benzema, sparkling in white and cursed in Blue
The hierarchy of the Blues on penalties
"You will see him tomorrow (Tuesday), I hope. It won't be not Karim (Benzema, package) necessarily. There are several possibilities, with a hierarchy as you like it so much, in relation to the feelings of the players concerned to take penalties. »
Leadership at the Blues after the departure of Benzema
"Do you think it's done by snapping your fingers? It happens over time. Some leaders who are there were not there 7/10 years ago. There are executives who have this ability to express themselves. Leadership is not just in talk. The important thing is that each player in his position is a leader. There are still enough players who are made to stimulate in the dressing room, the warm-up, internally or in discussions. It goes through seniority and experience. Some have the capacity others less. There is also legitimacy in relation to the group. But in any case, we have what it takes."
SEE ALSO – Kolo Muani was "shockedwhen the Blues called him to replace injured Nkunku
Kylian Mbappé and his evolution since the 2018 World Cup
"He was young and he still is, even though he took four years… He had done some very important things four years ago. He still progressed and matured, even if he had a lot of it, he still has more recognition at the world level. Responsibilities ? He has no more internally (after Karim Benzema's package). Afterwards, his ability to make a difference, to score and to score, he has always had it and we will need it. This was already the case four years ago. He is part of a collective and he needs it too. With this ability that few players have, to be decisive at all times.
The state of health of Varane and Camavinga
"I'll start with the 2nd (question, on the form of Camavinga) I know you can be on the alert. It can happen that a player does not do one or two sessions. If there is a small problem, do not take the risk. Eduardo, there was no worry for him. For Raphaël (Varane), he is fine, he is fit and available for the match that awaits us tomorrow (Tuesday). »
The possibility of fielding four offensive players
"It all depends on how you put them. The question is not whether four offensive players bring more danger. If we have the ball, no problem in terms of balance. I thought certain things, I still think them, it's a question of animation and organization. When you are in the opposing camp and with the ball, no worries. Afterwards, without the ball, it can be more complicated… "
World Cup: the best football movies
Why not call a replacement for Benzema
"If I made this decision to stay at 25, it's because I think the group is sufficiently armed like that in relation to what awaits us. I have known groups at 22, 23 and 26, that leaves possibilities. I believe that with the players present here, we have everything we need. »
Olivier Giroud not appreciated by French supporters and media
"Not appreciated by the French? Lately, he's been adored (smile)! Even there (he mentions the journalists present in Doha), and there are many who criticized him! Since then… he has become an indisputable starter! So France is delighted, me too and Olivier too! He has been there for a long time, with his capacity, his register, which make him a striker who is always very useful even if he does not score, and it has happened to him not to score, because he makes others score.
If the objectives are revised downwards by him and Le Graët
"My president I see him regularly, he comes by every day, we discuss a lot of things but certainly not this subject. My objective is the first match, each team had its own adventures with absentees, injuries, just before the competition. We have to move forward with the group of players that there is. It's not less ambition and we have the will to do everything to go as high as possible in this World Cup. On the other hand, there is more understanding on your part, which is good for the players (smile). My players are all in and can't wait to get started."
World Cup: who are the top scorers in the history of the Blues?
SEE ALSO – World Cup: Fireworks and drones light up the skies of Doha for the opener