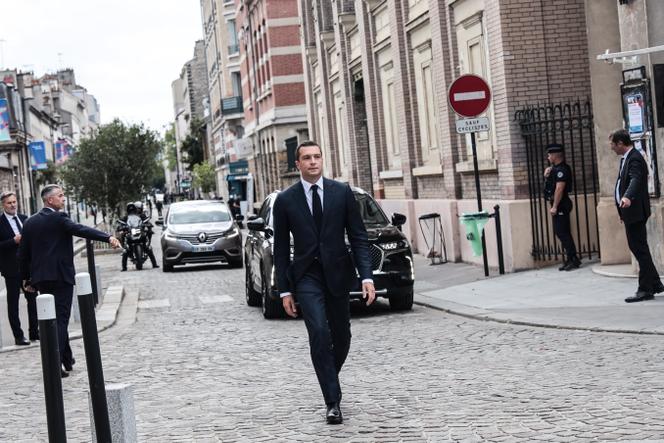 "He ran an exemplary American-style campaign. It's even a model that we can study later at Sciences Po." Thus spoke, in 2007, Jean-Marie Le Pen about Nicolas Sarkozy, after having had his voters siphoned off in the first round of the presidential election. His daughter Marine, campaign manager, did not share his enthusiasm for the character, whom she "found it false", remembers one of the actors of the 2007 presidential election in the National Front. The former head of state, who, between two judicial news stories, distributes the good and bad points on the occasion of the publication of the second volume of his memoirs (The Time of FightingFayard, 592 p., 28 euros), is also back in discussions within the flame party.
This summer, the National Rally (RN) deputy from the North Sébastien Chenu refreshed his memory by rewatching The conquestthe film by Xavier Durringer (2011) retracing, he says, "the best campaign of the last fifteen years, [qui] was not a union of the rights but a rare capacity to break down sociological divisions." In a video shot to mark the start of the school year, Jordan Bardella leaves the latest Sarkozy opus lying prominently on his desk.
The pavement is in the same place a few days later, when the France 3 cameras question him: "I had already read The Time of Storms [L'Observatoire, 2020]»informs them the president of the far-right movement, who must launch his campaign for the European elections of June 2024, Saturday September 16, during the RN summer universities, in Beaucaire (Gard).
The Sarkozyst furrow
Jordan Bardella was 11 years old during Nicolas Sarkozy's victorious campaign. By his own admission, his interest in politics was not such that he could keep a clear memory of it. "I admired the character, however, he said to World in February. He had the capacity to change everything, bringing together the middle cles, the worker of Aubervilliers and the senior executive of Versailles. I think this is the key to power and that we are on this path. Speaking, beyond the France of the forgotten, to the France that gets up early" – a Sarkozy label.
At the start of the European election campaign, the one who will be the head of the RN list is trying to follow the Sarkozy path. Mr. Bardella encourages his troops to "recreate the UMP [Union pour un mouvement populaire, devenue Les Républicains] »reports Le Figaro. The RN does not have the army of activists, local and experienced political executives that the right-wing party had when Mr. Sarkozy came to power. But nothing stops him from adopting certain accents.
You have 70.28% of this article left to read. The rest is reserved for subscribers.