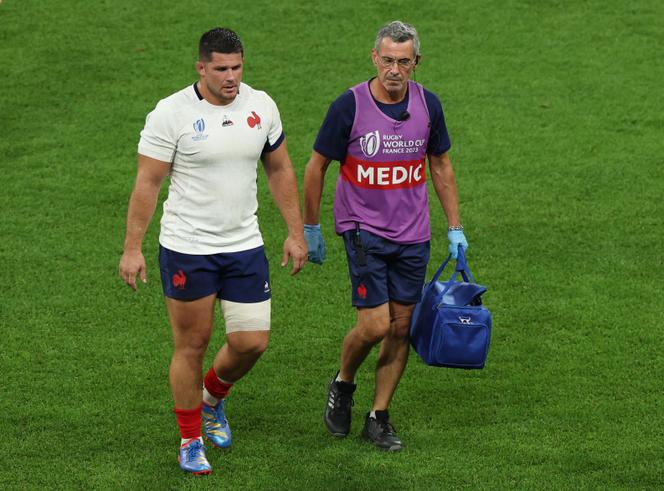 Will the Blues once again be deprived of one of their senior players? This is the question and the current concern of the staff of the XV of France after the injury to Julien Marchand. Friday September 8, the victory of Fabien Galthié's men against New Zealand (27-13) at the opening of the Rugby World Cup was overshadowed by the early exit of the hooker. From the twelfth minute, the Toulouse player left the pitch at the Stade de France with his head down, after being hit in the left thigh in a ruck.
The Blues coach estimated after the match that Marchand was suffering from " tear " to a hamstring "in view of the symptoms". This injury could cause him to miss the rest of the group stage, namely the matches against Uruguay (Thursday), Namibia and Italy. According to The Team And Olympic noonthe Toulouse player, who underwent initial examinations on Friday after the match, could be absent for four to five weeks.
On Saturday morning, the attack coach, Laurent Labit, announced that the usual starting hooker of the Blues was going to take new exams at the start of the week, which will allow his period of unavailability to be refined. " We hope it's not very serious. Once we have the diagnosis and the verdict of his injury, we will make a decision. » The Blues staff will then have two solutions: wait for the Toulouse player to recover by focusing in particular on the two other hookers in the group – Peato Mauvaka and Pierre Bourgarit – or replace Julien Marchand with another player. In this case, Fabien Galthié could probably rely on Castres Gaëtan Barlot, present in the list of twelve reservists.
Another injured in the XV of France
"We still have two heels in the group. We also have pillars who can play hooker. There's no problem. There's no reason to panic: we're not going to rush, we have a match [contre l'Uruguay] which will arrive on Thursday where, in any case, Julien was not planned in the rotation »continued Laurent Labit.
Even if Peato Mauvaka took over on Friday for nearly seventy minutes against the All Blacks – and is used to facing the best teams with his club Stade Toulouse, where he rubs shoulders with Julien Marchand – this injury is one more bad news for the Blues. The French XV has already had to do without La Rochelle center Jonathan Danty and Toulouse left pillar Cyril Baille for the opening match, both forced to withdraw due to physical problems. If these two players should make their return during the competition, it will not be not the case of opener Romain Ntamackdeprived of the World Cup due to a serious knee injury in a preparation match.