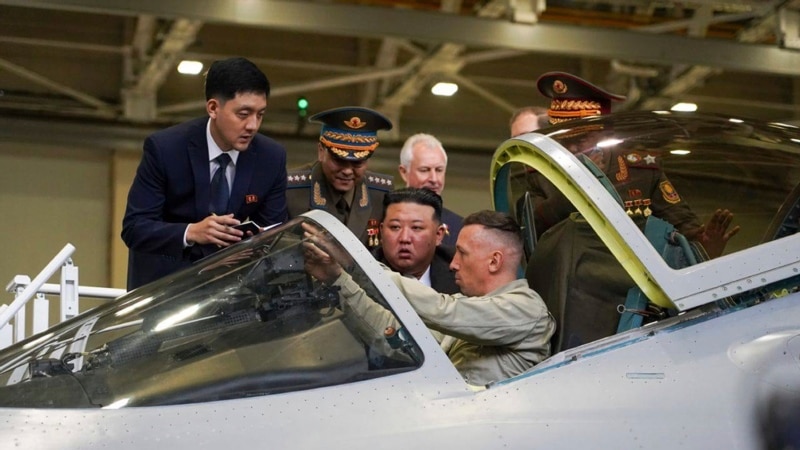 The leader of the DPRK, Kim Jong-un, visited factories for the production of military and civil aviation in Komsomolsk-on-Amur, and ended his visit to Russia. This was announced by the governor of Khabarovsk Krai, Mikhail Degtyarev.
According to him, Kim Jong-un visited the Yu. A. Gagarin aircraft factory in Komsomolsk-on-Amur, where Su-35 and Su-57 fighters are produced. In addition, the head of the DPRK familiarized himself with the production of civil aircraft SJ-100 at the Yakovlev PC enterprise. From Komsomolsk-on-Amur, Kim Jong-un left for Pyongyang by armored train.
After his visit to Russia, Kim Jong-un was included in the database of the Ukrainian website "Mirotvorets" for "isting Russia" and "attempting the sovereignty and territorial integrity" of Ukraine.
Kim Jong Un arrived in Russia on September 13 for talks with Vladimir Putin. He visited the "Vostochny" cosmodrome, where he got acquainted with the infrastructure for launching space launch vehicles.
At the talks, Kim Jong-un said that Pyongyang wants to develop relations, since it has always supported "all decisions of President Putin and the Russian government." The head of the Russian Foreign Ministry, Sergey Lavrov, said that Russia will waive sanctions against the DPRK. According to him, the sanctions "were adopted in a completely different geopolitical situation." Russian Defense Minister Sergey Shoigu also took part in the closed part of the negotiations.
Earlier, m media reported that the North Korean leader intends to discuss cooperation in the arms sector with Putin. Probably, Moscow and Pyongyang are negotiating the supply of North Korean weapons and ammunition to Russia, in order to use them for the war in Ukraine. In exchange for ammunition, Moscow can offer Pyongyang grain, oil, military technologies and money in foreign currency. The Russian authorities also declared that they are ready to accept North Korean labor migrants and send them to restore the occupied Donb.
The press secretary of the Kremlin, Dmitry Peskov, commenting on the possible supply of weapons, said that Russia will build relations with its neighbors "as beneficial to it and its neighbors." According to him, interaction in "sensitive areas" is possible, but this should not be the subject of third-party concern.
Since the beginning of 2023, the DPRK has conducted one and a half dozen missile launches. During 2022, North Korea launched about 70 missiles of different ranges. During these exercises, the DPRK systematically launched missiles towards Japan and South Korea. Also in 2023, the DPRK tried to launch a military satellite and conducted tests of a submarine with a tactical nuclear weapon.