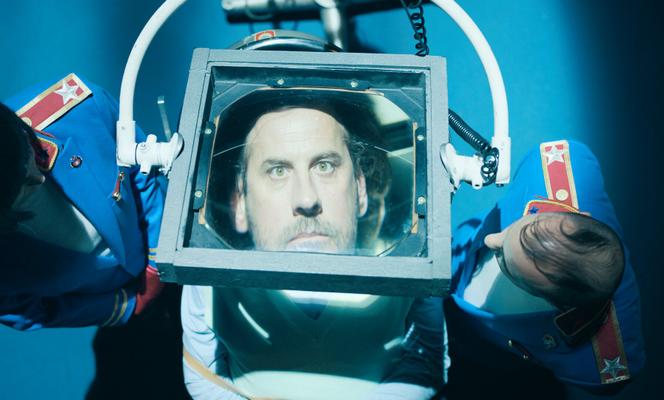 OCS MAX – THURSDAY SEPTEMBER 14 AT 9:00 P.M. – SERIES
In a world where laughter, considered degrading and insulting, has been banned, human beings only have at their disposal a horrible grimace – lips pursed downwards, nose tense, chin tucked in, gly eyes… special mention to actors – to express their joy. The authorities are keeping watch, reprimanding the recalcitrant: anti-laughter orthodontic helmet for children, "laughing anonymous" sessions for adults.
Stéphane (Fred Testot) is one of these "anti-Golri" officials. Regularly named employee of the month, he is the pride of his office colleague and friend Jawad (Youssef Hajdi), as well as his wife, Muriel (Constance Dollé). The only threat to this new order: a band of resistance fighters, led by those nostalgic for the world before, those for whom we can laugh at everything and with everyone, who let off steam during very swanky costume parties.
The impivity of the faces of Sneer contrasts with the decorum in which they operate, which could be placed halfway between the 1980s ofUFO(s) and a clip of Philippe Katerine. A good part of the comic potential of the series, created by Arnaud Malherbe and Marion Festraëts, comes from this opposition between faces that pull their faces and the ambient ridicule. Each episode opens with the tune of It's party, the hit of the moment, sung with energy by two artists with impive faces, model citizens of this small world where kindness, kittens and vegan cupcakes have replaced all critical discourse.
Rehash the gags
This very formalized universe works rather well in the first episodes – especially in the office scenes, which joyfully recycle jokes about the tomato soup from the coffee machine -, a little less in the second half of the season, which gives the impression of rehashing gags, unable to disentangle oneself from its main subject: can we still express ourselves in this world of dirty wokists?
The series' limitation probably lies in the excessive caution with which it responds. For fear of reactionary discourse, Sneer does not venture beyond a satire of the sentimentality of our time, which, in addition to "killing" humor, has the consequence of making everyone look the same.
The antics of Stéphane, who tries to make his new colleague, Céline (Ophélia Kolb), laugh, first to trap her, then to make her understand that he likes her, are in this respect one of the lovely finds of the series, which would undoubtedly have benefited from digging a little deeper into this vein.
You have 9.04% of this article left to read. The rest is reserved for subscribers.