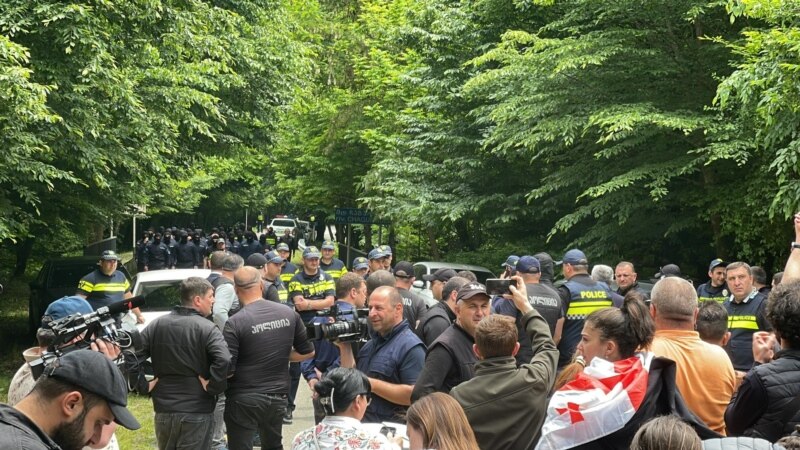 In Georgia, activists organized a protest against the wedding of a relative of Russian Foreign Minister Sergei Lavrov in the country. President of Georgia Salome Zurabishvili announced on Saturday afternoon that the wedding of Lavrov's brother-in-law, which, according to the media, was supposed to take place at the Kvareli Lake Resort in Kakheti, will not take place, and the Russians who came to Georgia – the wedding guests – have already left the country. It is confirmed that there were several dozen of them.
The opposition TV channel "Mvatary" reported the day before that Lavrov's daughter, Ekaterina Vynokurova, had come to the wedding. He also published a video in which the wedding ceremony in Tbilisi was recorded – the groom, according to reports, was the brother of Vynokurova's husband and Lavrov's son-in-law Alexander Vynokurov. On Saturday, a wedding banquet was supposed to take place at the Kvareli Lake Resort, but it was canceled, as reported by the Georgian authorities. The President of Georgia called it a "victory of society".
According to Zurabishvila, the Minister of Internal Affairs of Georgia, Vakhtang Homelaura, informed her about the cancellation of the wedding.
At the same time, the hotel claims that Lavrov's daughter did not stay there: "We do not have a guest with the last name Lavrov, and have not previously booked one." At the same time, the daughter of the Russian minister bears the surname Vynokurova. An employee of the TV channel called the hotel, introducing himself as a flower shop courier, and asked if it would be possible to deliver a bouquet to Vynokurova. The representative of the hotel confirmed that the bouquet can be sent. One of the leaders of the opposition United National Movement, Nika Meliya, claims that the hotel administration confirmed to him that family members of the Russian minister live there.
On Saturday, a protest was held at the hotel. At least 16 participants of the action were detained, including the leader of the opposition movement "Droa" ("The time has come") Elena Khoshtariya, "Echo Kavkaza" reports. According to m media, activists started throwing eggs at minibuses leaving the hotel, shouting: "Russians have no place in Georgia!"
Zurabishvili also called on the government to immediately introduce sanctions against Russian citizens who were included in the sanctions lists of Western countries. Lavrov's daughter is included in these lists.
The supposed arrival of Lavrov's relatives in Georgia coincided with the resumption of air traffic between this country and Russia. Protest actions against this were held in Tbilisi the day before. President Zurabishvili promised that she would not use the services of the Georgian Airways airline until it flies to Russia.
Georgia considers self-proclaimed Abkhazia and South Ossetia as territories occupied by Russia. The country's authorities, however, refuse to impose sanctions against Moscow in connection with its invasion of Ukraine. The opposition accuses the government of pro-Russian sympathies.