Léa reacts to the kiss on the neck of Marc Lavoine during the semi-final of "Star Academy"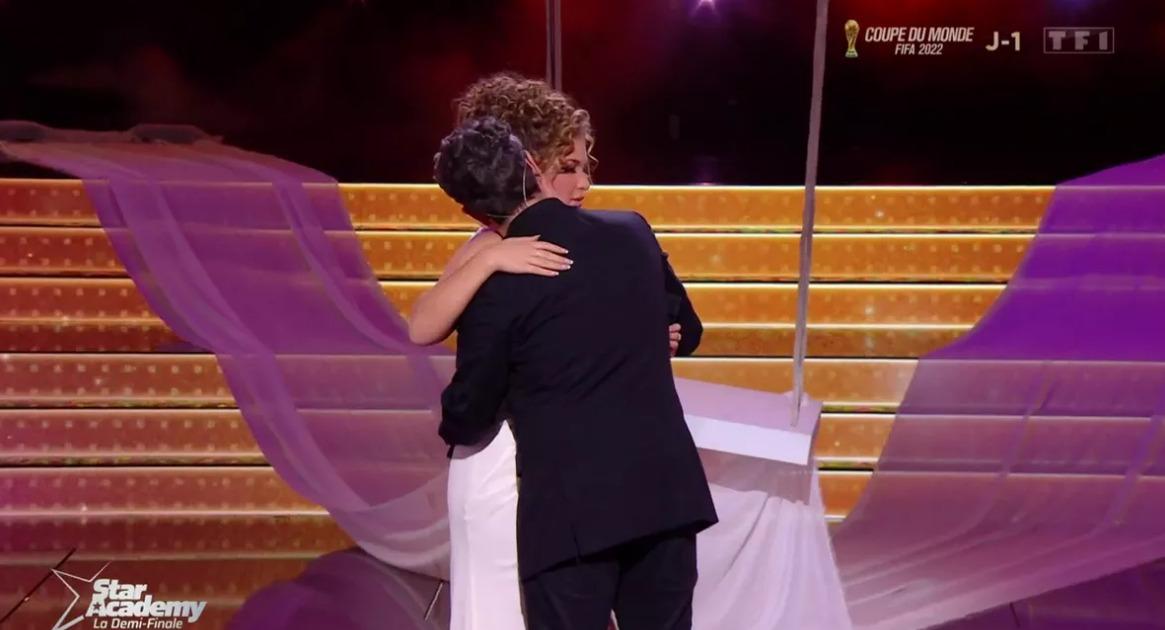 The gesture of the French artist has sparked a huge controversy on social networks. The 24-year-old finalist had the opportunity to give her side of the story… And it's not what you think.
During the Saturday 19 November semi-final bonus broadcast on TF1, the production had planned for the young woman a table worthy of the greatest for her duet with Marc Lavoine. She was originally supposed to start the song sitting on a large white swing placed a few feet off the ground. Bad luck, not everything went as planned. The installation did not keep its promises and therefore the budding singer could not climb into the sky.
Read also"Star Academy": the broadcast of the final shifted because of the 2022 World Cup in Qatar
This quack could have destabilized more than one. And to relax the academician, the 60-year-old artist wanted to slip her a few words of encouragement and … a kiss on the neck. This gesture was widely criticized on social networks, viewers deeming it "inappropriate".
The kiss episode
With the approach of the final which pits her against Enola, Anisha and Louis, Léa had the opportunity to answer a few questions from our colleagues from Télé-Loisirs. The episode of the kiss was thus put back on the carpet and the student confided his truth. "I experienced it very well because Marc Lavoine is benevolent. During rehearsals, he reassured me enormouslyunderlines Lea. He behaved like a dad with me", she adds. This sentence has the merit of dispelling any concern about the nature of the gesture and of ousting the inappropriate interpretations of certain Internet users.
"I loved singing alongside him and I remember my evolution. If I compare this performance with the one I did with Amir, I realize that I have more confidence in myself.recognizes the 24-year-old finalist even if Michael Goldman, the director, assures that there is still work to be done in order to "to give to the artists as much as it receives"…
SEE ALSO – "We're in the circus": Eddy Mitchell harshly criticizes the Star Academy