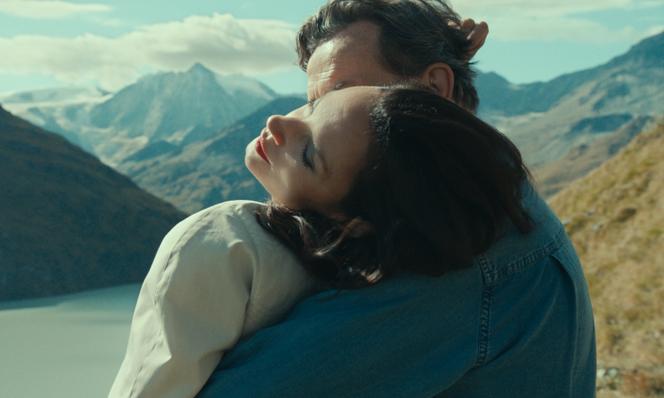 acid
The ociation of Independent Cinema for its Distribution (ACID) has its own section parallel to the Cannes Film Festival to highlight an auteur cinema that upsets standards despite few means. After the nuggets and sensations of 2022, in particular the peri-urban road trip Greater Parisby Martin Jauvat, and the diary How to Save a Dead Friendby Russian director Marusya Syroechkovskaya, the 2023 edition offers nine films, French and international, fiction and documentaries, most of which do not yet have distributors.
Screened at the opening, May 17, let me, the first feature film by Maxime Rappaz, a Swiss director with a background in fashion, tells the delicate and sensual story of a weekly happy hour in a mountain hotel. Every Tuesday, Claudine (Jeanne Balibar) leaves the valley, takes a train, rushes into the cabin of a cable car and stops at an altitude of 2,500 meters. Carefully combed hair, dark gles, lipstick, silk square tied around the neck, trench coat fitted at the waist, high heels… His look contrasts with a decor that is a priori more suited to hikers in thermal T-shirts and waterproof shoes.
Arrived at destination, she chooses, with the complicity of the butler, a man ping through the dining room to offer herself to him anonymously. These furtive encounters, between two solitudes, refer to the out-of-this-world atmosphere of Edward Hopper's famous painting Nighthawks (1942), in which a woman and a man talk side by side in a bar in Greenwich Village (New York), without paying attention to the waiter or the only other customer in the establishment.
Sweet hedonism
In the staging of the sensual trap set by Claudine, everything contributes to suggesting this gentle hedonism like a painting whose off-screen we never tire of imagining. This is the case of the landscape (literally, a seventh heaven), the murmur of the actors (especially, the suave diction like no other by Jeanne Balibar), the framing which favors intimacy, the small yellow tiles of the bathrooms of the hotel, residues of a familiar and harmless history…
All this would only be a vain and hygienic device if the film did not breathe a darker side into its heroine. The rest of the week, this seamstress at home takes care of her handicapped son who depends entirely on her. Attached to the long silhouette of Claudine, the film hermetically separates her double life – mother and mistress – thanks to a transverse panoramic sliding along the metal facade of the hotel. Seen from the cable car, this aluminum wall with infinite reflections is like a page from one physical state to another. A sublimation.
You have 19.43% of this article left to read. The following is for subscribers only.