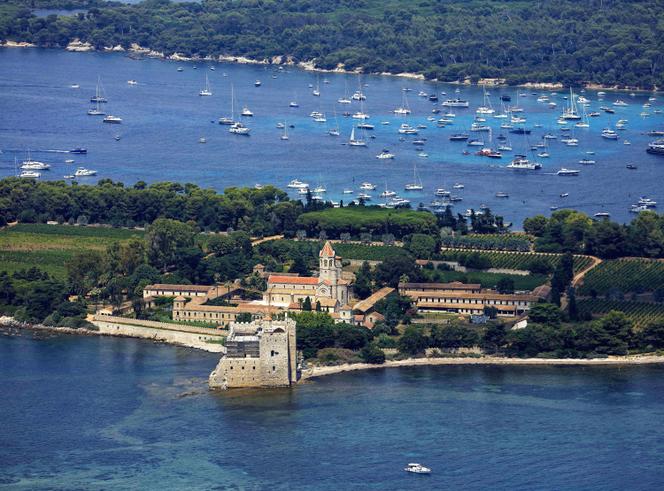 A little corner of paradise
Located 3 kilometers south of La Croisette, Saint-Honorat Island, 1,500 meters long and 400 meters wide, has been inhabited by monks since the Ve century. Their jewel, the Abbey of Lérins, built in the 19the century next to the fortified monastery dating from the XIe century, is home to a Cistercian religious community that some festival-goers know well. The palm, symbol of martyrdom in Christianity, is also the emblem of the abbey.
A three-star altar
Able to accommodate up to 30 customers, the abbey's hotel operates according to very different standards from those of the Martinez or the Majestic, which are nevertheless so similar. Here, we help with household chores, we drop our mobile phone, we share the meal with the monks – in silence – and we pay a free price, up to our financial capacities. The spiritual interview with a monk is, on the other hand, free. Just like participating in the seven times of daily prayer or weekly mes.
A jet set retreat
Whether it's to enjoy local flavors (chef Alain Pard is one of the founders of the Friends of the Saint-Honorat vineyard club, which offers visits and tastings) or to enjoy a bit of calm in the Cannes storm, the gratin knows Saint-Honorat island and its abbey-hotel well. A Festival of Silence was even organized there, between 2010 and 2013. The actors Michael Lonsdale, Mireille Darc, Brigitte Fossey, or the anti-Marriage for All agitator Frigide Barjot made the trip. But the social history of the island goes back further: nationalized after the French Revolution, it was bought by the tragedian Mademoiselle Saint-Val younger, who transformed the monastery into reception rooms before reselling it to the Church.
A hell of a business
In 2013, during an intervention on entrepreneurship at EM Lyon Business School, Brother Marie-Pâques, then bursar of Lérins, was proud to be "a staunch capitalist", dedicated to "transmit values ​​of sharing and tolerance through business", could we read in 2014 in The Obs. A whole program that the monks of Lérins implement through various activities: the distillery, created at the end of the 19the century, produces all kinds of liqueurs infused with local flowers. The 8 hectares of vines on the island produce a wine that can be enjoyed from Matignon to the Elysée, when it is not exported outside France for 30 to 95 euros a bottle.