Les Parents terribles and Happy Easter return to the top of the bill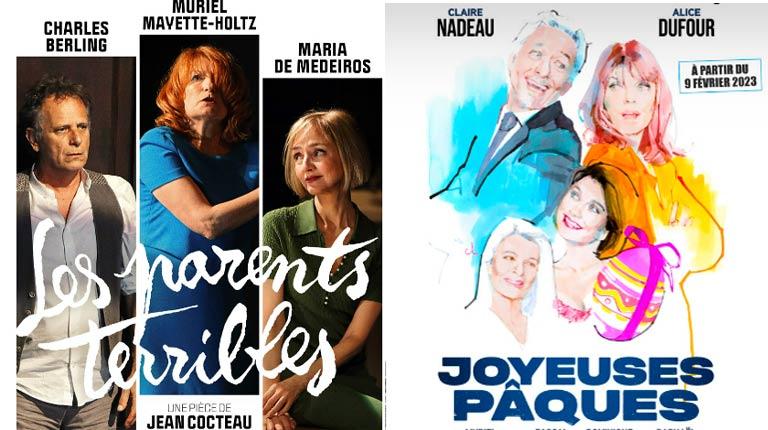 The plays of Jean Cocteau and Jean Poiret are revived until the end of April at the Hébertot Theater for the first and at the Marigny Theater for the second.
Two formidable pieces of ferocity and humor, The Terrible Parentsvaudeville of Jean Cocteau a forbidden time, and Happy Eastera hilarious boulevard from 1980 by Jean Poiret and adapted for the cinema with Jean-Paul Belmondo, are back in theaters in Paris.
At the Hébertot Theater, Muriel Mayette-Holtz, the first woman to have directed the Comédie-Française, and Charles Berling are "The Terrible Parentsof this new version, directed by Christophe Perton from the original 1938 manuscript. Twice, in 1939 and 1941, his performances were banned under pressure from the collaborationist movement, who sawa depressing spectacle of a French family". "With diabolical mastery and all the codes of vaudeville", according to Christophe Perton, the play notably evokes an abusive mother who does everything to oppose her son's first love.
Read alsoAre you more Beckett or Cocteau? Endgame at the Atelier and Les Parents terribles at Hébertot
The Terrible Parents by Jean Cocteau in 1948, with Jean Marais, Yvonne de Bray, Gabrielle Dorziat…
A companion of Cocteau, Jean Marais performed the play twice, in 1938 as the son and in 1977 as the father. In 1948, he was also drafted for the film adaptation. "This piece is still very modern. She says a lot about the couple, parenthood and its excesses"says Charles Berling who, with Muriel Mayette-Holtz, forms a diabolical couple, both cynical and funny. Maria de Medeiros (Pulp Fiction by Quentin Tarantino) plays the sister of the "matriarch".
At the Marigny Theatre, Happy Easter offers a less poisonous boulevardier register, relying on endless misunderstandings.
While his wife is away for the weekend, a man invites a young woman for a drink. The meeting is interrupted by the unexpected return of the wife. Her husband tries desperately to pass off his guest as his hidden daughter.
Read alsoGeorges Lautner, a film pasha
Happy Easter by Georges Lautner in 1984, with Jean-Paul Belmondo, Sophie Marceau, Marie Laforêt, Michel Beaune, Rosy Varte…
Forty years after its creation with Maria Pacôme and Jean Poiret, the play returns with Gwendoline Hamon, Dominique Frot, Claire Nadeau and Nicolas Briançon, also directing, in the continuity of the Duck with orange which he revived at the Théâtre de La Michodière in 2019, with 7 nominations for the Molières.
"Happy Easter is a boulevard under acid, a modern Feydeau… The first feminist play where the junk seducer is reduced to ashessums up Nicolas Briançon, a figure of successful vaudeville for several years. "It's the most difficult piece I've played. Each replica is essential, like a Lego set", he added, regretting in passing that the boulevard theater "is so often looked upon with commiseration".