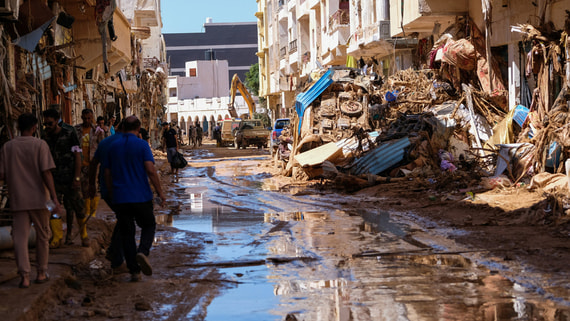 In Libya, the death toll as a result of floods and rainfall has exceeded 8,000 people, an adviser to the country's House of Representatives (parliament) told Al Arabiya TV channel.
"The death toll as a result of the natural disaster in northeast Libya has exceeded 8,000," he noted (quoted by T).
According to him, the number of people missing due to the floods exceeds 10,000.
At the same time, the mayor of Derna, the worst-hit city, Abdulmenam Al-Ghaiti, said that the death toll could range from 18,000 to 20,000 people.
Libyan authorities have declared three areas in the eastern province of Cyrenaica a disaster zone due to floods and have asked for international istance. In Derna, the main dam was broken and all communications were damaged, including communications and the Internet. The Baida city council also admitted that the situation was getting out of control.
Previously, the media cited authorities' estimates that the number of victims could reach 10,000, and the missing – 100,000. According to a local official, 25% of Derne was destroyed. The city was declared a disaster zone.
The country's official authorities admitted that Libya does not have the experience to cope with the consequences of such a major emergency. A number of countries have announced istance. Expressing condolences, Russian President Vladimir Putin also said that Russia is ready to support Libya.