Ligue 1: PSG, the match after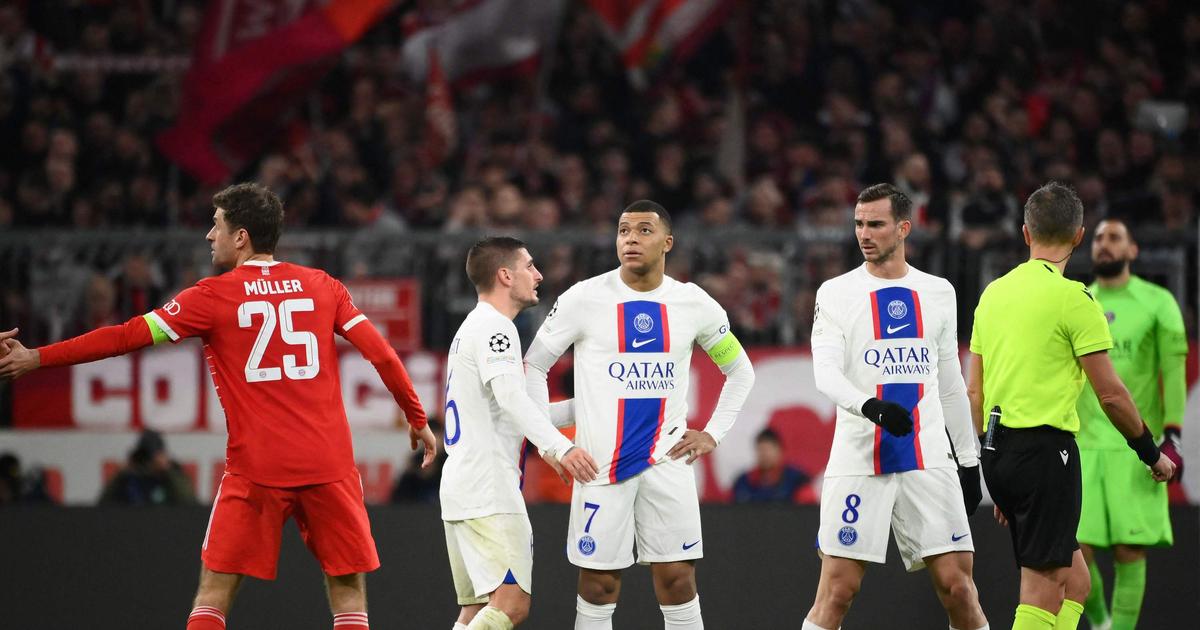 ANALYSIS – After its elimination in C1, Wednesday, against Bayern Munich, the club of the capital will quickly have to switch to avoid the complete fiasco.
"We must quickly project ourselves on the objective of the championship". Signed Christophe Galtier. Easier said than done ? Obviously still groggy four days his elimination in the Champions League, Wednesday, against Bayern (2-0 loss), PSG does not have much choice. And in addition to having the morale in the socks, it is with a decimated defense (Marquinhos, Hakimi, Mukiele, Kimpembe out, Bitshiabu uncertain), and of course without Neymar Jr, out for the rest of the seasonthat the Rouge et Bleu are going to Brest this Saturday (9 p.m.), during the 27th day of Ligue 1. "We are preparing for the match very seriously, we know it will be difficult. We know that on the side of Brest and Eric Roy (coach of SB29), there is an opportunity by imagining that we are tired, disappointed, weakened. But the team that will start in Brest will be very competitive and we will have the ambition to win there», hammers "Galette"who spoke to his players about the mental aspect.
And he did not need to look far for the main spring to re-motivate his troops after this new European disillusionment. Champion of France at the head of Lille in 2021, the 56-year-old technician is well placed to know the value of a coronation in L1. "If crowned, it would be the 11th title of champion of France in the history of the club, which has never been done in our championship. We must not minimize the fact of being champion of France", he says, not failing to tackle the bad journalists. "You send the message that, ultimately, this title is easy. No, it's not easy. Winning is not normal. Winning is difficult. Admittedly, we have an eight-point lead, but we will have to fight to the end for this title, I am firmly convinced of that.".
Read alsoPSG, autopsy of yet another European fiasco
And to add:I see what is happening abroad and in other championships. If I take the example of Bayern, who logically eliminated us and congratulations to them, they don't win the C1 every year but each time they are champions, it's a big party, they are proud of it, they celebrate it and share it with their supporters, all of the club's employees. And it should be the same for us. Here, we trivialize the title of champion of France. We must not trivialize it, even if we are PSG. It's not easy to be champion of France", he explains again, before playing on the sensitive chord with the supporters. "It is important to go and get this title", he concludes.
Singing tomorrows
Note that in the past, the "match after" has often smiled on the Parisians. With even a few boxes in passing, just to evacuate the disappointment and get over their nerves. Victory 1-0 in Troyes in 2013, 6-1 against Lille in 2015, 6-0 against Caen in 2016, 2-1 in Lorient after the comeback in 2017, 5-0 against Metz in 2018, 4-0 in Dijon in 2019 and 3-0 against Bordeaux, in 2022. A draw to report was in Rennes (1-1), after elimination in the semi-finals against Manchester City, in 2021. And a 1-0 defeat in Lyon , in 2014. In 2020, in the midst of Covid and after the shutdown of the previous season, the situation was extremely specific. two weeks later their defeat in the C1 final against Bayern (0-1), in Lisbon, Thomas Tuchel's players lost 1-0 to Lens with a second team to start the 2020-21 season. They had also been beaten again three days later, in Paris this time, by their Marseille rival (0-1).
Results which tend to confirm the idea of ​​Galtier on the question. Invited to speak about the state of mind of Sergio Ramos and Leo Messi, the Parisian coach said this:They are used to. They are very high level players who move quickly from one game to another."And to add, on Marco Verratti:"He is also one of those great players with a lot of experience and who manages to quickly go from a great disappointment to a great motivation to go for this title.»
Obviously, beyond this first match after their eliminations in C1, Paris Saint-Germain has only (very) rarely let the coronation slip away. And Galtier's troops would be well advised not to try it… Losing the title, after pitiful eliminations in the Coupe de France and in the "Champions", watch out for the damage! Already some believe here and there that it is the worst PSG under QSI … After 2012 and the title of Montpellier, at the end of the first season of the Qatari era, the PSG in particular flinched in 2017. But it was not after their rout in Barcelona that Unai Emery's players lost the title. They have indeed won their first nine post-remontada matches, including the final of the Coupe de la Ligue against future French champions Monegasque (4-0). In fact, they only lost one, to Nice (3-1), who finished third. In 2021, Mauricio Pochettino's players had ended their career in L1 with three successes, after the draw against Rennes, but Losc… de Galtier had not flinched, winning the timpani on the 38th day.
Read alsoFootball: candidate for the takeover of the Stade de France, PSG is also inquiring about the Saint-Cloud racecourse
Clearly, the "Qatar-SG" has digested its European track exits rather well in national games so far. Charge to Kylian Mbappé and company to do the same. Especially since they no longer have the Coupe de France to play after their elimination in the round of 16 against OM (2-1). They have a substantial lead in L1 standings, eight lengths better than Marseille. Beware of overconfidence. After Brest, 15th and struggling to survive in the elite, what program for Paris Saint-Germain? Rennes and Lyon at the Parc, then Nice, Lens, the Angevin red lantern, Lorient, Troyes, Ajaccio, Auxerre, Strasbourg and finally Clermont to finish, at the Parc des Princes. With a big party for this 11th title in the form of a record? As coach Galtier said, PSG would indeed distance AS Saint-Etienne at the top of the most successful clubs in Ligue 1.
A summer to change everything?
Behind, it will be high time to ask the right questions. In fact, it is now that the Parisian leaders must rack their brains in order to change the software of a club that repeats the same mistakes over and over again and to come forward at the start of next season, finally with a real chance of lifting the C1. This was not the case in 2022-23, as Kylian Mbappé had guessed…"During my first press conference of the season, in C1, I said that we would do our best. Our maximum, that's it. It's the truth», he squeaked in Bavaria on Wednesday. A tackle in his direction. A warning too: Nasser Al-Khelaïfi, Luis Campos and company would do well to hear the message.
Read also"This is our maximum": Mbappé lucid and grating after the elimination of PSG against Bayern
In the meantime, Paris can count on Bondy's crack not to let go in the coming weeks, before … wondering if his future is still at PSG. He only has a one-year contract. "We are going to question ourselves and return to our daily life, Ligue 1", he added on Wednesday. "How to convince him that the Parisian project is the right one for him? I don't have to convince Kylian. He spoke (after Bayern). But you could have questioned any other player, you would have found them in the same state, very disappointed. For the rest, Kylian is a PSG player and he shows it in every game. He has a great determination to succeed, to perform very well and to bring the club as high as possible.", notes Galtier, who recently estimated that his number 7 is "the best striker in the world". "KM" will not be satisfied for long with not winning "that» the L1. In the meantime, he won't spit on it. And he has only that to put in his mouth.