acid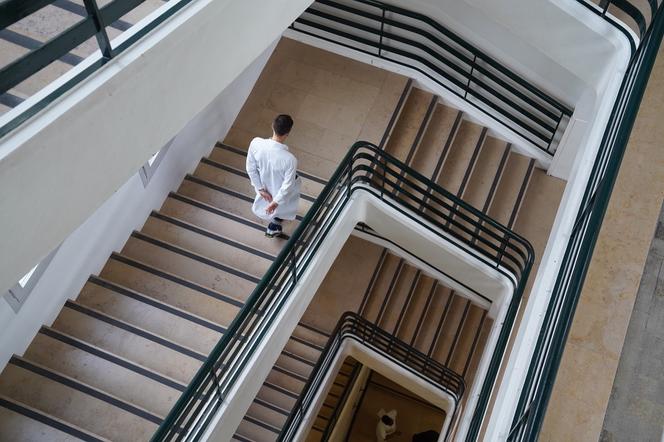 Beaujon Hospital, in Clichy (Hauts-de-Seine). By taking birth in the back of the neck tattooed with the on-off symbol, the film immediately raises the question of the dehumanization of the public hospital, withered by budget cuts. Like two other documentaries released earlier this year, On the Adamantby Nicolas Philibert (Golden Bear in Berlin) and Professor Yamamoto retiresfrom Japanese, Kazuhiro Soda, limit state by Nicolas Peduzzi (Ghost Song, selected by ACID in 2021) shares the idea that the health of society is measured by the way it heals its lunatics. These three feature films, whose concomitance cannot be linked to the mere chance of the calendar, testify to the worrying state of psychiatric medicine in France and defend a medicine based on conviviality, empathy and collective participation in activities.
limit state (which designates the intermediate stage between neurosis and psychosis) sets out to describe the sensitive bond woven by a psychiatrist with patients suffering from mental disorders or who have gone through difficult times. Doctor Jamal Abdel-Kader, 34, navigates between services, from emergencies to intensive care, to soothe souls. Faced with the shortcomings of the public hospital, which was quicker to sedate to meet the imperatives of performance, it pays attention, which amounts to saying that its non-quantifiable work cannot be valued.
A world in itself
Everything contributes in the staging to show the impossible situation in which he finds himself, caught in a race against time that can only be won with time. On the one hand, on the feverish score by composer Gaël Rakotondrabe, the tense flow of the hospital, in a state of permanent crisis – long corridors saturated with stretchers, exchanges between two doors, presence of police officers, endless stairs to go up and down… On the other, the moments spent, alone, with his patients or members of their family. It is here that he faces tragedy which, in essence, lies more in waiting than in the catastrophe of the ambulances arriving.
Each room is experienced as a world in itself. A brain. A sadness. A suspended time. Like the black lair of Wendy, 18, affected by mourning and chronic pancreatic pain. A ghost of himself, half-lit by a video game and a television streaming the day's programs. Most of the patients in the film are in their early twenties. How to cure their melancholy? Free them from their nightmares? Keep them alive while they find a place in society? Peduzzi describes the doctor's work as both praise and priesthood, dedicated to "destroy psychiatry as it is".
You have 16.45% of this article left to read. The following is for subscribers only.