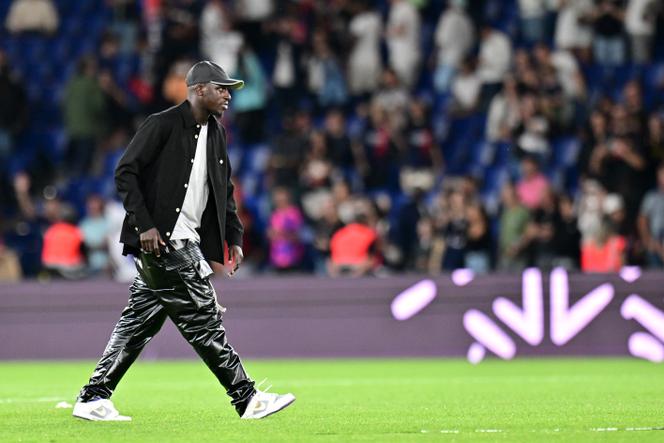 763 days after his last professional match, on August 15, 2021 against Tottenham, Benjamin Mendy will return to competition. The left back, acquitted on July 14 of the latest charges of and attempted against him in England, is present in the FC Lorient (FCL) group to face AS Monaco (ASM), Sunday September 17 at 13 hours. On Friday, this Ligue 1 match already made headlines when several collages were discovered in the streets of Lorient.
One attacked Mendy, who signed a two-year contract with the Breton club only five days after his acquittal: "Mendy in the bars, discomfort in Lorient. » Another to Wissam Ben Yedder, captain of Monaco: "Red card for Ben Yedder. » The latter was indicted at the beginning of August for ", attempted and ault" – accusations that he denies – then placed under judicial supervision.
Mendy, Ben Yedder but also Achraf Hakimi – the Paris Saint-Germain full-back is also the target of an investigation for – had already been the targets of collages in Lorient on August 19, during the first home match of the FCL this season. Campaigns led by Collectif2Lorient, a recently founded group which wishes "the exclusion of Mendy and all other rapists and attackers from clubs" and indicates that"in France, only 1% of rapists are convicted".
FC Lorient had filed a complaint for defamation following the collages of August 19. Contacted by The world concerning those of Friday, the club indicates "that this time there were no collages which justify a complaint. We would of course file a complaint again if defamatory comments appear.. » Acquitted in England after two trials, Benjamin Mendy has caused unease since his arrival in Lorient.
"His arrival distorts the image of the club"
His signature, July 19, was a surprise. Faced with the influx of visitors to the club's website, it was not far from the computer crash, while the first criticisms emerged on social networks. Since then, opinions on the recruit have diverged. "If we look at the sporting side, it's an incredible blow for Lorient. But in terms of image, it doesn't look like this club which wants to be family-friendly, discreet and friendly. His arrival almost distorts the image of the club"estimates Maxime, a Lorient supporter who has subscribed to Moustoir since 2006.
Present during several Lorient pre-season matches without playing, the 2018 world champion was able to measure his popularity by multiplying the selfies with the supporters present. The number 5 jersey, bearing the name Mendy, is also the one that has sold the most in Lorient since the start of the season.
You have 51.11% of this article left to read. The rest is reserved for subscribers.