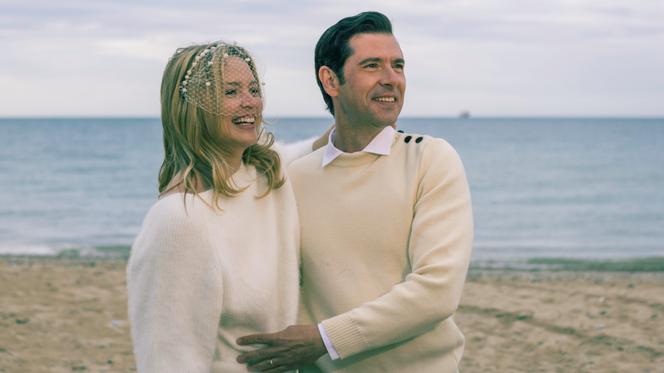 OFFICIAL SELECTION – OUT OF COMPETITION
THE OPINION OF THE "WORLD" – NOT TO BE MISSED
From the sun. A pretty house by the sea. A floral wallpaper. Twin sisters, identical except for a fringe. We enter Valérie Donzelli's latest film on familiar ground: a tangy comedy, nourished by the vagaries of sentimental life, somewhere between The Queen of Apples (his first feature film, 2009)Eric Rohmer and Jacques Demy, two of his favorite filmmakers.
Blanche (Virginie Efira), not quite recovered from a heartbreak, lets herself be seduced by an old acquaintance, the aptly named Grégoire Lamoureux (Melvil Poupaud)… Handsome, attentive, already in love, the boy throws darts at her ardent right in the bullseye. Very quickly, they form a couple, she becomes pregnant, they move to Metz… It is here, behind the forests, far from her family and the beach cabins, that evil takes root.
By adapting Eric Reinhardt's novel Love and forests (Gallimard, Renaudot prize for high school students and Roman France Televisions prize in 2014), with co-screenwriter, Audrey Diwan (The Event, 2021), Valérie Donzelli is interested in a figure that has been talked about a lot since the advent of the #metoo years: the narcissistic pervert. Nice-hearted in appearance, manipulative in fact. There is a palpable emotion in seeing the director's "girly" cinema embark on the darkness of this love, which will allow her to probe the perverse face of the little darlings who have often browsed through her images.
Entomological precision
What appeared a few minutes earlier as a vacation film slips into a kind of expressionist "Dracula movie", which takes up the motifs of the genre. Chiaroscuro over a wood fire, Lamoureux's hooked claws in Chinese shadow and Blanche's milky neck transform the psychological drama into a gothic and terrifying nightmare.
To the coherence of the aesthetic bias is added the entomological precision with which the film observes the mechanism of influence. One of the most remarkable features of this adaptation is the way it distills its information. If we follow the thread of the restrictions imposed on Blanche – she is deprived of a car, of a bank account, of having lunch with her colleagues, of having a snack with her students, of family vacations, of parties… – the sacrifice is ultimately turns out to be phenomenal. The estrangement of her twin sister, Blanche's happy double (Efira plays both), speaks well of her annihilation.
You have 23.03% of this article left to read. The following is for subscribers only.