manage your money well in shared accommodation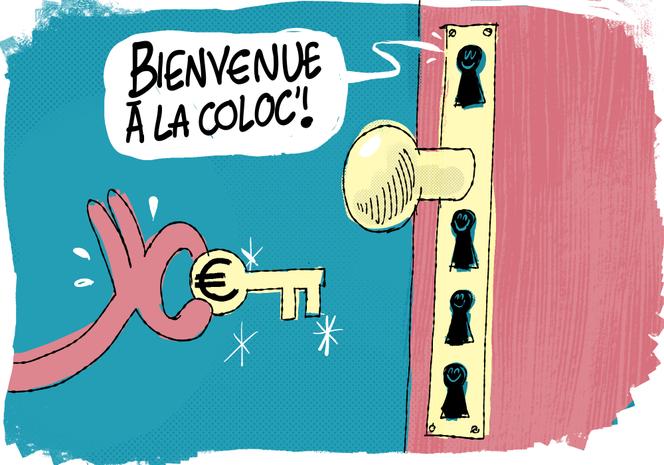 Nearly six in ten students say they pay rent, according to theObservatory of student life 2020. Excluding collective residences, its average amount is 552 euros per month, but varies greatly depending on the territory, this average reaching 799 euros for Paris, according to this same survey.
Among the solutions to spend less: sharing an apartment with two, three, four or even five people, in order to pool the costs. "Living in a shared apartment allows you to save on average 20% on your rent compared to renting a studio apartment alone", says William Vieillard, general manager of the Immojeune site, which specializes in student housing. But community life cannot be improvised, especially financially.
Choose your lease wisely
The ideal is to sign an individual lease binding the roommate to the owner, with no connection to the other inhabitants of the apartment. This makes it possible to join an existing flatshare, when a room becomes available, and to leave it at will, respecting the notice (one month for a furnished rental).
Conversely, the signature of a single lease binding all the tenants to the lessor increases the constraints. "Roommates must synchronize for signing and terminating the lease. It is possible when it comes to friends enrolled in the same school for example, but it is not ideal", says Arnaud Hacquart, president of the Imodirect rental platform. Because the single lease also has a major drawback: the joint tenants are jointly and severally liable for the payment of the rent.
In other words, Maxime and Lou are liable for Inès' rent if she does not pay her share... "Each roommate presents a guarantor, but the solidarity clause means that the owner can claim from the parents as deposit of one the unpaid of the other"recalls Mr. Vieillard, who points out that, at Immojeune, 80% of the shared accommodation offered is on an individual lease.
Whatever the type of lease, the contract generally provides for a fixed charge of a few tens of euros per month and per person including water, electricity and Internet access.
Note that it is possible, in the context of a joint tenancy, to benefit from the guarantee Visale from the Action Logement group (which allows you to obtain a guarantor for free), but also from all the usual housing aid, including the advance Loca Pass for scholarship holders (to finance the security deposit).
Take out home insurance
Multi-risk home insurance is of course still compulsory, even in shared accommodation. In the case of an individual lease, each joint tenant subscribes to their own contract, in which the total surface area of ​​the property and the number of joint tenants are specified.
You have 50.93% of this article left to read. The following is for subscribers only.