Martin discovers the strong criticism of Grace in "Koh-Lanta"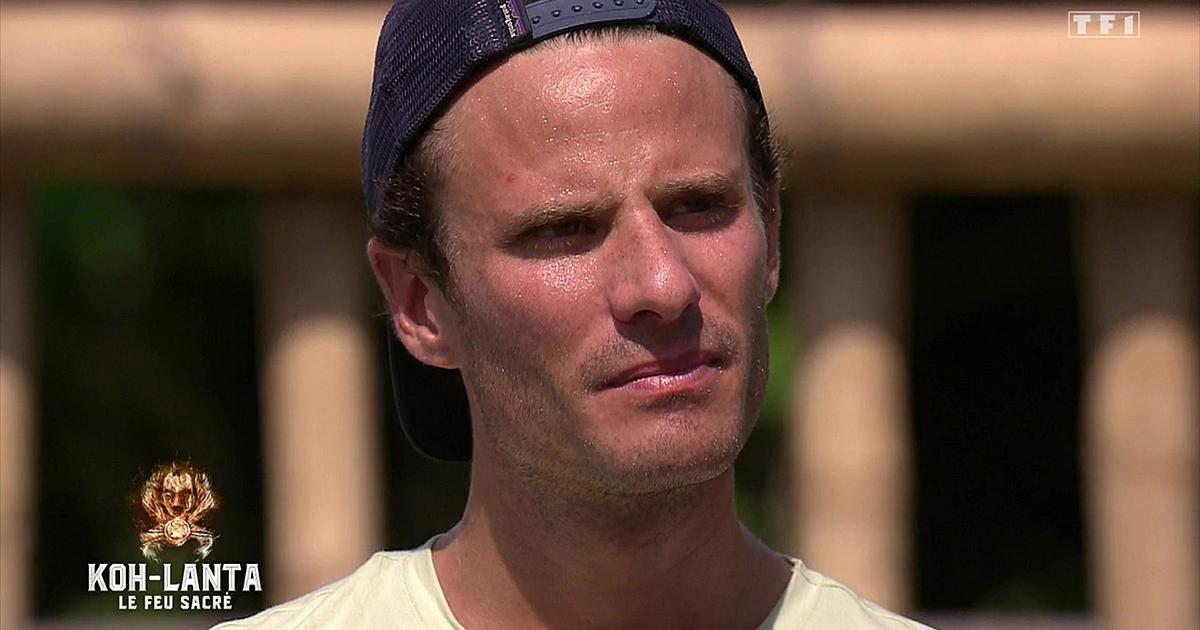 INTERVIEW – The 30-year-old Swiss cheese maker marked the start of his adventure, filming in the Philippines last summer, both through his performances and his daily involvement. To the point of not leaving anyone indifferent.
Second in the men's obstacle course (behind Nicholas), a major player in the first victory of the red tribe in the immunity test and the first candidate to manage to make fire this season, Martin is one of the essential candidates of the first days of "Koh-Lanta, the sacred fire" . Very competitive, the 30-year-old Swiss cheese maker with a strong character leaves no one indifferent. After the reorganization of the teams, it is Grace who expressed – as an aside – his annoyance about him. "He should shut his mouth, he's starting to get me drunk"she said during the 10th day of filming, no longer supporting that he punctuates his sentences with " guys ".
Read alsoTalisman of sacred fire, strategic weapons… Do the novelties of "Koh-Lanta" work?
THE FIGARO. – What was the click of your registration to "Koh-Lanta"?
Martin. – It was a deal with my wife because I'd talked to her about it for years, it's the only entertainment show I watch, with "Top Chef", and the only one where I wanted to try my luck. It totally suits me, I am hyperactive, very playful and competitive. But my wife was 100% against my participation because she wanted to preserve our peace. She ended up accepting leaving me only one chance to be taken. Either I was selected from my first registration, or it was over forever. And I took up the challenge.
How did you prepare for this adventure in the Philippines?
From a sporting point of view, I haven't changed my mode of operation. I do more than an hour of sport a day in normal times. The only thing I changed was my diet. Two weeks before leaving, I reduced my diet to try to accustom my stomach to what awaited it. In the morning, I would just have a coffee, skip lunch, and finish with a normal dinner. I lost two to three kilos before leaving. But that didn't stop me from going hungry in the Philippines and bitching! (Laughs.)
Have you worked on yourself and your character to adopt the best attitude so as not to annoy others?
It's a great question becausewatching the episodes of "Koh-Lanta, the sacred fire", I have the impression of discovering myself. I was not aware of having such a strong character. I thought I was a sociable person, quite simple and quite flexible. I know that my personality is particular and does not leave indifferent. They like me or not, I accept it. But I wanted to get on well with everyone.



"At the time, I was afraid that my injury was serious"

Martin, candidate for "Koh-Lanta, the sacred fire"
What impact did this cold sore that appeared on the fourth day have on your start of the adventure?
I am prone to cold sores and I had a feeling that I could be confronted with them during "Koh-Lanta" because the contributing factors are the sun, fatigue and stress. When you attack this adventure, these are three things you are quickly confronted with. It took a huge toll on my morale, I knew I was going to have ten days of pain, fatigue and fever. At that time, I wavered but I continued to be active on the camp as in the tests.
How badly did your foot hurt during training for the platform comfort test?
I was taken full face by the Net surfers after the diffusion of this sequence! (Laughs.) These platforms were very heavy, we were trying to have a certain rhythm to go as fast as possible and the balance ofAnne Sophie was unbelievable. Not on purpose, Elodie slammed the platform into my instep and it hurt the hell out of me! It's comparable to the pain you feel when you bump your knee on the corner of a table, it's not serious but it's super painful. At the time, I was afraid it was serious.
The teams were reshuffled during the 10th day, how did you feel when you discovered your new Paniman tribe?
Everyone was surprised by this redesign. The day before, during the council of the elimination of Alexandre at the Reds, we had a team discussion to get out of this spiral of defeats and we were about to start again on the right foot. But I was happy with my new team, I found candidates with whom I got along well during the first hours of the adventure and it was an opportunity to gain new momentum in the game.



"If the problem with me was just this verbal tic, I tell myself that there is really something more serious in life"

Martin, candidate for "Koh-Lanta, the sacred fire"
Were you aware of the strong annoyance of Grace in consideration to you ?
Absolutely not ! I expect to discover reviews about me by watching the episodes. But at that moment, when we had just arrived at the camp, when I saw how much I could annoy Grace, I fell a little over the top. I'm coming to this new team, mostly made up of ex-Yellows, I'm the only ex-Red with Julie And Christinapotentially the most threatened by elimination on the board, so I had to prove myself quickly.
Grace is annoyed in particular by a verbal tic, when you punctuate your sentence with "guys"…
It was my way of expressing myself to motivate the team or address a group, I tended to say: "come on guys, let's do this or that". Grace focused on it to the point of driving her crazy and I was completely unaware of it. If his problem with me was just this verbal tic, I tell myself that there really is something more serious in life. I'm not doing too badly. (Laughs.)
Were you surprised to find the elimination of Tania after advice from the opposing team?
The ex-Yellows had told us about Tania's behavior in the camp and her remote alliance with Rudy. Potentially, this could backfire on her new team just as it could have been a strength if she gained the trust of the ex-Reds. His departure rebalances the forces between the ex-Yellows and the ex-Reds.
In the private sector, you went from being a trader to being a cheesemonger in Switzerland, how did that happen?
I have an atypical background, I tend to want to realize my dreams. I assume that life is too short to be pissed off so I don't waste time. Being at the head of my own cheese dairy was a childhood dream. I am an epicurean who loves the terroir, the opportunity presented itself and I had nothing to lose. It turns out the success was there and I decided to devote myself to it 100%.