"Measuring Passe-Partout with an iPhone? I'll do it again tomorrow!"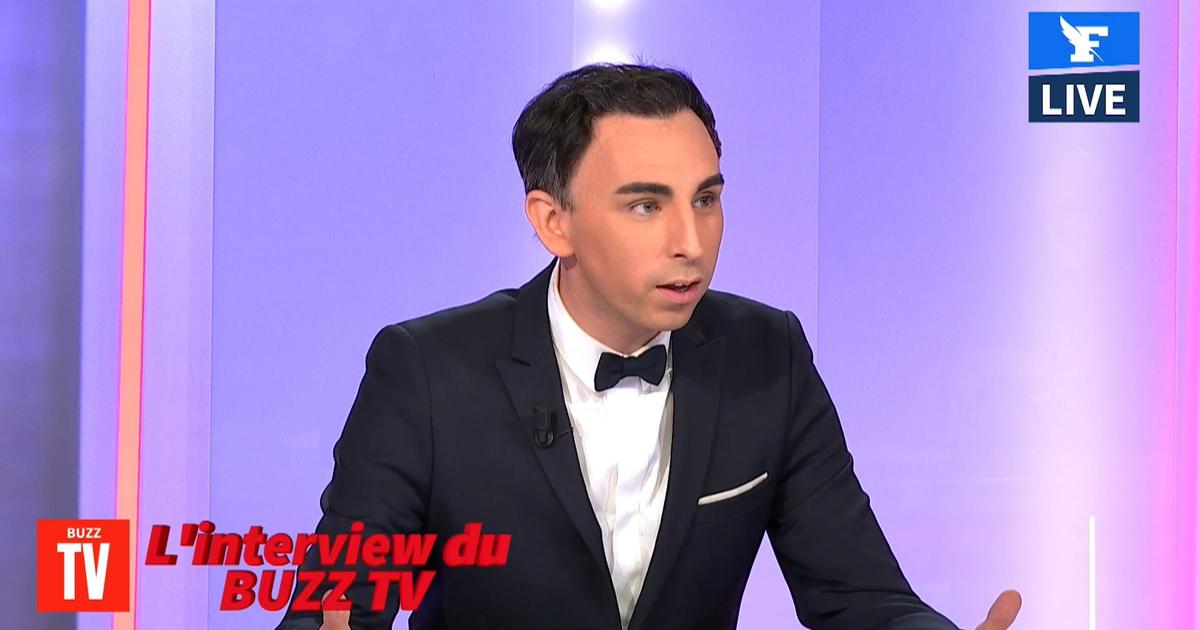 FIGARO LIVE - The interviewer speaks with celebrities every day in "Chez Jordan" at 9:10 a.m. on C8. Guest of "Buzz TV", he speaks on the controversial sequence, where he estimated the size of one of his guests with a smartphone.
TV MAGAZINE. – On Wednesday, September 21, you received André Bouchet, alias Passe-Partout, in Chez Jordan on C8. You have estimated its size in number of smartphones. Why?
Jordan DELUXE. - On TikTok, a surfer called Un Garçon Stupide measured with phones Élodie Costa, a short candidate from "The Voice". She decided to laugh about it and it was a hit on this social network. When I invited André, I showed him the excerpt and I wanted to know if this sequence bothered him. He told me that I could calculate his size the same way and there was no problem. We therefore shot this sequence which was validated by C8. André, I know him very well, he is a friend! We can no longer laugh and do anything in this country.
Read also"How many iPhones are Passe-Partout?" : the controversial sequence that stunned Anne-Élisabeth Lemoine
Many viewers were shocked...
They were because there was a horrible montage by Bertrand Chameroy, columnist in "It's up to you", who wants to C8 for reasons that I do not know. It's a settling of accounts, even if I don't know what he has against me. He's the king of fake tokens: he's the first to text me saying he loves what I do! And then he knocks me out on his show. I want to laugh but I went for a kind of bastard.
How was his editing misleading?
He just passes a piece where he makes the viewers understand that I forced André. In addition, Anne-Élisabeth Lemoine, the presenter of the talk show, shoots a head four meters wide. She was very shocked, but I think she will recover!
"I received insults and death threats"

Jordan De Luxe, host of "Chez Jordan" on C8.
Looking back, do you regret this sequence?
No way! I'll do it again tomorrow, and with touch pads, if you want. You have to laugh about it. Bertrand Chameroy did not specify this in his editing, but the initial goal was to wink at the association of short people of which André is a member. If there was a problem, he would have told me not to.
Did this association complain to you?
Not at all, but I got busted because of the chronicle. It would have been said at Faustine Bollaert in the afternoon, there would have been no problem. But since it's my home, that's a problem. I received insults, and even death threats. It hurts.
Jean-Luc Lemoine also devoted his column to you on Europe 1...
He attacked me, the chronicle is quite nice and I don't blame him too much. It is necessary that they make their butter with what I do, I give them grain to grind.
Read also"You are a hate monger!": huge clash between Gilles Verdez and Matthieu Delormeau in "TPMP»
Is the absence of taboo the basis of your show?
The purpose of my meeting is to talk about everything: sex life, cosmetic surgery, weight gain or loss. On the other stages, we are interested in more serious themes and promotion. The aim of this program is to go towards horizons that are little explored. Is the celebrity guest in a relationship? Does she have one or more children? I have a reputation for being the one who asks about guest salaries. The first time I went to this field, it was so popular that I decided to do it again each time. We must stop this bad faith which consists in saying that nobody is interested. I can show the audience curves: as soon as we start talking about money, they go up. We are in a country where we like to know everyone's remuneration. It's not serious!
A salary between 3400 and 3800 euros net
And you, how much do you earn?
I receive between 3400 and 3800 euros net. I slightly increased my salary thanks to my arrival on C8. As I have a production box, I do a few more things.
You have already received political figures on your show, such as Anne Hidalgo or Marlène Schiappa. Could you receive Jean-Luc Mélenchon?
Yes, what would interest me is his private life: how he lives, how he does when he goes out in the street. We see videos where he is a little unpleasant with people. I would like to understand why he is like that. Who is hiding behind Jean-Luc Mélenchon? Politics, on the other hand, goes over my head. Rachida Dati is a guest that I would love to receive. There are plenty of things to do! I have a plastic surgery section and I would ask him about it. I come from the region and I like to address subjects that interest deep France. What concerns my mother, when she is in front of the TV, is the reason why such and such a person has gained weight or lost weight. Did she have depression? And how does she manage her life with her kids?
"My worst memory? Filming with a reality TV candidate »

Jordan De Luxe, host of "Chez Jordan" on C8.
Why are you always dressed like you're going to the opera?
When I started in this environment, Geneviève de Fontenay became my godmother and I love people who, like her and her hat, wear a distinctive sign. So I thought I had to stand out and found the bow tie. The other explanation is that I love TV from the 80s and 90s, where everyone dressed in nice dresses and nice suits.
What is the worst memory you have from your show?
It was during a shoot not long ago, with a reality TV personality who came, and who screwed up a mess. Her name is Frédérique, a former candidate of the "angelsand it went wrong. She was naughty! She asked us for a hotel and complained about it. She was rude, spoke badly to my assistant, and asked for 50 taxis. Then her son called to have the show canceled. She then called me names on the phone. A disaster.
An ephemeral appearance in "TPMP»
At the start of the 2019 school year, you made a few appearances as a columnist in "Do not touch My TVon C8. Why was your presence fleeting?
I made a huge mistake: I attacked Matthieu Delormeau. I should not have. I said he never said hello when we were both at NRJ12. I tackled him on my first set. It pained me. I regretted it. It then calmed down, I redid programs presented by Benjamin Castaldi but I had no place. It's hard because you have six to twelve columnists facing you and they all know each other. And then, we hear members of the production in the earpieces who say that this or that columnist will not last long. I did not know how to transform the essay on "TPMP".