"Memorial" recognized Dmitry Skurikhin as a political prisoner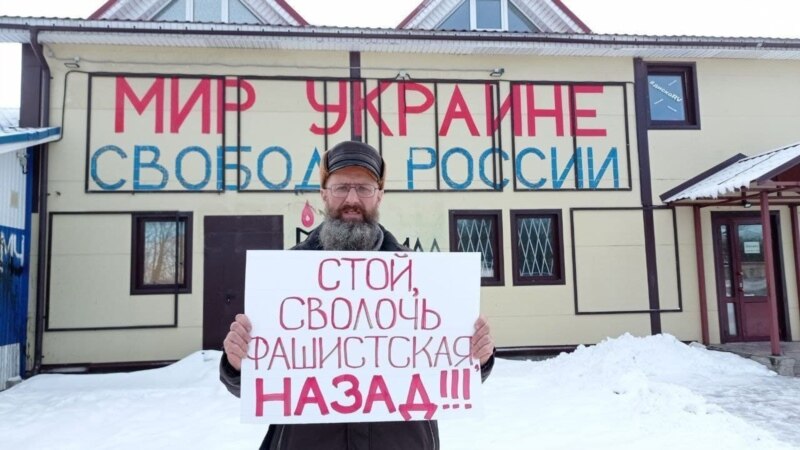 The "Memorial" human rights project recognized Dmytro Skurikhin, an activist from the Leningrad region, as a political prisoner. He is accused in two criminal cases of the so-called discrediting of the Russian army.
"The criminal prosecution of Skurikhin grossly violates his right to freedom of expression, assessment and criticism of the government's actions. It is aimed at intimidating the opponents of the war with Ukraine in Russia," says the "Memorial" message.
Skurikhin regularly posts signs criticizing the actions of the Russian authorities at his shop in Russko-Vysotskoe.
The first criminal case of discrediting the Russian army against Skurikhin was initiated in September 2022 due to the poster "You are going to hell with your burial. After the initiation of the case, he was not detained and a ban on certain actions was imposed.
On the anniversary of Russia's military invasion of Ukraine, on February 24, Skurykhin went to his shop in the village of Russko-Vysotskoye in the Leningrad region with a poster "Sorry, Ukraine" and knelt down. After that, he was detained and arrested.
Articles about criminal and administrative liability for discrediting and fakes about the army appeared in March 2022, after the start of a full-scale war with Ukraine.
Judging by law enforcement practice, the authorities can mean any information that contradicts the official position of the Ministry of Defense by fakes, and by discrediting – any statement condemning the war, even without mentioning Ukraine (for example, "No war").
Human rights activists call these articles "the actual introduction of military censorship."
More news from Radio Liberty: