Mikaela Shiffrin, sensitive soul and skiing phenomenon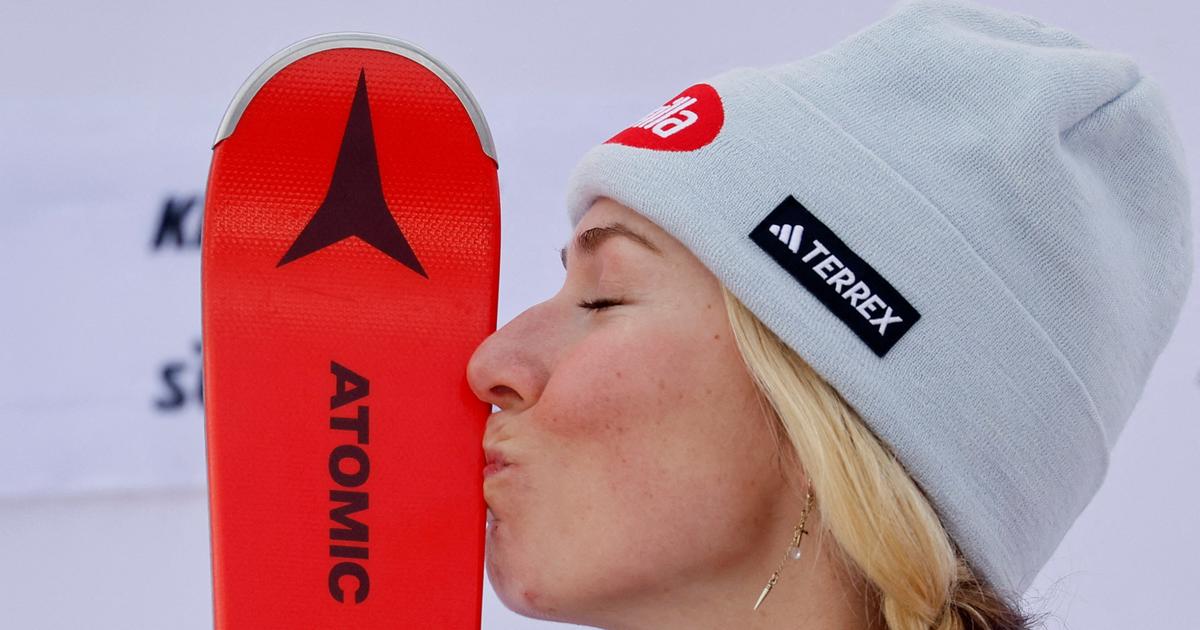 The American, who became the only record holder for World Cup victories with an 83rd success on Tuesday, was able to tame a certain effacement and use her sensitivity to reign durably.
"I've been working there for 17 years. Everyone says it happened fast, but it felt like an eternity.Mikaela Shiffrin's statement is unrelated to her record set on Tuesday. It dates back more than ten years, when the 17-year-old American won for the first time on the international circuit, revealing herself to the face of the world in December 2012 in Are (Sweden).
Driven by her parents and a desire to copy her big brother, Shiffrin left Vail and Colorado at age eight to attend Burke Mountain Academy, a private ski racing school in Vermont. "Since childhood, she skis until nightfallsays his mother Eileen, still a member of his team today. A true prodigy, the American became Olympic slalom champion at the age of 18 in February 2014 in Sochi.
She's a kind of nerd (intello in French) in the good sense of the term, she reminds a bit of a student on several aspects of her life.

Megan Harrod
Despite her early explosion, she did not crack in the following years, on the contrary, she extended her talent to several disciplines and won the general classification of the World Cup three times in a row (from 2017 to 2019). All this despite a rather reserved personality. "She was still a kid. The first time I met her at 18 I was struck by her humility", tells AFP the American Megan Harrod, press officer and close friend of Shiffrin. "She even tends to put herself down sometimes. She's a kind of nerd (intello in French) in the good sense of the term, she reminds a bit of a student on several aspects of her life.adds Harrod of the skier with the legendary number of daily hours of sleep. "He is one of the most empathetic people I know, a wonderful human being, especially for those close to him. That's what makes her special.»
Read alsoAlpine skiing: Mikaela Shiffrin breaks the record for women's World Cup victories and brings it to 83
In 2019 in Are (Sweden), just crowned slalom world champion for the 4th time, Shiffrin invites a young Swedish girl, Emma Lundell, a cancer survivor, whom she has known since 2012, to a press conference.You are one of my biggest inspirations", she throws to him, moved, in front of the cameras. At 27, Mikaela Shiffrin, in a relationship with the Norwegian king of speed Aleksander Aamodt Kilde, is still guided by the mantras of her childhood. ABFTTB for "Always Be Faster Than The Boys"(Always be faster than the boys) has been engraved on his helmet for several years, a memory of a message of encouragement from the former American skier Heidi Voelker. "Be nice, Think first, Have fun(Be respectful, think first, have fun), she added on the helmet, according to the golden rule set to Mikaela and her brother Taylor by their father Jeff.
The death of his father, the failure of Beijing
The death of his father in February 2020 in a domestic accident caused him infinite suffering, causing his results to plummet for two seasons. Voluble and a follower of long developments during her appointments with the media, which have become rarer, she does not hesitate to expose her torments, especially on social networks. Last year, she touched rock bottom at the Beijing Olympics where, a huge favourite, she missed out with three outings and no medals in five races. Humiliated, with the feeling ofridiculousIn her words, the skier bounced back spectacularly, understanding in particular that "failure doesn't make you a failure".
I never dreamed of breaking records for World Cup victory, points or world medals.

Mikaela Shiffrin
After a fourth big crystal globe won in the spring of 2022, she is achieving an incredible series this winter, with already nine successes, allowing her to equal and then exceed the record of her compatriot Lindsey Vonn (82) before considering that of the Swede Ingemar Stenmark (86). But Shiffrin does not like numbers and records, which are widely relayed by those around him. Statistics "dehumanize the sport and what each athlete is trying to accomplish", she regrets. "I never dreamed of breaking records for World Cup victory, points or world medals", she assures, despite her eleven world podiums and three Olympics.
---
SEE ALSO – Australian Open: Rafael Nadal, defending champion but injured, eliminated in the 2nd round