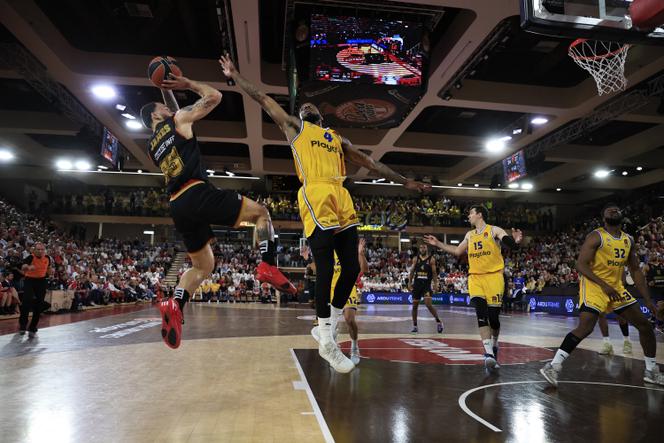 Twenty-six years later, the French basketball championship sends one of its representatives to the Final Four of the Euroleague. In 1997, Asvel was then led by a legend of the French elite named Delaney Rudd. A common point with its distant successor, Monaco, guided by another renowned American leader: Mike James.
The 32-year-old was the main architect of Monaco's victory in the decisive match against Maccabi Tel-Aviv on May 10 in the quarter-finals, thanks to his 21 points. "I'm finally back to the Final Four. It took a while but I'm happy, he savored at the microphone of the Skweek broadcaster. They pay me for that, to do what I did in this type of big game. To be a leader, take the game by the horns. » Facing Olympiakos, in the semi-final, Friday May 19 (5 p.m.), he will be the only player from the Principality club to have already experienced the heights of a C1 Final Four. It was in 2016 with the Spanish club Cazoo Baskonia Vitoria-Gasteiz.
Mike James arrived on the Rock with great fanfare in the summer of 2021 after a freelance job at the Brooklyn Nets in the NBA. A year earlier, he proclaimed his love of life on the shores of the Mediterranean: "I would like to play in Monaco. I heard [dire] it was a beautiful placehe said in May 2020. I know they're not in the EuroLeague but maybe I'll go there to finish my career, when I'm not as good as I am today. »
Since then, the Roca Team (the club's nickname) has entered the most prestigious of European competitions thanks to its Eurocoupe (C2) title in 2021. The native of Portland is still at the top of his game. Top scorer in the Euroleague during the 2018-2019 season and fourth best scorer in the history of the competition (second among active players, behind the Frenchman Nando de Colo), Mike James is one of those that the clubs of the championship of France couldn't even hope to enlist in their wildest dreams. But Monaco, the biggest budget in the history of the French elite (20.7 million euros including 10.8 million in payroll), has changed the situation.
Regular conflicts in his former clubs
The signature of "The Natural" ("the natural"), as he calls himself on Twitter, was logically accompanied by some doubts. Because the American lacks neither talent nor ego. To his arabesques on the floor is added a sometimes difficult character. Conflicts with some of the most emblematic coaches of the Old Continent have escorted his professional career, which began at KK Zagreb in 2012.
You have 58.79% of this article left to read. The following is for subscribers only.